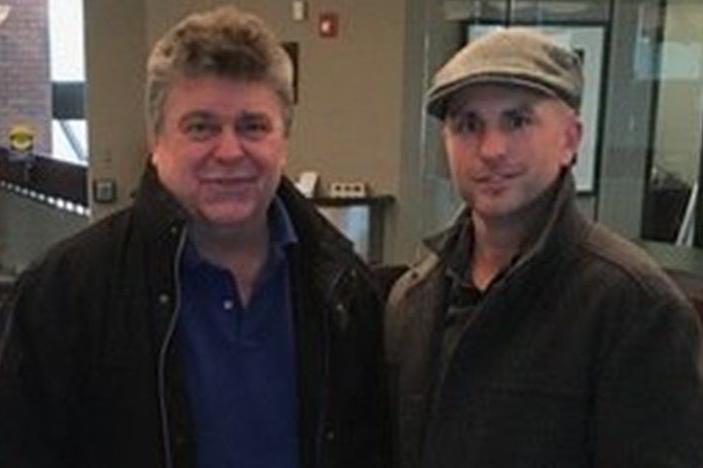 Randy Markel sounds as if he has had enough of owning St. Louis' longest-running mostly sports-talk radio station.
It has been nearly 2½ years since he began the successful process of buying KFNS (590 AM) out of bankruptcy, and he said he has sunk about $3 million into the operation. Much of that investment has been twofold — to improve the station's infrastructure and hire personnel.
He has massively retooled the roster in the last 14 months or so, adding many people who had been at KTRS (550 AM).
"I've accomplished what I want with the lineup, other than getting (Kevin) Slaten back," Markel said. "But that's not dead yet. Kevin is not off the table."
Slaten, a longtime St. Louis sports-talk rabble-rouser, currently does a show that features political talk mixed with sports that airs on KQQZ-AM (1190 AM) from 7-9 a.m. weekdays.
But the possibility of adding Slaten might be a moot point if it doesn't happen soon, because Markel says he's ready to move on. And talks are underway with KTRS' management about a deal.
"I'm hoping we'll get something worked out," Markel said. "It's in everybody's best interest. They'd be buying me out or merging with me, not vice versa. I'm open to just about anything. ... I think it makes so much sense."
Mark Dorsey, KTRS' general manager who also is a partner in station ownership group CH Radio Holdings, confirmed Thursday that talks are underway. And he said his company has no interest in going into business with Markel.
"We don't want a limited partnership; we don't want a 50-50 split," he said. "We want to run it. If Randy wants to relinquish it, then I'd go to our board (of directors). They're open to growth."
Markel said he has an open mind.
"I'm in talks with others, too," he said. "Do I need to get out (of KFNS)? No. But I'm interested, if it's the right deal."
Markel said he recently sold the two local Chuck's Boots stores he had owned for nearly two decades, and wants to concentrate his business efforts on a youth baseball complex he and local automobile dealer George "Skip" Weber are trying to develop near the Lake of the Ozarks.
"I don't want to do it half (way) down there," Markel said. "You only get one chance for a first impression."
That project, which Markel said is a $10 million venture, has been on hold awaiting financing.
"We're close to getting that going again," he said.
Any KTRS-KFNS deal is not imminent, Dorsey emphasized.
"Our board has not seen any financials (reports) yet," he said. "I don't know anything about their numbers. We're in the preliminary stages."
PERSONNEL DEPARTMENT
KFNS was in the all-sports format before adding former KTRS hosts Frank O. Pinion and Larry Conners last fall. O. Pinion has a long-form entertainment show, and Conners does a politically conservative talk program. Those productions take up the afternoon drive-time and early-evening blocks before the station returns to sports, with Charlie "Tuna" Edwards.
Markel said if the deal goes through he envisions KFNS returning to the all-sports format, with KTRS retaining its news-talk approach. But given Dorsey's stance that his company would want sole ownership of KFNS, that decision seemingly would be made by KTRS' board.
There is more programming that could be impacted. KTRS is the St. Louis affiliate of the University of Missouri's football and basketball radio broadcast network, so it would need to be determined if those would move to KFNS if a deal goes through. The same thing for KTRS' other sports programming, including STL FC soccer broadcasts and its multiple talk shows.
Dorsey said it is way too early to even start thinking about lineups.
"We're far from the finish line" with a deal, he said.
KFNS has had a volatile past — and that was before it added some broadcasters who made bumpy exits from KTRS, particularly the one by O. Pinion.
"(There are) things I could not be part of, things that not only affected me but other people" that led to the decision to leave KTRS, O. Pinion said at the time. "They know this is going to cripple them, but they made no attempt to fix things. I think they're glad to see me go."
Dorsey said then that "we wish him the best. I have no ill feelings."
And he expressed a similar sentiment Thursday when asked about those who voluntarily made the move. That list also includes Martin Kilcoyne, Jim Heuer and David Solomon. (John Hadley used to work at KTRS but had been fired before joining KFNS.)
"You keep an open mind," Dorsey said. "If it makes sense financially and these people want to be part of that, we'd look at that." Sometimes in business "you leave personal feelings behind. Sometimes people do what they think is best for them. I've said there are no hard feelings."
Markel has a bottom-line approach to those kind of matters.
"I don't care how much anybody (cusses) me," he said. "If I can make money ... I don't have such an ego that I can't get over my pride."
Complicating matters could be the fact that after O. Pinion left KTRS, it hired a big-name replacement — Guy Phillips, longtime morning-drive personality at KYKY (98.1 FM). Because of non-compete clauses, he didn't start at 550 AM until February.
THE BOTTOM LINE
Dorsey said that if a deal is struck, it will be done this year.
"Our ownership and investors always are looking at good opportunities," he said. "If the situation was right, we'd be interested in getting together. It would give us another platform.
"The ball's in Randy's court. He's got a lot on his plate now."
Markel said he will be selective.
"I am only going to do what is in the best interest of 590," he said. "That is my baby, we got it this far and I'm not going to do anything to harm this brand. If I think a deal can be cut that will help the brand become better … I will consider making a deal. Otherwise it will be business as usual."