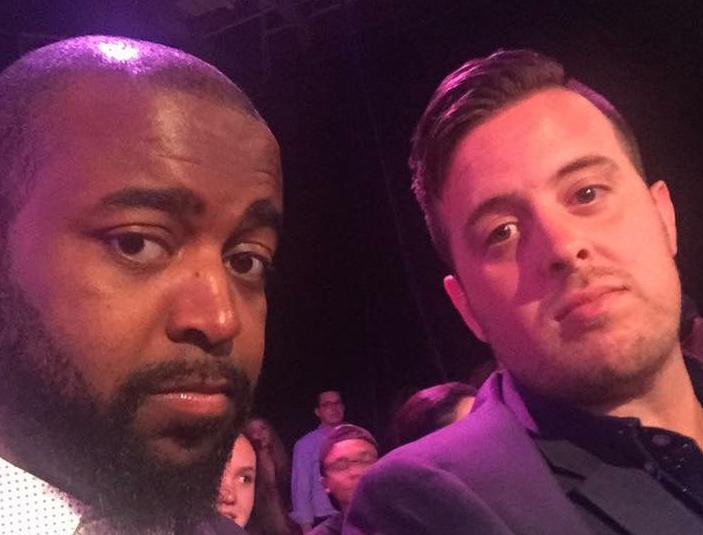 Kevin Slaten is being replaced by a couple of highly touted relative newcomers many people never have heard of, guys who'd rather interview a good comic than a good ballplayer. Later slots for Howard Balzer and Charlie "Tuna" Edwards. No spot for Dave Rapp. And far from a formatted, strictly sports-talk approach.
That, in a nutshell, is how the proverbial dust is settling as the daytime lineups from two AM sports-talk outlets — KFNS (590) and WGNU (920) — are being consolidated into one beginning Sept. 1.
Tim McKernan, whose STL Enterprises company has controlled the weekday programming at 920 for the last three years, is leaving to take control of many of KFNS' business aspects starting next month as part of a blockbuster deal in which he is being given an ownership stake in the operation and also will be on the air. And one of his first key tasks has been to meld the rosters from two stations into one lineup, in conjunction with KFNS owner Randy Markel.
McKernan said his strategy is to start the day with three established shows from WGNU then "surround that with some recognizable names who have been in the market (Howard Balzer, Brian Stull and Joe Roderick), then follow with shows I think have a lot of upside."
As predicted, McKernan is transferring much of the 920 roster to 590, while it remains being simulcast on the HD2 version of KPNT (105.7 FM). "The Morning After," which he co-hosts with Jim Hayes and Doug Vaughn, will slide over in the same time slot — 7-10 a.m. Jay Randolph Jr. also will contribute. Frank Cusumano's "Press Box" program also moves over (10 a.m-noon), as does the "Writers' Block" show with Post-Dispatch sports staffers Derrick Goold, Benjamin Hochman and Ben Frederickson (noon-2 p.m).
Out is Rapp, who has been on mid-mornings at KFNS. He is pursing other radio opportunities and said his role will increase at "Game Time," a publication that covers the Blues.
Gone, too, will be Brian McKenna and Jeff Gordon, but that was expected. They were under a short-term deal after arriving from WQQX (1490), which was in the sports format — almost all of it network programming — but recently switching to airing country music. McKenna and Gordon now occupy KFNS' morning-drive time slot that Dino Costa filled before his brief but rollicking run ended this spring.
McKenna once relied on radio as his primary income source but now works for a company that restores buildings damaged by elements such as fire, mold and water. And Gordon continues to cover sports for he Post-Dispatch and STLtoday.com.
Changes abound in the afternoon. Balzer, who has been hosting a midday football show with Marc Lillibridge on KFNS, remains at the station but moves to 2-4 p.m. He'll work with two men coming over from 920 — Stull and Roderick. Lillibridge will not be on the show, which will branch out to more than gridiron topics. But Balzer and Lillibridge might do an NFL show on Sundays during the season.
It was announced last week that Slaten, as well as sidekick Owen Shroyer, were out in the key afternoon drive-time slot. Slaten is working on a move into political talk and said negotiations continue with multiple stations. Shroyer has taken a job in Texas.
Moving up to fill that slot are Travis Terrell and Chris Denman, who have been in the evening slot at 920. They're to be on from 4-7 p.m. and while many listeners may not be familiar with them, McKernan effusively touts their potential.
They do a show that touches on sports but delves more into comedy, social issues and other topics, especially comedy, and have caught the attention of national comedians such as Adam Carolla and Jay Mohr.
McKernan takes pride in giving airtime, outside of the main lineup hours, to hosts not established in the business.
"The market has had some of the same names bouncing from station to station," he said, explaining his strategy to develop new talent.
In baseball parlance, his goal is to create a farm system to develop talent for mainstream hours.
"You don't want to abandon the shows that work, but you make sure that you also form a system that when there are openings (in key slots) that you bring those people along after developing them in off-peak hours," he said.
McKernan's departure from WGNU leaves a huge void there, and station owner Burt Kaufman said there are three possibilities as to what format will be adopted. The most likely replacement is religious or business programming, with sports being a longshot, he said.
NEW APPROACH
How high is McKernan on "We Are Live," the program with Terrell and Denman, who both are 32?
"This is the show that has been the most pleasant surprise of our three years at 920," he said. "They've taken off, in just a little over a year."
Carolla had them on stage for a show he did at the Pageant. They've formed a bond with Mohr. And they recently interviewed "Saturday Night Live" actor Colin Jost. This certainly is a vast change from the thrust of the show they are replacing, as Slaten verbally went after local sports figures with the force of a jackhammer — his trademark for decades. But McKernan likes a variety of shows. Some are sports-intensive, others are not.
"We have a really heavy interest with comedians and entertainment," Denman said. "There's always going to be that aspect. But if there's a big story with the Cardinals or Blues, we're happy to go deep with that. And some of the comedians we talk to, they can talk sports too."
Terrell said he expects there will be "a little more sports talk" than they currently have, but "we have a following" so they don't want to significantly modify what they have been doing.
And McKernan isn't looking for that.
"I don't want anybody to change what got them to where they are," he said, pointing out that Terrell and Denman have filled in on daytime shows at 920 and "people loved them.
"The key that makes our thing work is personalities. I want people to be themselves on the air, whatever that might be. This does not have to be, 'Think one way, speak one way.' I want diversity when it comes to opinions (and shows). I don't care if that's politically or from a sports perspective. I want people to do what they're comfortable with on the air."
And he predicts Terrell and Denman will be a hit in their featured spot.
"They're outstanding," McKernan said. "They're great guys. They're professional. They have a growing audience. It has become such a popular show that it was a no-brainer as soon as we finalized this" to put them in they key afternoon drive-time slot. I'm especially excited to have them in a time slot where they're going to be exposed to a bigger audience."
KFNS will wrap up the day with TJ Weber, Matt Berger and Fred Slow from 7-9 p.m., followed by Edwards — who currently is on from 6-8 clock. Network programming then runs overnight, until Dan Buffa and Matt Whitener resume local programming at 5 a.m.
BOTTOM LINE
Markel took over KFNS late last fall, helping get it back on the air in November being off for nearly a year because of long string of financial woes.
He recently said he has invested about $1.2 million into the operation, and since has spent about $200,000 to upgrade the transmitter location, and says bringing in McKernan will make the station successful. McKernan has much experience in the on-air and business sides of sports-radio and key ancillary elements such as the station's website, streaming podcasts, etc.
"We should be profitable almost immediately," Markel said.
How long will it take to offset all the start-up expenses and get the company in the black?
"Max two years," he said. "Everything is falling into place."
It is in McKernan's best interests to have that happen as soon as possible. Markel has said McKernan will not receive his share of the company's profits until the money already he has invested in the operation is recouped. (In the meantime, McKernan is paid a salary and other benefits).
McKernan also is bullish on the future, saying he will have four full-time sales people on staff by Sept. 1. KFNS currently has none.
"I would be stunned if we aren't profitable in 2017," he said. "We are picking up the infrastructure that made up profitable at 920 and bringing it to 590."
SLATEN'S PLACE
Another added expense the station is incurring is what a source said is a significant payment being given to Slaten. While not commenting on the amount, Markel acknowledged a disbursement.
"I gave him a going-away parting gift that I thought he deserved," Markel said. "Kevin was not fired, Kevin was not terminated. Kevin was not asked to leave. Kevin left on his own. Kevin has been good to us, he's been a great friend to me for 18 years. I didn't think it was fair to him to walk away with nothing. That's kind of the way I am."
Sources said some others affected by the shuffling have been given payments, too, to retain their loyalty.
In the big picture, KFNS will continue to sound vastly different than WXOS, the market's powerhouse FM sports-talk station that takes a comparative straightforward approach on the air.
There is a history of people taking over St. Louis sports stations taking wild verbal shots at the competition. But McKernan isn't going that way.
"I have zero ill will, nor am I going to do one of those fake radio wars," he said. "That's not going to happen."
But he did have a pledge.
"The key is the sales infrastructure and making sure you surround yourself with quality people on and off the air," he said. "I think we will have an operation worthy of St. Louis sports fans' attention."
FOOTBALL FEAST
An NFL team that left St. Louis could be making a return to the local radio airwaves. No, not the Rams. But KFNS is in talks to join the Arizona Cardinals' network this season.
"I know there are still some people who follow the Cardinals here, so that's what we're looking to do," McKernan said.
What about the team that just left?
"I'm not interested in being in business with the Rams," McKernan added.
The remaining NFL team in Missouri will have its games broadcast locally this season, as KMOX (1120 AM) has become an affiliate of Kansas City Chiefs' network and also is airing the games on the HD3 version of KYKY (98.1 FM). However, because KMOX carries Cardinals baseball and Blues hockey there will be a lot of overlap and in those cases the football broadcasts will be limited to the HD3 channel. That figures to be the case into October, barring a Cardinals schedule change. Also, the Chiefs' exhibition games are limited to the HD channel even when the Cards are not playing simultaneously.
Weekday schedule of hosts, beginning Sept. 1:
{!--BriefBoldBulletStart--}5-7 a.m. • Dan Buffa, Matt Whitener
7-10 a.m. • Tim McKernan, Jim Hayes, Doug Vaughn
10 a.m.-noon • Frank Cusumano
Noon-2 p.m. • Derrick Goold, Benjamin Hochman, Ben Frederickson
2-4 p.m. • Howard Balzer, Brian Stull, Joe Roderick
4-7 p.m. • Chris Denman and Travis Terrell
7-9 p.m. • TJ Weber, Matt Berger, Fred Slow