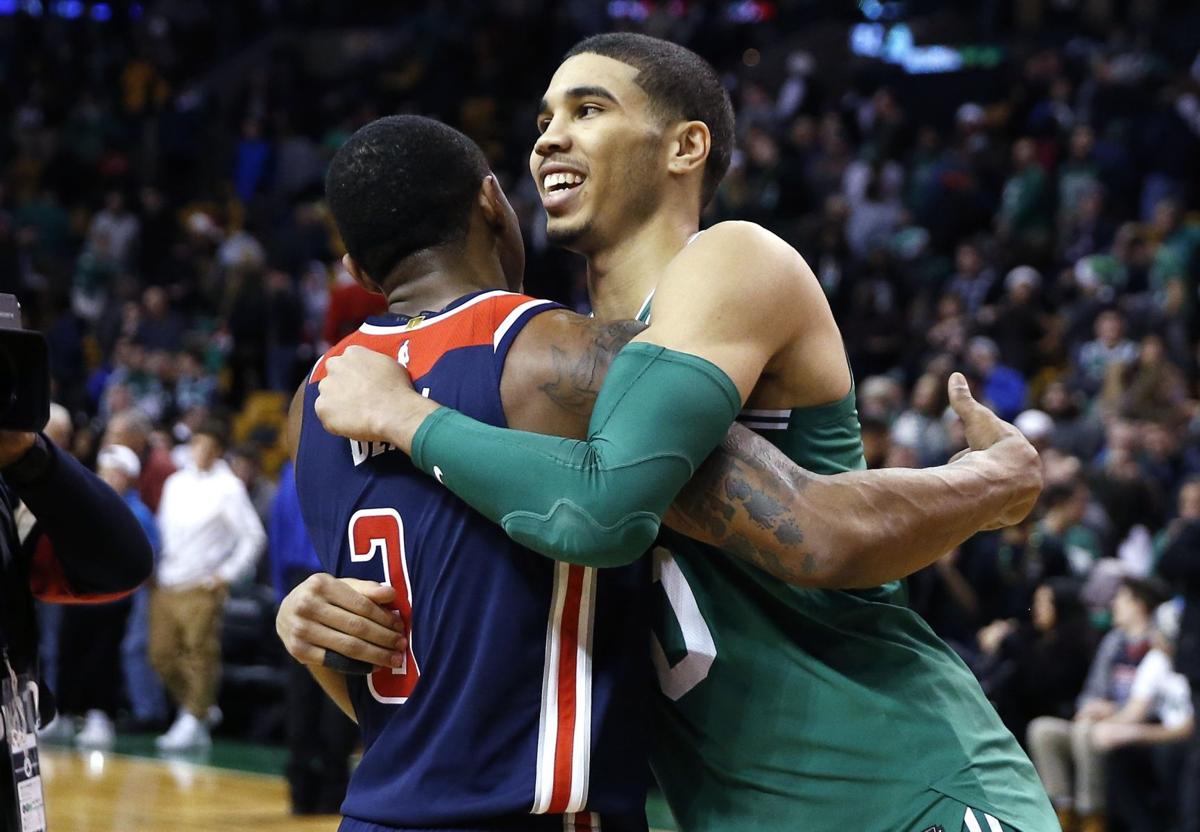 Chaminade College Prep graduates Jayson Tatum and Bradley Beal of the NBA are teaming up with Lineage Logistics on its Share A Meal program to donate up to $250,000 to the St. Louis Area Foodbank in an effort to combat the coronavirus.
With every $25 donated, the foodbank will be able to provide 200 meals to children, families and seniors impacted in the bi-state region. For more information on this campaign, go to stlfoodbank.org/teamjt0_bb3/.
Tatum and Lineage, with the assistance of Feeding America, will also be donating $250,000 to the Greater Boston Food Bank. Tatum is a standout forward with the Boston Celtics.
"The widespread effects of the COVID-19 pandemic have been devastating to witness," Tatum said in a press release. "Because of this, people are suffering in many more ways, which is why I felt it was important to find a way to help — especially in the communities I hold near and dear to my heart. That is why I am partnering with Lineage Logistics in a 'Share A Meal' Campaign to help those in need in Boston and partnering with Washington Wizards' star Brad Beal for our hometown, St. Louis, during this national health and economic crisis. I would also like to ask for your help. If you are able, I'm asking each of my family members, friends, fans and supporters to participate by making a financial donation of any size.
"Together, we will make a difference in the lives of many in our neighborhoods and communities. Together, we will get through this one step, and one meal, at a time."
Through early Tuesday evening, the program had raised $20,400, which will be matched by Tatum and Beal.
"Our company's mission is to feed the world and we are humbled by the opportunity to use our craft in support of people in need during these difficult times," said Greg Lehmkuhl, president and CEO of Lineage Logistics.
Added Meredith Knopp, president and CEO of the St. Louis Area Foodbank: "COVID-19 has affected all of us. Our mission is to build stronger communities by empowering people with food and hope, but we know that our team cannot do this work alone. We're proud to partner with the Jayson Tatum via the Jayson Tatum Foundation and Brad Beal who have given of themselves to help people in their hometown get the food and supplies they desperately need right now."
She added: "It's going to take all of us working together to help our neighbors in need. This generous matching gift will help in our COVID-19 relief efforts today and aid in recovery efforts for months to come."
To kick off the campaign, which has a goal of supplying 100 million meals globally, Lineage made a $5 million commitment while teaming up with professional athletes and organizations throughout the country.
Tatum, a 6-8 forward, was named Post-Dispatch All-Metro Player of the Year to cap both his junior and senior seasons at Chaminade. Averaging 29.6 points and 9.1 rebounds as a senior, he was honored as the Gatorade National Player of the Year in 2016. He spent one season at Duke University, where he averaged 16.8 points and 7.3 rebounds and was the No. 3 overall pick in the 2017 NBA Draft.
The 21-year-old is in his third NBA season and earned All-Star recognition this season; through 59 games, he was averaging a career-best 23.6 points, 7.1 rebounds and 2.9 assists.
Beal, 26, is a 6-3 shooting guard for the Washington Wizards, who selected him No. 3 overall in 2012. The Post-Dispatch All-Metro Player of the Year and Gatorade National Player of the Year in 2011, he averaged 32.4 points a game to close out his prep career. Beal earned NBA All-Star honors in 2018 and 2019 and, like Tatum, spent just one season in college, averaging 14.8 points for the Florida Gators in 2011-12.
This season, in his eighth NBA campaign, Beal is averaging career-bests in points (30.5) and assists (6.1) through 57 games.
Concerned about COVID-19?
Sign up now to get the most recent coronavirus headlines and other important local and national news sent to your email inbox daily.