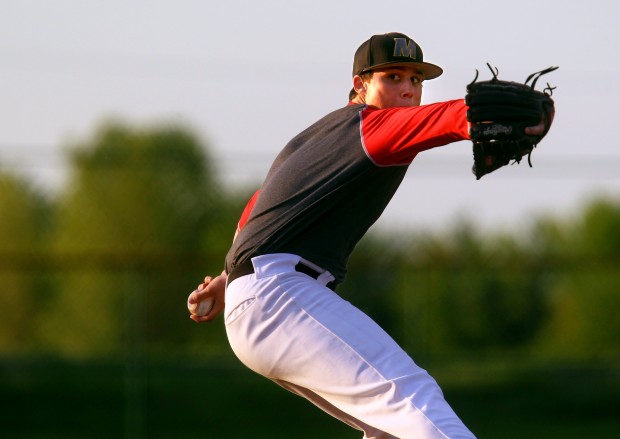 Rick Strickland was coaching third base and focused on winning a game in Jupiter, Fla., last fall when his game plan was unsettled by one simple question.
Was Jake Brentz going to pitch?
The query came from Strickland's boss with the New York Mets, for whom he is a part-time scout. Brentz, a solid-hitting outfielder from Parkway South, was not scheduled to appear.
"You know, there are a lot of guys here to see him," the boss responded.
Strickland had taken a team from St. Louis to the event attended by more than 100 major league scouts and had every intention of using the 6-foot-2 lefthander at some point during the trip.
Brentz had never pitched much – hadn't been all that interested — until agreeing to play last fall for Strickland, who owns The Sandlot baseball facility. That's when he began training as a pitcher with Brian Delunas.
Word of his progress had circulated. Then suddenly, strictly through word of mouth, scouts had flooded a field at the Roger Dean Sports Complex where the last game of the night was about to end at the Perfect Game World Championship.
Strickland sent Brentz to the bullpen to warm up as the game entered the bottom of the seventh and final inning. On the field, two quick outs were recorded. Brentz had thrown about half a dozen pitches when he received the call with one out remaining.
He registered a strikeout on five pitches, every one of them at least 93 mph. But the first pitch started a buzz that hasn't quieted.
"We knew it was fast but we didn't have a (radar) gun," said Steve Brentz, Jake's father. "One of the scouts said it looked pretty fast. He leaned over to the Miami head coach and asked how fast. He said 96."
A year ago, Brentz was an exceptional hitter and outfielder at Parkway South hoping to strengthen his resume in college. He signed with Missouri.
Today he is projected as a possible first-round pick in next month's Major League draft. He opted to forego his final season of high school baseball to play in a wood-bat league in Iowa, where he has pitched every weekend for the last month, weather permitting.
"A year ago I had no idea I'd even be drafted," Brentz said. "There were scouts looking at me to hit, but nothing major. A lot of college teams were recruiting me to hit. I wasn't worrying about pitching. But after Jupiter that Saturday night, it kind of changed."
Brentz has talked to a representative from every major league team except the Washington Nationals, his father said. More than 20 organizations have sent someone to the house for a visit.
He has since been clocked at 97 mph. It's not exactly a replication of the fictional mystic Sidd Finch, who Sports Illustrated reported in a 1985 April Fool's hoax could throw 168 mph despite having never played baseball.
But this story is unusual in its own right. The Perfect Game web site says that Brentz has "one of the most unique resumes that has come across the high school baseball prospect scene in the last two decades."
Brentz is not only a lefthander with size and impressive velocity. Because he has pitched so little, his arm is fresh, unburdened by overuse, and his upside considered immense.
He envisioned himself for many years as a center fielder and last spring hit .394 with four home runs and 31 RBIs for the Patriots.
It wasn't until he started to work with Strickland and Delunas that he caught the pitching bug and developed some confidence. Known to throw previously in the upper 80s, he added significantly to his power in a short period.
"This is kind of a rare situation because he hasn't had experience pitching," said Steve James, who runs the Iowa spring league. "He shows all the signs that he could develop into a top-of-the-rotation guy. He's a kid with an extremely high ceiling."
Brentz has always thrown harder than kids his age, but he never worked at pitching. Coaches never attempted to make him a pitcher, not even Steve Brentz, who coached his son for five seasons.
"He always threw some, but he was more of a thrower than a pitcher," Steve Brentz said. "Half the time he didn't know where the ball was going. Batters didn't dig in on him a lot."
Jake Brentz was more interested in pursuing a career as a center fielder with Jim Edmonds as his inspiration. He pitched just 4 1/3 innings last sprimg and estimates maybe 15 innings in three Parkway South seasons.
His reputation as a hitter was good enough that Strickland was interested in adding him to one of the teams at his facility. And a strong arm from the outfield was part of the package.
"Our question to him was 'Do you pitch?' " Strickland said. "He said, 'Very little.' My follow up was, 'Why?' "
Brentz started working on his mechanics and as time progressed his control improved and so did his velocity. Eventually, one scout told Steve Brentz that his son should sell his bat. A new path was being paved, mostly behind the scenes.
Then came the difficult decision of choosing between playing his final high school season or re-routing to Iowa and his field of dreams. The league is dominated by in-state players because Iowa plays its high school season during the summer.
But out-of-state players have started to make the trek, and after some lengthy discussion, the decision was made. Brentz would play the outfield on Saturdays and pitch on Sundays.
The family made plans to work around Jake's weekend trips to Iowa and drives to Springfield, Mo., to see his sister, Ashley, play for the Missouri State softball team.
"I thought about it a long time," Brentz said. "It was a really good opportunity knowing I'd pitch every weekend."
He has started working on a curve and a changeup to go with the heat. The inconvenience, his father said, has been worthwhile.
"Let's just say it was in Jake's best interest going forward as a pitcher to forego high school," he said. "It's been hectic. The weather's been iffy. But the league is well attended (by scouts), and I was pleasantly surprised by the quality of players in the league."
One Saturday night in Florida opened a lot of doors for Brentz, in fact, may have changed his life. Not only did he impress, but he did so in front of "very prominent people with the power to draft people," Strickland said.
Among those surprised by the overpowering nature of the raw pitcher's stuff was Brentz himself.
"All I remember was trying to get the guy out," he said. "I wasn't worried about how hard I was throwing. I had no idea it was even possible that I could throw that hard."
Brentz will wrap up the Iowa experience at a showcase in front of scouts Monday in Cedar Rapids. He plans to pitch in a men's league locally while working on his mechanics. Remember, Jake Brentz is still learning to pitch.