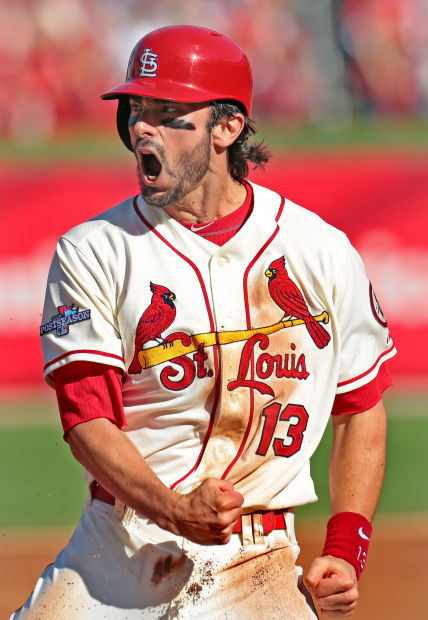 With Pete Kozma and Daniel Descalso's combined batting average of .222 ranking 29th out of 30 teams, the Cardinals need a new shortstop. But it shouldn't be Stephen Drew, who hit .254 and carries a big salary. My suggestion would be to switch Matt Carpenter to short and put Kolten Wong at second base.
Also, why do we have John Mabry, with a .263 lifetime average, as our batting coach?
Most of the Cardinals' batters stand too far away from the plate and they don't know a lot about the strike zone. They see a lot of pitches on the outside corner of the plate for called strikes or swings and misses.
And, if they manage to hit it they try to pull the ball, which often results in a soft ground ball and possibly a double play. They also are suckers for balls that start in the middle of the plate and end up in the dirt about a foot off the plate. They probably led the league in check swings that are called strikes.
With a better batting coach, we might be able to keep David Freese at third.
Mark L. Smith • Innsbrook
COULD WONG BE RIGHT AT SHORT?
Why can't Kolten Wong play shortstop? He seems to have the range and arm to do that.
With the absence of shortstops on the market, this would solve a lot of problems for us and allow the signing of an impact third baseman.
Spring training will determine if Wong can hit, but he would be a perfect lead-off hitter with speed — something we have not seen lately.
We have been somewhat spoiled in Cardinal Nation. We could be Cubs or Astros fans. This team is going to be good for a long time. Management has shown that it is most capable of identifying and filling holes.
If you can play first base, you probably can play third base.
Joe Torre did. Why not work out Allen Craig at third base in the offseason?
If he can handle third, it would answer several of the Cardinals' issues. It would put an impact bat at the hot corner. It would open up first base for Matt Adams. And it would relieve the congestion in right field.
Larry Lovan • Webster Groves
MILLER SHOULD HAVE PITCHED
Where, oh where, was Shelby Miller during the run for the ring?
Cardinals manager Mike Matheny chose to bring in Lance Lynn, who always is questionable under pressure, in Game 6 of the World Series instead of Miller, who might have given the Cards a chance.
For some reason Miller was quarantined. Matheny never explained why Miller was absent.
If Miller offended Matheny or upper management and they punished the team by not playing him, shame on them.
Shirley Amsden • Imperial