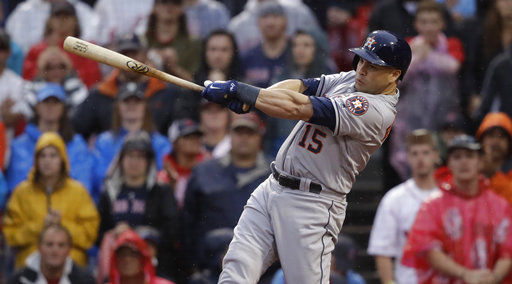 While the Houston Astros and Boston Red Sox took decisive action in jettisoning their managers after Major League Baseball concluded they were involved in nefarious sign stealing, the New York Mets have stayed silent on Carlos Beltran's future.
Houston fired AJ Hinch one hour after baseball Commissioner Rob Manfred released his findings Monday. Boston's management announced Alex Cora's departure the next day.
Beltran remains in limbo, with the Mets refusing to say whether their new manager stays or goes. Manfred decided not to discipline players — 2017 was Beltran's final season. In Manfred's nine-page statement, Beltran was the only player identified as a participant in the cheating scheme.
"They have to fire Carlos Beltrán," a former New York Yankees teammate, Mark Teixeira, said Wednesday on ESPN, where he works as an analyst. "There's no way that Carlos Beltrán, especially in the pressure cooker of New York, there's no way he can be the manager of the Mets. ... You cannot have that guy lead your team. The New York papers, the Daily News and the Post and all of the tabloids will eat up Carlos Beltrán every single day until he's fired." (AP)
Dodgers get back Wood: Pitcher Alex Wood has agreed to a $4 million, one-year contract to return to the Los Angeles Dodgers. He spent last season with Cincinnati after the Dodgers traded him in December 2018. He made just seven starts while struggling to overcome a back injury. (AP)
Cards' Fitzgerald to return: Arizona Cardinals receiver Larry Fitzgerald, 36, signed a one-year contact to return for his 17th season with the franchise that drafted him in 2004. His 1,378 career receptions rank second all time behind Hall of Famer Jerry Rice's 1,549 catches. He also is the Cardinals' franchise leader in games played (250), receiving yards (17,083), receiving touchdowns (120) and total touchdowns(120) and 100-yard games (49). Fitzgerald was a key part of the Cardinals' offense this season, leading the team with 75 catches for 804 yards and four touchdowns. (AP)
Standout tight end Gates retired: Antonio Gates, a three-time All-Pro and whose 116 TD catches are the most for a tight end in NFL history, announced his retirement after spending 16 years in the NFL, all with the Chargers. He did not play this season but said he received some interest at midseason, but waited to see how the playoff field would develop and the Chargers and other teams that were interested fell out of contention. Gates' 955 receptions and 11,841 yards are third among tight ends in league history. (AP)
Ochocinco to kick in XFL?: Chad Johnson spent part of his professional football career playing under a different name, so why not attempt to return to professional football at a different position?
The 42-year-old former Cincinnati Bengals wide receiver, out of the NFL since spending the 2011 season with the New England Patriots, is set to try out Monday for the XFL — as a kicker.
The artist formerly known as "Chad Ochocinco" signed last year with Boca Raton FC of the United Premier Soccer League and in December he posted video of himself nailing what appeared to be a 60-yard field goal. In 2009, Johnson nailed an extra point for the Bengals in an exhibition game.
Congress honors Gleason: Former NFL player Steve Gleason received the Congressional Gold Medal — the highest civilian honor bestowed by Congress — for his work as an advocate for people with Amyotrophic Lateral Sclerosis (Lou Gehrig's disease). Gleason, 42, was diagnosed with ALS in 2011. He has since spearheaded efforts through the Team Gleason foundation to develop and provide technology to help ALS patients live longer, more fulfilling lives. (AP)
"This award represents the people of the United States of America and is a sublime honor for me," Gleason, who no longer can speak on his own, said through a computer-generated voice. "It represents some joy, some encouragement and some triumphs for the tens of thousands of families living with ALS and others living with disabilities or experiencing anguish, tragedy or adversity." (AP)
SLU women prevail: Myia Clark scored 24 points and led a group of four players in double figures as the St. Louis University women rolled to a 72-51 basketball home win over St. Bonaventure. The Billikens (10-7 overall, 2-2 Atlantic 10) shot 50 percent and outrebounded the Bonnnies 44-23, led by Kendra Wilken with 12. (Stu Durando)
Xfinity races set for Indy's road course: In his first major move since buying the Indianapolis Motor Speedway, Roger Penske announced the NASCAR Xfinity Series race there on July 4 will use the track's road course. The Cup Series race, the Brickyard 400 scheduled for July 5, will remain on the main track. (AP)
S. Williams on Fed Cup team: Tennis standout Serena Williams will be part of the U.S. team for its Fed Cup qualifier against Latvia, on Feb. 7-8 in Everett, Wash. It will be the first time she has participated in the event since 2018. (AP)
Be the first to know
Get local news delivered to your inbox!