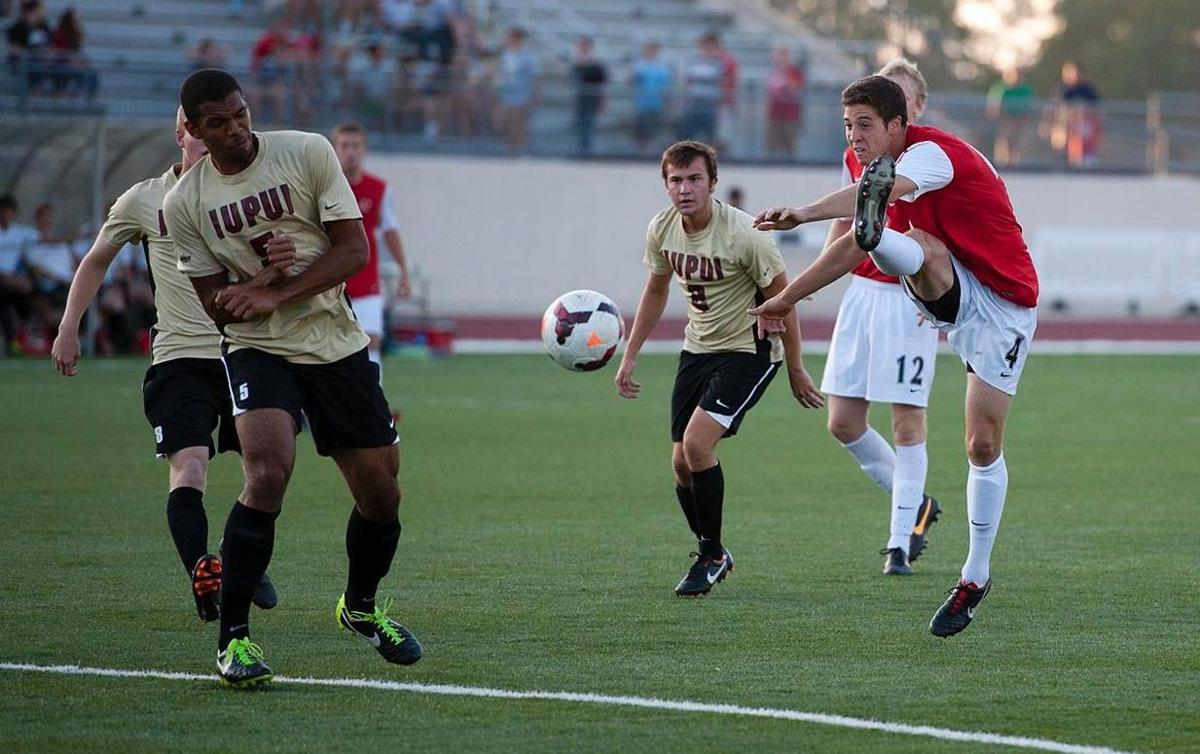 The roster that USA Hockey will take to the Five Nations tournament that begins Wednesday in Monthey, Switzerland, will be heavy with players from the St. Louis area.
Four of the 22 Americans making the trip are from the area and part of USA Hockey's national team development program based in Plymouth, Mich. Only the Minneapolis area, which has five players on the team, has more representation.
Locals chosen for the team are defenseman Luke Martin, who has committed to play college hockey at Michigan; forwards Trent Frederic (Wisconsin), and Clayton Keller (Boston U.); and goaltender Joseph Woll (Boston College).
Keller leads the under-18 team in points with 20 in 11 games, and he and Frederic are tied for second in goals with six. Woll is undefeated in goal at 3-0-1.
The tournament has a round-robin format with the United States competing against the Czech Republic, Finland, Sweden and Switzerland. The United States has won this tournament, traditionally a four-nation event, seven of the past eight times.
SIUE's Polster is rookie of year finalist • Southern Illinois Edwardsville product Matt Polster is among three finalists for Major League Soccer's rookie of the year award. A defensive midfielder who Chicago took with the seventh pick in the first round of the MLS draft, Polster played 30 games for the Fire last season, starting 27. His play got him a call to the U.S. under-23 team as it tried to qualify for the Olympics. The other two candidates for the award, which will be announced Nov. 10, are Fatai Alashe of San Jose and Cyle Larin of Orlando City.
Kenseth suspended two races • Matt Kenseth has been suspended for the next two races for intentionally wrecking Joey Logano in an act of retaliation that threatens to affect who wins the NASCAR championship.
The penalty was levied Tuesday. NASCAR also put him on probation for six months.
Kenseth was nine laps down Sunday at Martinsville Speedway when he deliberately drove Logano into the wall. The crash was payback for Logano wrecking Kenseth three races ago in an incident that ultimately led to Kenseth's elimination from NASCAR's playoffs.
UConn women No. 1 in poll • Geno Auriemma and his UConn Huskies are No. 1 in The Associated Press preseason women's basketball poll again.
It's the 11th time that the Huskies are the top choice in the first poll of the season, leaving them one short of the record held by Tennessee. The Huskies received all 32 first-place votes. South Carolina is second with Notre Dame, Tennessee and Baylor rounding out the first five.
Djokovic wins in Paris • Top-ranked Novak Djokovic overcame a slow start to extend his winning streak to 18 matches with a 7-5, 6-3 win over Thomaz Bellucci in his opening match at the Paris Masters on Tuesday. Djokovic, a two-time defending champion in the French capital, is bidding to become the first player to win six Masters 1000 titles in one season this week.
Real Madrid, Man City advance • Real Madrid and Manchester City became the first teams to reach the second round of the Champions League on Tuesday.
Madrid had substitute Nacho Fernandez to thank for a hard-fought 1-0 win over previously unbeaten Paris Saint-Germain which broke Barcelona's group-stage record of 18 games unbeaten.
City won 3-1 over Sevilla to move top of Group D on nine points, one ahead of Juventus, which eliminated Borussia Moenchengladbach with a 1-1 draw.
Manchester United moved top of Group B thanks to a 1-0 home win over CSKA Moscow, and Benfica took advantage of Atletico Madrid's scoreless draw at Astana by beating Galatasaray 2-1 to move atop Group C.