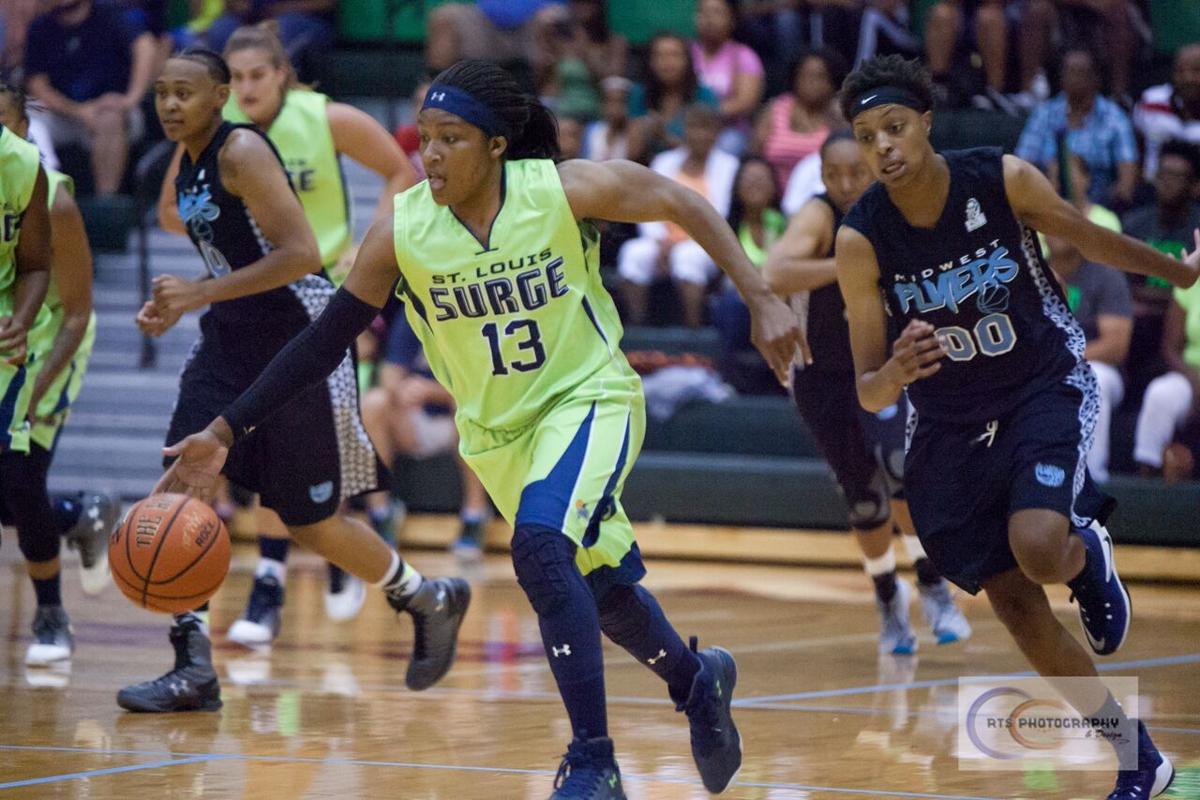 With time winding down Sunday afternoon in the Women's Blue Chip Basketball League championship game at Fontbonne University, the St. Louis Surge put the ball in the hands of their leader, Rebecca Harris.
But her shot — make that shots — missed the mark.
"I've been in that situation before. Sometimes the shot falls, and sometimes it doesn't," said Harris, who missed a 10-footer and a 5-foot follow shot in the waning seconds as the Surge's bid to capture back-to-back WBCBL titles fell short. The Georgia Soul came away with a 64-63 victory.
"I feel bad — our goal was to win the title in front of our home fans — but it was a tough game and I thought we competed hard the whole way. Give Georgia credit, they fought back and did what they needed to do at the end.
"We gave it everything we had and came up a little short. But that's basketball."
Added Surge coach Tony Condra: "There's nobody else I'd rather have in that spot. Nobody. And everybody in that locker room feels the same way. In 2014, when we won our first title, we were in the same spot in the semifinals and Rebecca hit the shot with six seconds left. She's our leader and a big reason we've had the season we've had."
Playing in its fourth straight WBCBL title game, the Surge finished the season 12-1. The Surge won championships in 2014 and 2016 and have finished as runners-up in 2015 and 2017.
The third-seeded Soul (15-3) pulled off its second upset in less than 24 hours, having handed the No. 2-seeded Dallas Diesel its first loss of the season in Saturday night's semifinals, winning 77-60.
"We were the underdog all weekend, but we knew that if we stayed focused and played our game, we'd have a chance," said tournament MVP Khadijiah Cave, whose two free throws with 1:16 to play put the visitors on top 64-63 for their only lead of the title game.
"We expected a nail-biter, but we battled through the adversity and came away with the victory."
In a key sequence just before Cave's free throws, St. Louis' Kristi Bellock came up with a blocked shot and grabbed the loose ball. But after some contact with a Georgia player, Bellock fell to the floor and was called for traveling.
"It's frustrating, but you have to play through things like that," said Condra, whose team was whistled for 23 fouls to just 12 against the Soul. Georgia made 17 of 29 free throws while the tournament host Surge converted just seven of 11.
"We had the lead, had the game in our control," Condra said. "But we allowed them a run early in the fourth quarter, and from there it was a battle."
The Surge, who led 17-13 after a quarter and 26-24 at the half, took command in the third period when Harris, who was scoreless in the first half, exploded for 11 points to spark a 17-5 run that stretched the Surge lead to 13 at 45-32 on a Patrice Butler jumper with about 90 seconds to play in the third quarter.
When Bellock completed a three-point play to open the fourth-quarter scoring, the Surge were up 50-37. But the Soul would not go away.
"I just kept stressing defense," Soul coach LaRon Freeman II said. "We knew that if we could try to make them a little bit uncomfortable, maybe we could get a swing."
A pair of 3-pointers from Eboni Field keyed a 12-0 run to get Georgia back in the game. The Soul pulled even at 60 and again at 62 before Cave's game-deciding free throws.
"We knew our team would never quit and I think (the Surge) was shocked," Freeman said. "That's a great program. ... Watching a few of their games, it seemed like most teams played them zone. We decided to go man, figuring we didn't have anything to lose."
Lacoya Terry led the Soul with 18 points, with Cave (14, with 21 rebounds) and Field (12) also finishing in double figures.
Harris, who averages about 19 points a game, came on strong after halftime to finish with 16 points, eight rebounds and six assists. Bellock added 12 points and 11 boards.
The Surge made just four of 27 on 3-pointers and converted 26 of 80 (32.5) percent from the floor overall.
"It seemed like we had a bunch of shots that went in and out today," Condra said. "When that happens, you start to realize it's just not your night. Just means we have to get back to work for next year."