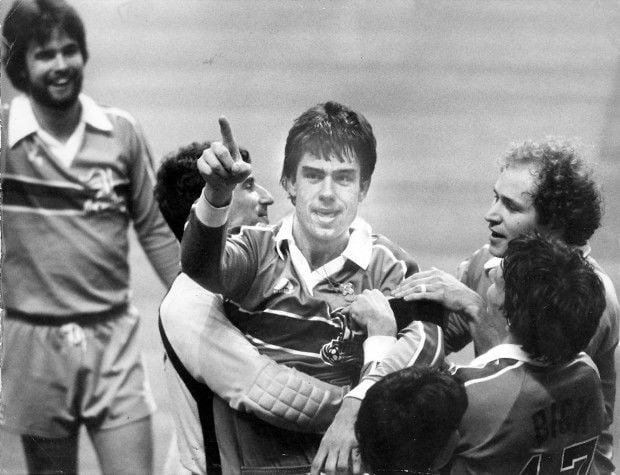 Editors note: In early December of 1979, just before the St. Louis Steamers were to make their home debut, sports editor Bob Broeg gave us a look at the new game in town.
If you'll take a tip from the top, you'll give a look or two at the newest sports gimmick in town indoor soccer.
The Steamers, symbolized by an old riverboat sidewheeler, will play Saturday night at Houston in a Major Indoor Soccer League game that will be televised by KDNL, Channel 30.
As they used to say when vaudeville and hoc-soc were alive, the team will be here "in person" to play Hartford on Friday night, Dec. 14, at the Checkerdome.
The Steamers' young tub-thumper, Gary Rensing, hometown center back from Mercy High, St. Louis University's national champions and the former soccer Stars, said an enthusiastic front office even hoped for an opening-night sellout.
"Personally," said Rensing, showing that as an "older hand" at 32 he's an eager beaver, too, "I think 14,000 would be nice."
Optimistic fellow, that eight-season professional here and in Chicago, formerly a teacher at Chaminade High before the MISL came to town. Financed by a New Jersey insurance-and-investment executive, Marvin Mann, the Steamers are otherwise as hometown oriented as bratwurst and beer.
They are coached by Pat McBride, 36, the city's first player in the North American Soccer League 12 years ago. Their general manager, succeeding Steve Weaver, is Tom Twellman, 28, former Southern Illinois University-Edwardsville player and a minor league baseball second baseman.
Although there might be other reasons, Weaver, formerly in the front office of the Stars and the Chicago Sting of the outdoor league, quit for personal reasons that included noble disagreement with an Eastern indoor league executive on recasting the ticket prices here. If that doesn't make Weaver a Robin Hood, he'll do until someone more concerned comes along.
Tickets cost from $2 to $6. For persons 18 or younger, $5 tickets are $3 and $4 seats go for $2.50. Tickets can be obtained at the Checkerdome.
For one, I think the updated sport, invented years ago by the late Walter Giesler, St. Louis sporting goods' executive and national soccer official, is a sleeper. If soccer outdoors has mushroomed nationally at all levels in recent years, I believe the indoor game has even more opportunity as a spectator sport.
It's a combination of hockey and soccer, played in four 15-minute periods with frequent line changes as on ice and almost as exciting as the game played on blades. The play is easier to follow than hockey, too.
Said Rensing, smiling, "It ought to be. After all, they're using an orange ball on a green (artificial turf) field."
With six men on a side, they've had sense enough to come in out of the cold. The Steamers practically ice-skated in miserable weather into the Cleveland arena for a dry-as-toast, league-opening loss the other night, 5-4.
Rensing, who played briefly in Chicago after the Stars pulled out for California a couple of years ago, has a private hope that indoor soccer success will lead to a return to St. Louis of the North American Soccer League.
Only four (Johnny Stremlau, Al Trost, Bob O'Leary and Buzz Demling) of some 15 St. Louis players in the foreigner-loaded NASL are involved in the winter league, but Rensing figured that about 98 percent of the NASL players have been loaned or rented to MISL clubs.