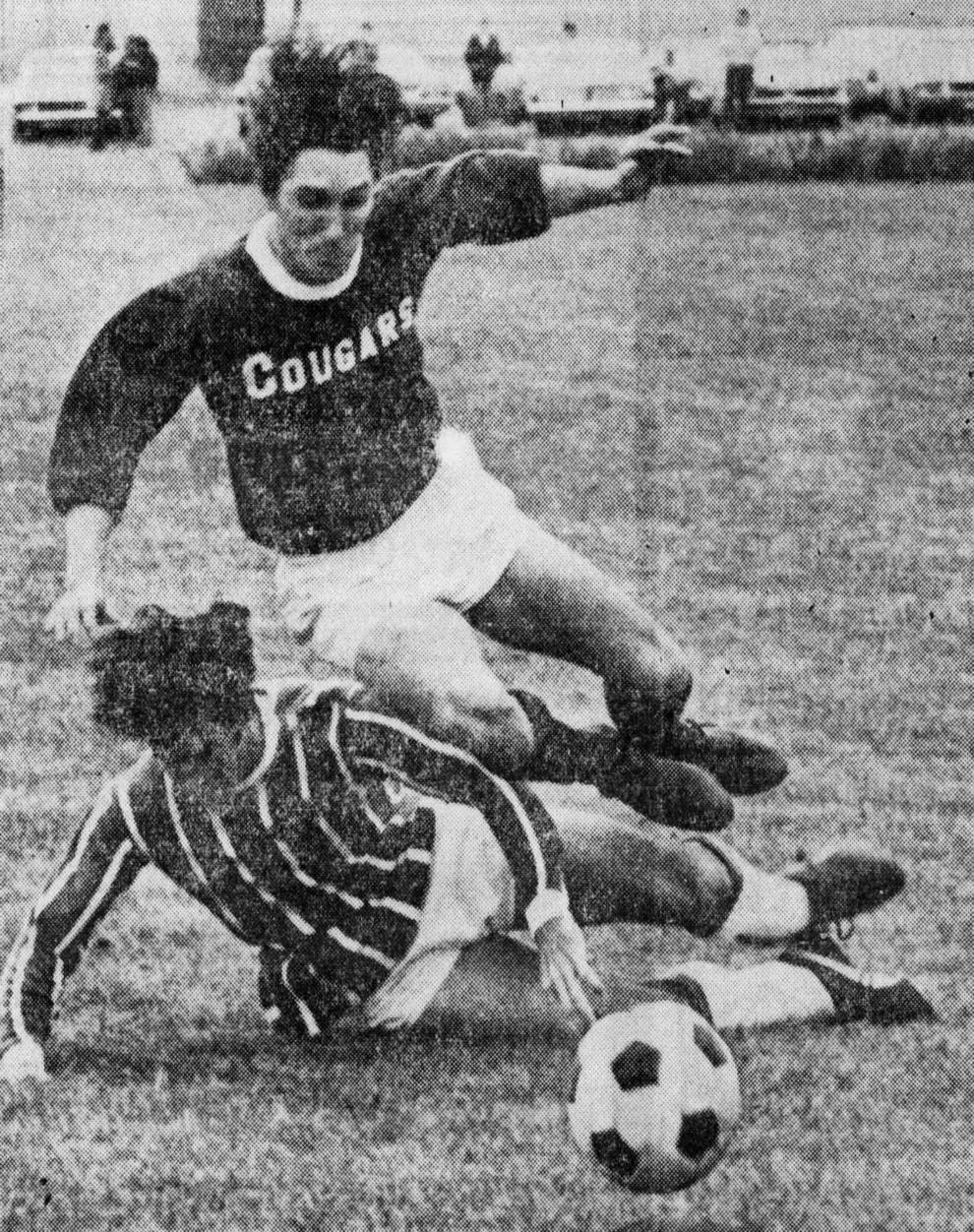 Editor's note: In 1970, the Saint Louis University Billikens in the midst of a soccer dynasty, heading for their sixth of 10 NCAA championships they would win over a 15-year period. But on the way to that title, they would have to get by an upstart team from SIU-Edwardsville. This is the report on that game from the Nov. 29, 1970, pages of the St. Louis Post-Dispatch. 
St. Louis University's powerful soccer team defeated SIU-Edwardsville, 2-1, yesterday on a fluke goal in the last 10 seconds and advanced to Thursday's semifinals of the National Collegiate Athletic Association tournament.
Harry Keough's Billikens, 12-0-1, for the season and unbeaten in 26 games over two years, will meet Hartwick College of Oneonta, N.Y., in the round of four at 11 a.m. Thursday at SIU's Cougar Field. Hartwick yesterday edged Harvard, 4-3.
The defending national champion Bills, trailing 1-0 going into the fourth quarter, achieved their goals by applying tremendous pressure. Dan Counce, freshman striker, was credited with both scores, and the second caromed off his head, as he was diving in an effort to deflect the ball, on a harsh kick by Pat Leahy. SIU goalie Rick Benben was braced to stop Leahy's bid, but had no chance to save the accidental "header."
The goals were Counce's 13th and 14th of the season, to go with nine assists.
St. Louis had 34 shots on goal, 13 in the bristling final period, compared to 15 in the entire game by SIU's hard-charging Cougars, who made their greatest effort of a 9-3 season in a pressure-packed third quarter. In a do-or-die effort after the scoreless half, the Cougars banged away with seven shots in the third quarter, and Chris Carenza gave them what appeared to be a big 1-0 lead 3 minutes 38 seconds after the start of the period.
Chris hit from 18 yards out, after getting a feed pass from Jack Blake. Billiken pressure mounted after that, but not until 9:45 was gone in the fourth period did Counce, out of a scramble, catch a loop pass from Joe Hamm to get the tying score.
His winning shot was one he'll probably never forget.
"I think I would have been hit squarely in the face or head by Leahy's boot," Counce said, "so I dove down and tried to get a piece of it with my head and deflect it. I guess I was as surprised as anyone else when it went over Benben's head into the cords."
Keough recalled St. Louis's comeback was similar to that of the Bills exactly a year ago in the same round of the NCAA tournament against Cleveland State. "We won that one, 2-1, too," said Keough, "but had to put on a terrific rally, just as we did against SIU. And then we went to win the last two and the title. I hope we can repeat. This was the first time this season that we had to come from behind to win."
Bob Guelker, SIU coach, said he was proud of his team's showing against a team that had beat the Cougars, 3-1, three weeks ago.
"We let them know we were around," Guelker said. "We have nothing to be ashamed of. Benben did a terrific job in goal (he was credited with 16 saves) and our backfield also contained the Bills better than before."
SIU scoring star John Carenza, suffered a pulled-muscle injury in the third quarter and tried to play under the handicap of his arm in a make-shift sling before finally removed in the fourth quarter.