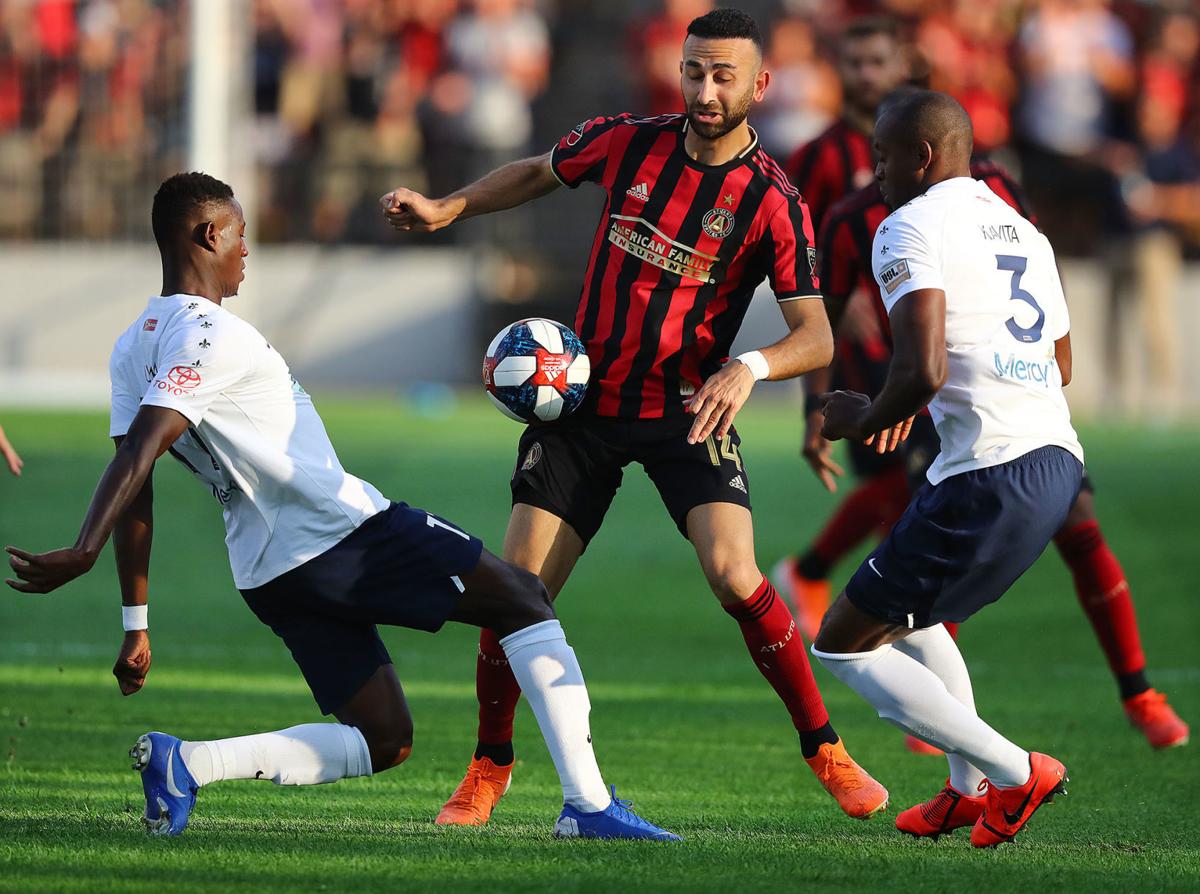 Major League Soccer is coming to town, and while St. Louisans are familiar with Major League Baseball and the National Hockey League, many don't know much about MLS.
Professional soccer. But, in more detail: the league is in its 24th season; it was founded in 1996. Each team owner also owns a portion of the league, setting its ownership structure apart from the NFL and other major American sports leagues. 
HOW IS THE LEAGUE STRUCTURED?
The league has 24 teams divided into the Western and Eastern conferences. 
MLS teams
| Western Conference | Eastern Conference |
| --- | --- |
| Colorado Rapids | Atlanta United |
| FC Dallas | Chicago Fire |
| Houston Dynamo | FC Cincinnati |
| Sporting Kansas City | Columbus Crew SC |
| L.A. Galaxy | D.C. United |
| Los Angeles Football Club | Montreal Impact |
| Minnesota United FC | New England Revolution |
| Portland Timbers | New York City FC |
| Real Salt Lake | New York Red Bulls |
| San Jose Earthquakes | Orlando City SC |
| Seattle Sounders FC | Philadelphia Union |
| Vancouver Whitecaps | Toronto FC |
The league offers several rivalry possibilities, with Kansas City and Chicago both boasting teams. St. Louis' least-favorite sports team owner, Stan Kroenke, also owns an MLS team, the Colorado Rapids.
Three more teams will join the league in coming years, with Inter Miami CF and Nashville SC starting in 2020 and Austin FC starting in 2021. With St. Louis grabbing one more expansion slot, two other teams are still be to determined. Charlotte, Las Vegas and Sacramento are other cities bidding for MLS teams. 
Several teams pull from European influences: FC stands for football club; it's an English way of referring to soccer teams. SC is an American-ization of that: soccer club. United in team names is another reference to English soccer (Manchester United).  
The league's season begins in March and ends in October. Playoffs for its championship, the MLS Cup, start in mid-October; this year's championship game is Nov. 10. Teams play a 34-game regular season, with 17 home games. 
HOW DO TEAMS WIN A CHAMPIONSHIP?
Unlike the English Premier League, which has no championship game, MLS teams play for the MLS Cup. For this season, the top seven teams will move to a single-elimination playoff; the top team from each conference will have a first-round bye. The L.A. Galaxy has the most championships with five, D.C. United has four. 
Soccer teams have voracious fans that form local supporting groups. The St. Louligans are one supporter group for St. Louis' current soccer team, St. Louis FC, which plays in the United Soccer League a level below the MLS. Group members sit together, chant throughout the game, beat drums and otherwise support their teams. 
MLS stadiums have a seating capacity from 18,000 to 30,000. The average attendance for games from 2013-2018 was 21,358. 
Busch Stadium has a capacity of 45,538; the Enterprise Center seats 19,150 for Blues games.
Games are televised on ESPN, Fox Sports and Univision. 
MLS says that it is the most diverse of the five major sports leagues in the U.S. and Canada, with players born in more than 70 countries. The league has 295 U.S.-born players, according to its website.
While the league has rising stars and U.S. national team players, it's also known as a league where players who reached fame in the top European soccer leagues like the English Premier League and La Liga (David Beckham, Wayne Rooney, Zlatan Ibrahimovic) can come later in their careers.
HOW WILL ST. LOUIS' TEAM GET PLAYERS?
MLS team rosters include 30 players, but only 20 (senior players) count toward the salary cap of $4.2 million. Game-day rosters include 18 players who can be any of the men on their active roster. The cap also doesn't include players on the allocation list, which includes U.S. national and youth national team players, and players currently playing in non-MLS leagues. The team can have up to three "designated players" that do not count against that cap; those players can be on the allocation ranking list.
The league sets definitions for domestic and international players. Expansion teams since 2008 have eight slots for international players; teams can trade those spots.
In the last expansion draft, for FC Cincinnati in December 2018, coaches could pick five current MLS players (only a single player from any club). Coaches from other teams could protect 11 players with certain requirements. 
Cincinnati pulled several players to its MLS team from a USL team the ownership group also owned. Jim Kavanaugh, one of the people on St. Louis' MLS team ownership group, is also CEO for the USL team, St. Louis FC. 
There's also a draft for young college and international players. 
Player salaries vary, but the league's agreement with a player association has set a minimum of $70,250 for a senior player.
WHAT WILL THE TEAM'S NAME BE? 
The leadership group hasn't announced a name for its team.