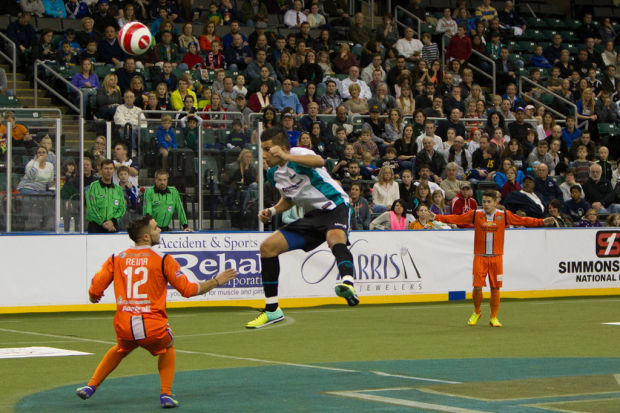 Convincing his family to leave life in southeast Florida for St. Louis was a tough sell for Andrew Haines, who relocated to become part of the ownership group for the St. Louis Ambush.
Indoor soccer's history in the area may run deep, but its longevity through recent endeavors has proved fleeting.
"It wasn't easy to convince my wife and daughter, who's 16," Haines said. "But we wanted to be here for a long time. When you start doing research, it's such a unique market. I've been in a lot of markets. We have something special here. When you have that, you have to jump on it."
Like investors before him — from the Steamers to the Storm, Ambush, Steamers redux and Illusion — Haines believes indoor soccer can thrive here. And the team's six-game average of 5,464 fans at Family Arena has done nothing to sway his opinion.
If anything, it's helped soften the transition from warm winter days to snow drifts in January.
The Ambush have built around coach Daryl Doran's name and a young, local roster that has started the season 4-6 after Saturday's 14-12 home win over Rochester.
The team sold slightly more than 1,100 season tickets, has attempted to keep expenses at a minimum and remained true to its goal to not provide tickets for free.
The Ambush will avoid gimmicks such as the expensive reality show and semi-nude billboard produced by the Steamers in the previous decade in hope of filling seats with a good product on the field.
"I said we need to go back to basics and be community oriented," said Brian Roth, the team's assistant general manager. "We're not doing anything crazy. We haven't run huge promotions."
Family Arena has been home to a long list of sporting endeavors, all of which were short-lived. The Steamers, River Otters (hockey), Renegades (arena football), Swarm (basketball) and Rage (arena football) have come and gone. They have provided an abundance of business lessons.
Teams in the Major Indoor Soccer League paid salaries between $150,000 and $300,000 last season, Haines said. The Ambush are at the lower end of that range. Haines estimated the team needed to average about 2,000 fans to break even.
Of the fans going through the turnstiles, he said 1,000 to 1,200 are complimentary, but those are tickets provided to companies that have paid for sponsorships. Tickets run from $15 to $47 with prices as low as $8 for groups.
Besides attendance, a key to financial success has been maintaining smart spending practices. To that end, the Ambush make every road trip via bus, including Syracuse, N.Y. Haines rode along on that trip to New York.
"And it was a long ride because it was in a snow storm," he said. "But I took the bus to let the guys know I'll do what I'm asking them to do. Travel (expenses) can get out of control."
The Ambush front office has made wide-ranging attempts to connect to the area's indoor soccer past, which included seasons in which the Steamers of the 1980s averaged more than 10,000 fans.
Haines contacted Dr. Abraham Hawatmeh to seek advice and get his blessing for the use of the Ambush name. Hawatmeh attended the team's home opener.
Roth, who grew up as a fan of St. Louis' various teams, and others made contact with about 90 former St. Louis indoor players, many of whom run club teams in the area. The Ambush will have a retro night at a game in February.
Roth also has used his experience as a fan to shape his vision for a marketing plan.
"Sometimes you sit and wonder why we had 10,000 one night in 1995 and a year later we might have had 5,000," he said. "We're not going to put up billboards with naked players like the last team. No offense to them, but they tried and it really didn't work for this market. They alienated the soccer market and tried to attract the beer-drinking crowd, not the soccer clubs."
Only time will tell if the new Ambush can succeed well enough to keep Haines and the franchise in the area for the long haul, or if they will end up in the junk heap with so many other failed St. Charles sports ventures.
The hope is to build on the initial season and draw 8,000 to 9,000 next season.
"I think next year it's realistic," Haines said. "When we announced we were coming there was a 'Here we go again' mentality. You've got to prove yourself, and so far we've done everything we said we were going to do."