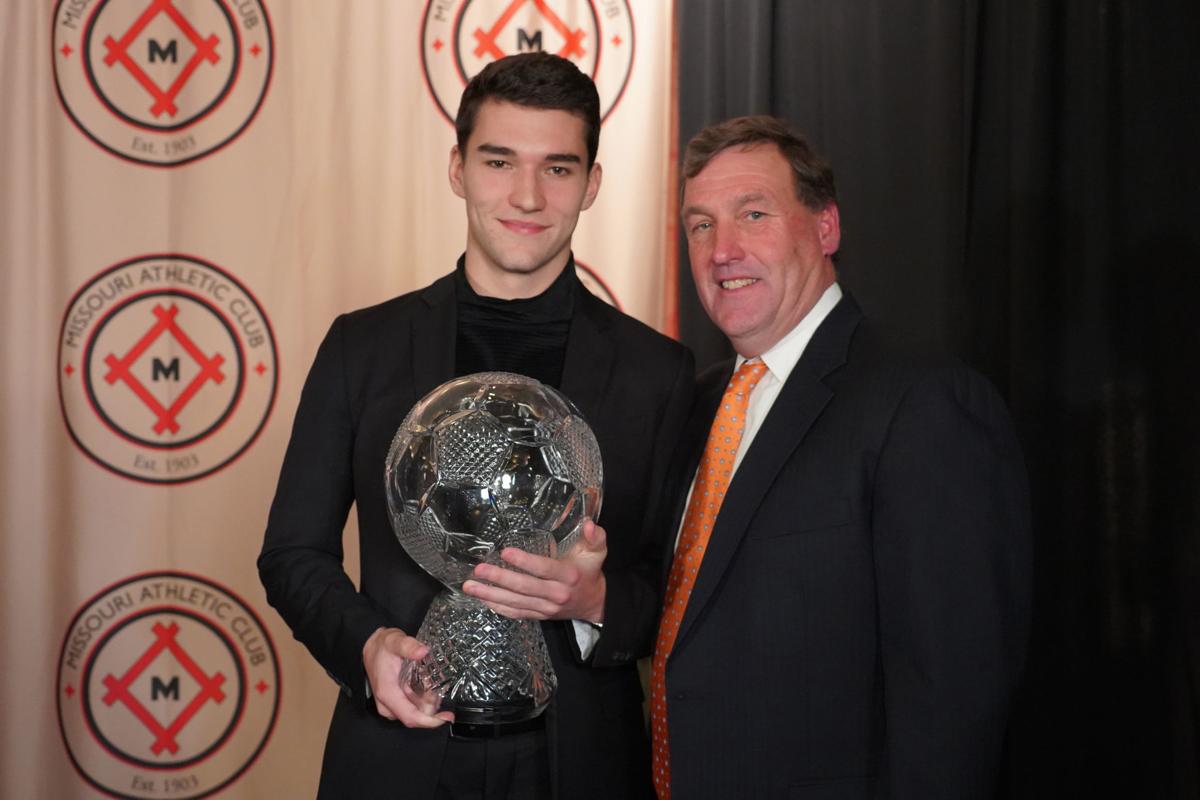 While the Clemson football team has a chance at repeating as NCAA football champion, there's another success story on the South Carolina school's campus.
Robbie Robinson, a junior forward for the Tigers, won the Missouri Athletic Club's Hermann Trophy on Friday night as the nation's top college soccer player. Catarina Macario, a junior midfielder at Stanford, repeated as the women's winner.
Robinson is quiet off the field, the nation's best on the field and an even snappier dresser, if that's possible. He showed up at the Hermann ceremony with a black suit over a black turtleneck and black shoes with floral designs on them.
"He styles pretty well, too," said Clemson coach Mike Noonan. "As a goal scorer, you have to have a little bit of flair."
"This is my style," said Robinson, who bought the outfit just for the occasion. "I like to mix it up a little bit."
Robinson, to put it simply, loves soccer, which is what got him where he is today, as possibly the first pick in next week's Major League Soccer draft. If he doesn't go first to the expansion Miami team, he'll go second to the expansion Nashville team.
"Whenever people were going out partying, I was at the field and working hard," he said. "I lived in a small town, nothing really to do. I loved soccer from an early age and did that every single day. I wouldn't miss a day of training.
"We had a field behind our house, so whenever I wanted to, that's what made me happy. That's what I would do whenever I was feeling any kind of way. Every day. Every day go out there and touch the ball, and it increased my love for the game. I owe everything to this game, and I'll continue to do everything I can to improve as a player and as a person."
Although his father played rugby and his mother played volleyball, Robinson gravitated to soccer in a state that hasn't produced many high-level soccer players (Noonan thinks Robinson is the best player ever born in South Carolina).
"I have some great memories when I was little," Robinson said. "Our family would have family games, my mom, my dad and my two sisters and me playing together as a family, so that really stands out to me. It shows our family's love for the game. You can have a love for the game, but if your family's on board with you and understands your love, and they're there to support you, that's important for me."
Robinson led the nation in points with 45, tying for the NCAA lead in goals (18) and tying for fifth in assists (nine).
"He's very confident," Noonan said. "He's got a great sense for where the goal is and can play with both his feet. He's learned and accumulated a great deal of acumen over a number of years. He's a talent. He's a big talent. And humility. You don't find that a lot in a goal scorer. His innocence is wonderful. All he wants is to be the best soccer player possible."
Macario is the fifth women's player to repeat as winner of the award, following Mia Hamm, Cindy Parlow, Christine Sinclair and Morgan Brian. And, as a junior, she's got a chance to be the first three-time winner.
Macario, who went home to Brazil for Christmas break and didn't attend the ceremony this year, won as a forward as a sophomore and as a midfielder as a junior, after coach Paul Ratcliffe had to move her to fill the team's needs. She set Stanford records in goals (32), assists (23) and points (87) as Stanford won its third national championship.
"We had a void in midfield from departures last year from graduation, and I sat down and had a chat with her and spoke to her about it and she said, 'I'm willing to play in the midfield if you think the team needs that,'" Ratcliffe said. "I'm happy to see the byproduct is her getting an individual award because she was so selfless to do that for the whole and helped us to win a national championship."
Where Macario will be next year is still up in the air.
"We'll see," Ratcliffe said. "Wherever I put her, she'll be an impact player and make a difference for us. She keeps getting better and better."