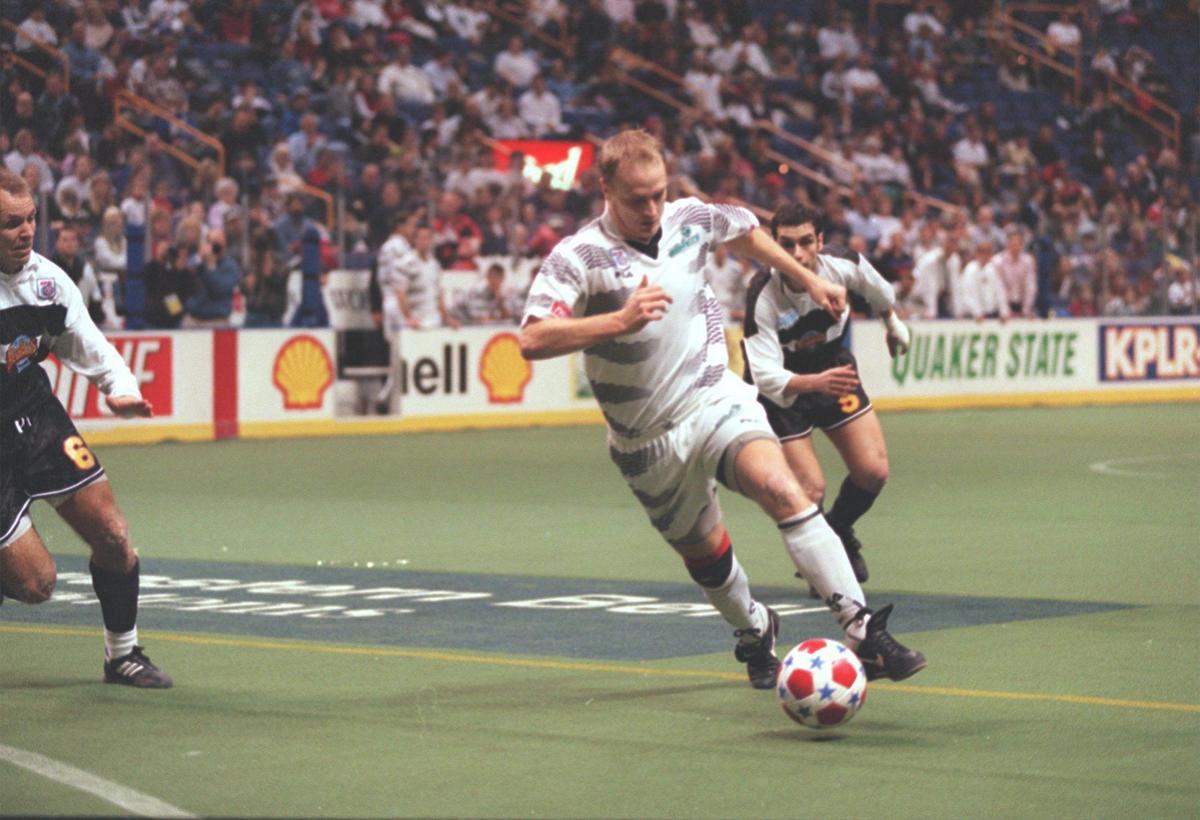 Exactly twenty-five years ago, on April 25, 1995, the St. Louis Ambush did something no other area professional soccer team has done before or since.
Rallying from an 11-0 second-quarter deficit in Harrisburg, Pa., the Ambush staged a dramatic and unlikely comeback to win 14-11 and complete a sweep of the Heat for the National Professional Soccer League championship.
Player-coach "Daryl (Doran) scored a two-pointer just before halftime," forward Mark Moser recalled. "We were under a lot of pressure early in the second half when Jamie Swanner came up with a save and threw the ball to me breaking down the left side. Honestly, I don't know if I could've hit the ball any better, into the upper corner on the short side for a 3-pointer. Then, on the next shift, Mike LaPosha scored to make it 11-7.
"At that point, we knew and more importantly I think Harrisburg knew that it was our game."
And the Ambush went on to the title-clinching win.
"It was a special group," said team owner Dr. Abraham Hawatmeh, who bought the Tulsa Ambush in 1992, moved the indoor soccer franchise to St. Louis and then hired Doran as player-coach. "We had great fans and a bunch of guys who really got along well. It was a special time."
But a key to the title team's success may have been the squad's North vs. South games in practice.
"Whenever we hit a rough patch or needed something to get us going, Daryl would call for the North vs. South game," midfielder Steve Maurer recalled. "And that definitely got us going. We were a close team, friends off the field, but nothing was as intense as those games. Not even our real games."
Players questioned about the North vs. South contests recall the results being split evenly, but ...
"We always played a little longer, it seemed, when Daryl and the South side was losing," North sider Moser recalled, chuckling.
The Ambush went 19-21 in 1992-93 and finished 25-15 in winning the National Division the following season, when they fell 3-1 in the 1993-94 finals to the Cleveland Crunch.
"We won the first game and lost the last one in double-overtime," forward Joe Reiniger remembered. "I can still vividly remember hitting the cross bar in overtime. It's one of those things I don't think I'll ever forget."
Added Moser: "Getting so close, I definitely think it carried over for us. At that point, I think we knew we could compete with anybody."
The Ambush started the 1994-95 season with an all-St. Louis roster — former U.S. national teamer Eric Eichmann and fellow forward Greg Sczurek were added during the season and played key roles — and the team went 30-10 in defending its National Division title.
In the playoffs, the Ambush blew by Detroit in two games before surviving a tough five-game series with the archrival Kansas City Attack. Meanwhile, in the American Conference, Harrisburg upset top-seeded Cleveland in three straight.
In the finals, the Ambush won 19-9, 18-8 and 12-7 to set up its dramatic title-clinching win in Harrisburg.
"That season, everything just seemed to come together for us," said Doran, who runs Doran Fitness in O'Fallon, Mo., and who recently became the women's soccer coach at St. Charles Community College. "A key, obviously, was being healthy at the end of the year, something that limited us in other seasons. But the really great thing about that season was how well we played together. We had Moser and Reiniger up top who were always so dangerous, and our midfield, with guys like Steve Kuntz, Scott McDoniel, Steve Maurer and John Klein, did a phenomenal job of playing the game at both ends of the floor. And we also got some great play from guys in the back like Steve Trittschuh and Chris Kenny, which allowed myself and Kevin Hundelt to move forward and contribute in the attack.
"Everything came together for us that season."
But it was one huge offseason addition — a trade for veteran goalkeeper Swanner — that proved to be the missing piece.
Swanner, a Southwest High grad, won 25 games in the regular season and eight more in the playoffs and was named the league's goalkeeper of the year while Moser, who played in all 40 regular-season games, also earned all-league honors. In a career year, Moser scored 89 goals and assisted on 26 during the regular season and followed up with 29 goals and seven assists in the Ambush's 9-2 playoff run.
"Everything came together that year — for me and for the team," Moser said.
Hundelt was named to the NPSL second team while Doran, who missed some time that season with a knee injury, earned third-team honors. Other top scorers in the regular season included Reiniger (51 goals, 26 assists), Maurer (48 goals, 25 assists), Kuntz (40 goals, 16 assists) and Hundelt (27 goals, 49 assists).
Other key players on the squad included Kevin Groark, Craig Frederking, Ryan Degrand, Terry Brown and Bill Cowie.
With the NHL locked out in 1994, the Ambush had the honor of playing the first regular-season game at the new Kiel Center (now Enterprise Center). That championship season, the Ambush led the NPSL in attendance, drawing 7,881 per game.
"The fans, they were incredible," Dr. Hawatmeh said.
The Ambush also reached the NPSL finals in 1998 and 1999, losing to Milwaukee and Cleveland, respectively.
Be the first to know
Get local news delivered to your inbox!