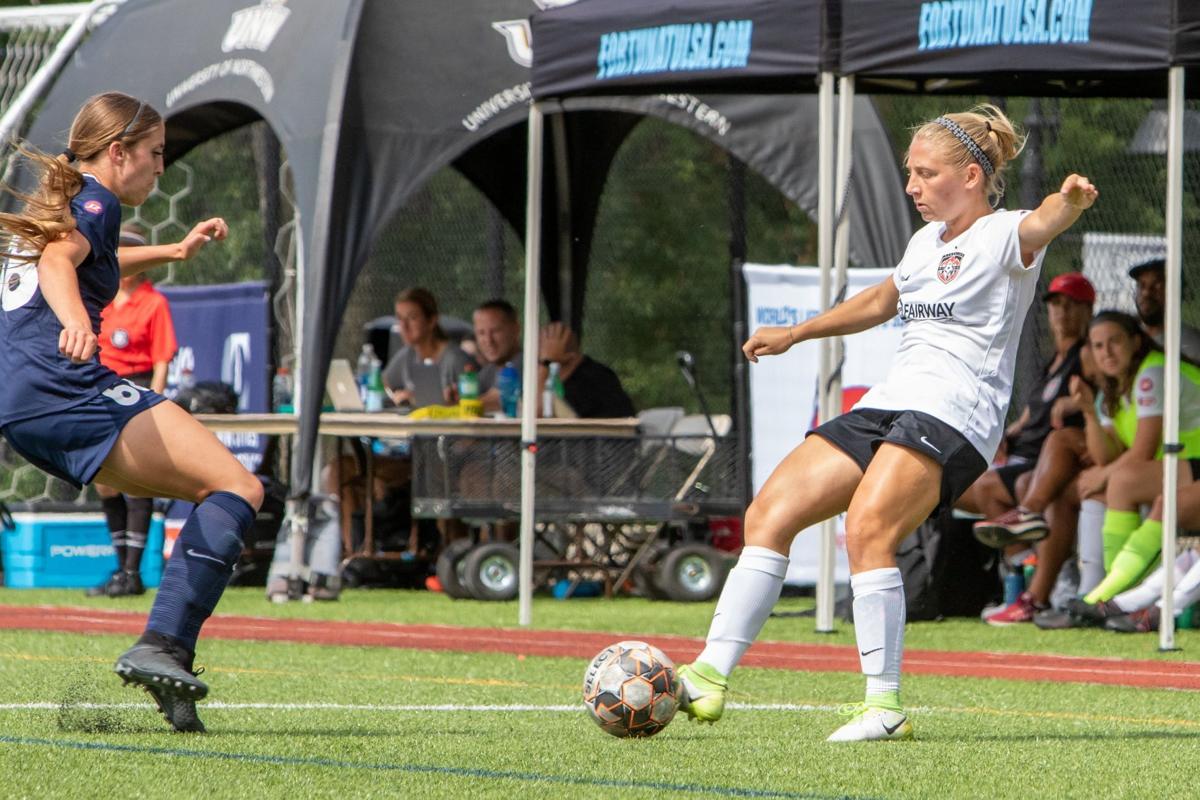 When Lauren Kaempfe joined the Fire & Ice Soccer club in 2014, she was a quiet young player in search of experience at a higher level.
Now she's the team's captain and its on-field leader.
"We look to Lauren to set a tone and that's exactly what she's done," said Lindsay Eversmeyer, who serves as president, club director and coach for Fire & Ice. "As a young player, she was quiet and sometimes seemed a little nervous. But even then, her work rate and energy were outstanding. Now, because of her experience, she's become a player everybody looks to."
Kaempfe and her Fire & Ice teammates will wrap up their Women's Premier Soccer League season on Saturday in Cincinnati against the Sirens (6-2). Fire & Ice enters at 6-4-1. Because of COVID-19, the WPSL shut down last summer and elected not to hold playoffs this year.
Kaempfe, midfielder Brianna Hatfield (Alton/St. Louis U.) and Louisiana State product Nicole Howard were the only returning players for Fire & Ice this summer. The team won the WPSL title in 2017 and reached the final four again in 2018.
"It's been a different season, but it's also been exciting to see this team come together and to see the younger girls catch on," said Kaempfe, who recently celebrated her 24th birthday. "I can remember my first year here and asking our sweeper, Cassie Kaiping, to make sure I was in position. Now, I'm the one who tries to set a tone for the rest of the team. It's a different role for me, but it's something I really enjoy."
A high-scoring forward at Columbia High, Kaempfe played a variety of positions while rarely leaving the field at Southeast Missouri State University. And that versatility naturally carried over to her time with Fire & Ice.
"Honestly, I don't think I could name one spot as my favorite," Kaempfe said. "Every position brings different challenges and I enjoy those challenges. At sweeper, I'm playing in a high-pressure spot; I love making a tackle to win the ball back for us and then playing the ball forward to get the attack started."
Off the field, Kaempfe is working toward becoming a registered dietician.
"I'm about to take my certification test and I'm about halfway through my master's degree. Then, I'll be getting a big-girl job," she joked. "I may try for something in a hospital setting or in a clinic or maybe I'll try to become a sports dietician with a college team. At this point, I'm trying to keep my options open."
Kaempfe and Eversmeyer hope she will remain with Fire & Ice.
"As long as she wants to keep playing, we'll have a spot for her," the coach said.
This was a transition season for Fire & Ice.
"Coming in, I wasn't sure what to expect because it was basically a new team," Eversmeyer said. "It's been different — at one point, I remember us having three high school juniors on the field — but the younger girls learned and they just keep getting better. We did well this year and the potential for the future is even better."
Eversmeyer was especially impressed with the play of goalkeepers Bailey Redden (Belleville West/SEMO) and Kasey Hartmann (Lutheran South/SLU). Others who stood out this summer were defender Mercedes Schroer, an O'Fallon Christian grad who'll begin her college career at Miami of Ohio this fall, Belleville West midfielder Sarah Foley, who has committed to Illinois, Illinois grad Nicole Breece (Parkway South), Althoff senior-to-be midfielder Regan Moody, midfielder Hatfield and this summer's top scorer MacKenzie Litzsinger (Summit/SIUE).
"If we can get this group back and add a few key pieces, I think we'll be in real good shape," Eversmeyer said.
Rough go for LionsThe area's other WPSL squad, the St. Louis Lions, finished 0-10.
"We had a tough season, no question," coach Geoff Lorimier said. "But we started without a single player who'd been in this league before and it showed. We dealt with some tough times — losing 9-1 in our first game, I can remember looking at (club technical director) Tony Glavin and wondering what we could expect for the season. But the individual growth we saw from this group was tremendous. The girls we had were first class and always willing to listen, work and learn.
"The record doesn't show it, but we know the progress this group made and hopefully that'll give us something to build on next summer."
Key players for the youthful Lions included top scorer Kat Van Booven (Timberland/University of Wisconsin-Milwaukee), Fontbonne's Krystal Kohenskey (Troy Buchanan) and defender Cali Henderson.
"If I had to pick an MVP, it'd be Cali," Lorimier said. "Early on, she didn't see much time. But she showed up at every training session and never stopped working. She kept getting better and ended up starting in our last six games."