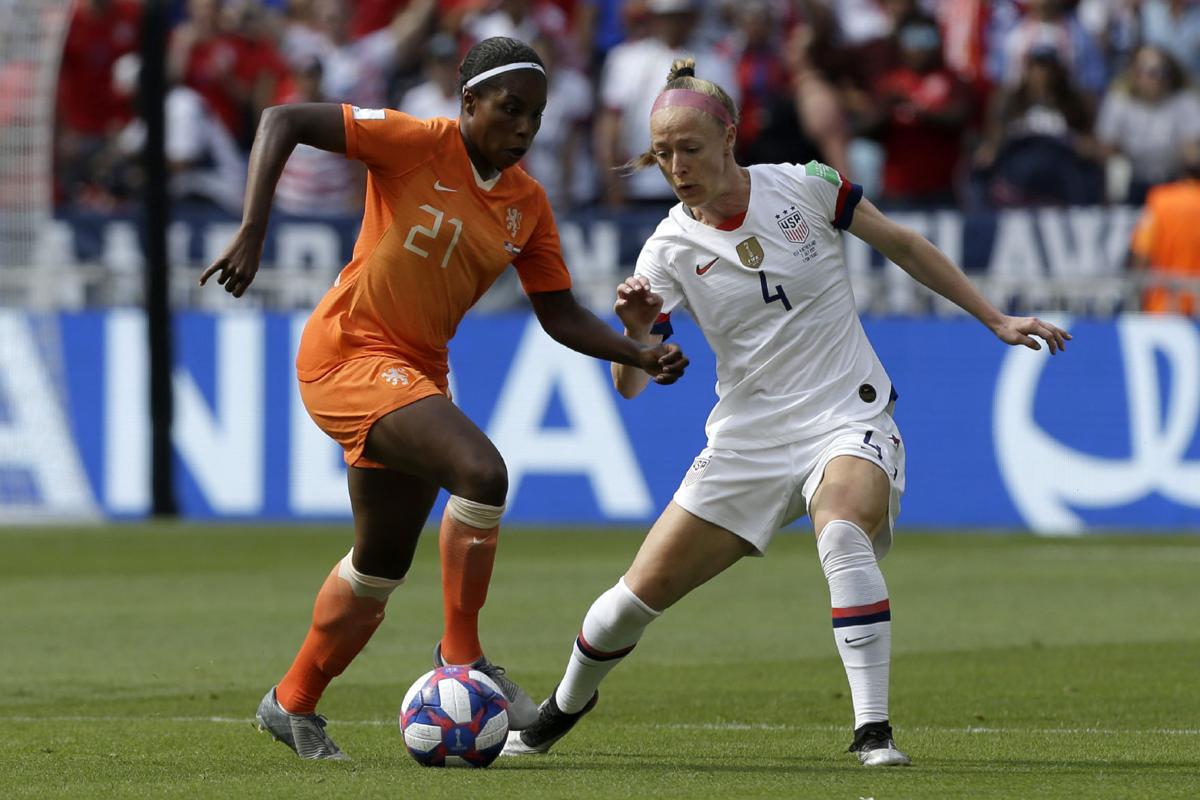 Becky Sauerbrunn has already won two World Cups and an Olympic gold medal. She will take a run at another gold medal this summer, and do it with the title of captain of the U.S. women's national soccer team.
Coach Vlatko Andonovski announced the Ladue native's selection for the post on Sunday ahead of games on Monday and Friday against Colombia in Orlando, Florida.
Samantha Mewis scored three goals and her big sister Kristie Mewis also scored as the U.S. beat Colombia 4-0 on Monday. The win helped the Americans extend their unbeaten streak to 33 matches. The defending World Cup champions have a 49-game undefeated streak on home soil.
"It's an extraordinary honor being named the captain," Sauerbrunn said Sunday. "I'm going to work my butt off and follow in the legacy of all the people that have worn the armband and been in this role before."
Sauerbrunn has been captain of the team before, sharing the post with Carli Lloyd from 2016 to 2017, though then, Sauerbrunn was only captain when Lloyd wasn't on the field. Sauerbrunn has led the team in other ways too: She was one of the five players who put their names on a lawsuit in 2016 against U.S. Soccer over pay discrimination. "So happy for you," Lloyd tweeted at Sauerbrunn. "You're the best. Well deserved."
Sauerbrunn, 35, made her debut with the national team in 2008 and has played 178 games for the national team, second only to Lloyd among players on the roster, plus more with various U.S. youth teams. Growing up in St. Louis, she played with the J.B. Marine club and at Ladue High before going to the University of Virginia.
"I consider myself extremely lucky," she said, "in that I am on a team that is just full of leaders. … It's not so much I have to change. It's really I bring the behavior that I've always brought and I've been that type of leader when I was the captain of this team a couple years. The role can always change but I think the behaviors always stay the same. So for me, I just need to stay the same person and lead in the same way and just really empower those around me to really let them show their strength so collectively our strengths are always going to be stronger than our weaknesses.
"I don't think my leadership really changes. My type of leadership is that I do check in with players and I check in with them in camp and out of camp. That's always been my style, to send a text and say, 'Hey, how are you doing? I know you got injured, how's your rehab going? Do you need anything from me?' I don't think that's going to change. I think some of my responsibilities may be doing more (press conferences) like this one, definitely being more of that conduit between the technical staff and the players and the support staff and the players and making sure the players feel like they're getting everything that they need to make sure they can be at their best."
"I like to look to Becky as my compass," said U.S. midfielder Sam Mewis, "like whatever she's doing is what I know is right, so I should probably do the same thing. And I think her leadership here has been really important for this team and for all the girls, especially the young girls coming up. I think she's always really made sure that she's there for us and that she goes out of her way to make sure we're doing OK. She's just been like a really pivotal member of the team for so long."