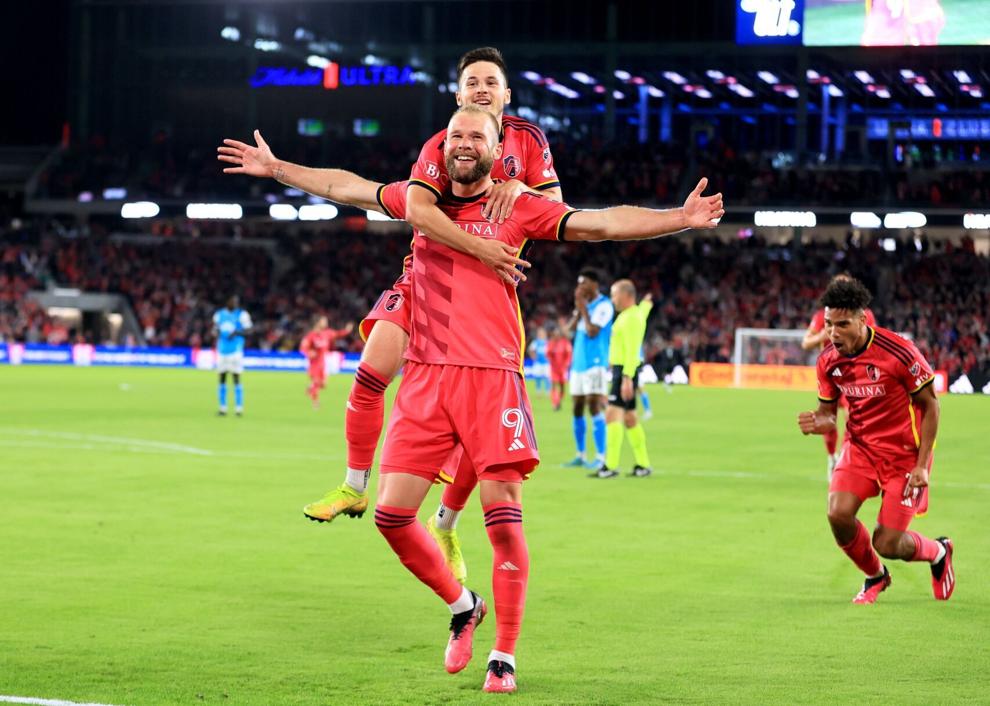 The game for St. Louis City SC on Saturday was going to be a big deal regardless of what happened. The first home game for the Major League Soccer expansion. The first real game in their stadium, CityPark. That in itself would be more than enough to satisfy a fan base that has wanted a team for decades but has lacked two basic necessities: an owner with a lot of money and place in which they can play.
That that game ended the way most of the 22,423 fans at CityPark wanted it to, with a 3-1 win by City SC over Charlotte FC, turned it for them, and those who couldn't be there, into more than just a night to remember. It became a night to cherish and savor.
The crowd cheered and chanted all night long — installing seats in the lower bowl seems to have been an unnecessary expense — and when it ended, most it seemed didn't want to leave, hanging around to continue cheering as the players cheered back, starting at the supporters section at the north end of the stadium and circling clockwise, applauding everyone.
"It was incredible," said midfielder Eduard Lowen, whose penalty kick five minutes into first-half stoppage time put City SC ahead. "The moment I stepped out I had goosebumps. You could tell the whole city was waiting for this moment so long. I had to keep myself a little bit down the day and the days before, try to not focus too much on the game because I know that the excitement is so big, and it was an incredible night. And I think it's not over with."
"It's something that I haven't experienced in my career, ever" said defender Jake Nerwinski, whose high ball into the box was headed into his own net by a Charlotte defender to tie the game. "It was something pretty special. I know this city has been waiting a long tie for a professional team, and everyone showed that tonight so it was awesome. They gave us that extra boost that we needed and it was great that we came away with three points."
"It didn't feel like 22,000, it felt like 50," said striker Niko Gioacchini. "I just want to thank all the supporters for coming out and showing energy and love to us, something that's very important, especially in this sport. They did more than we expected, so I'm very happy about that."
The win makes City SC 2-0, just the fourth expansion team in league history to start 2-0, and this league has had a lot of expansion teams, starting with 10 teams in 1996 and now up to 29. City SC's six goals are tied for the most in the league.
The goals have not exactly been textbook: On Saturday there was an own goal, a penalty kick for a handball in the box and another Grade A turnover by the opposition. But City SC has been putting the pressure on the opposition to make those things happen, and then taking advantage of them when they did. In both of City SC's games, the opposition has had the edge in possession but City SC has had the edge in chances and expected goals. In their first match, City SC was down 2-1 and came back to win 3-2. On Saturday, it was down 1-0 and came back to win 3-1.
The first two weeks were, in some ways, going to be the toughest of the season, with more built-in distractions than any other time. The team got through them and is one of only four teams to start the season 2-0. If the team feels more pressure now, it's because it's 2-0.
"It feels amazing, right?" said Klauss, who has scored a goal in each of the games and whose play for the ball on Nerwinski's pass led to the own goal. "An expansion team, everyone had some doubts, but we always had this trust on each other. We have players with experience here, so we trusted each other, we are happy with our team and we believe the process that we are having in the moment. I keep saying the same thing: We will be competitive with everyone."
Clear weather and an air of excitement flowed through Downtown West as fans headed to the 22,500-seat CityPark stadium to see the return of pr…
"I was happy last week to get that off our shoulders," City SC coach Bradley Carnell said. "Last week was very emotional. This week was almost a joy, a celebration. So I think to go through the way we did, and it's funny how three days after a game where expectations were one way, and now expectations are totally opposite, right. So I think that's the beauty of success, and we need to take that on our shoulders and embrace it, challenge ourselves to step up again because the road doesn't get easier from here."
City SC had the best chances to start the game, but then gave up a goal on a quick counter by Charlotte and just like that trailed 1-0. City SC tied the game in the 41st minute when Nerwinski's ball into the box was headed in by Charlotte's Bill Tuiloma, who outleaped Klauss for the ball but ended up lobbing it over the head of goalie Pablo Sisniega, who earlier had made a couple of diving saves to deny City SC.
A cross by defender John Nelson into the box late in first-half stoppage time caught a Charlotte player's hand and a penalty kick was called. After a bit of a delay – "They were provocating me before a little bit," Lowen said, "but I try to focus on my penalty and thankfully I could score." – he drilled it into the upper left corner and City SC went into the half with a 2-1 lead.
City SC kept Charlotte's second-half chances to a minimum and got a third goal when Charlotte defender Adilson Malanda tried to pass the ball back to Sisniega, only to pretty much pass the ball back to Klauss, who turned and scored. It was eerily reminiscent of a week ago in Austin when defender Kipp Keller played the ball straight to City SC's Jared Stroud for the tying goal. This time, Klauss had to extend his leg a little to intercept the pass, but otherwise, it was another great assist from the other team.
"The guys were making jokes in the dressing room about it," Klauss said. "But it's because of our effort on the pitch. Everyone is working really hard to get the ball back, putting a lot of pressure on our opponents. So, good luck and also work from the team."
"Opponents like to reset the game to get their rotations organized and set," Carnell said. "The minute you take that away, you take away their game plan and the game model. So yeah, we just have a knack of standing in the right place."
Carnell made two lineup changes from the first game. He started Njabulo Blom in the defensive midfield instead of Indiana Vassilev, who left the first game with a broken nose and this time came on in the 74th minute for Tomas Ostrak in an attacking midfield role. He also changed the team's configuration up front, going with two strikers and starting Niko Gioacchini instead of midfielder Rasmus Alm, who came on in the second half.
Local prospect Miguel Perez entered the game in the 88th minute to a big ovation. He grew up in South St. Louis and now lives in Maryland Heights and takes remote classes at Pattonville High. Samuel Adeniran got in his first game, creating some chances as a striker when he came on for Gioacchini, who had an excellent game in his first start.