This is the story of a man, his nose and a mask he doesn't like.
It was Feb. 25 in Austin, Texas, and St. Louis City SC midfielder Indiana Vassilev was going up in the air to play a ball near midfield. With no one around him, Vassilev thought he could really put his head into it and drive the ball firmly with his forehead back down to earth. Only problem was, he wasn't alone, and when he moved his head down, he drove his nose straight into the head of Austin's Owen Wolff. Vassilev broke his nose.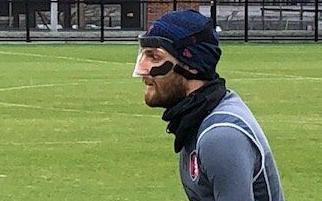 When he returned to practice the following week, Vassilev test drove some masks he could wear to prevent reinjury, and when he came into the Charlotte game, he wore a clear one that covered his forehead, nose and cheeks. Vassilev came on as a sub in the second half, wearing the mask, but he quickly discarded it.
"I feel like it makes my field of vision a little bit less," Vassilev said this week. "I don't see as well, and when I take it off, I feel I have my full range of vision again. I think I took it off five minutes in against Charlotte. It was a corner kick, and I was thinking if I need to head this ball, I really don't want to head it with the mask. The mask comes to right here, mid-forehead, and when I head it, it sort of ricochets and I was like, I'm just going to head it with my forehead, so I took it off.
"You probably know, I hate wearing the mask."
So has begun a back and forth: the team training staff keeps telling Vassilev to wear the mask, and Vassilev keeps not wanting to wear the mask. He was wearing one Wednesday in practice but again soon took it off.
"When I took the mask off," Vassilev said, "Tyler (Harris, the director of athletic training) wasn't too pleased with me. I just avoided eye contact with him for the rest of the session. But I'm fine."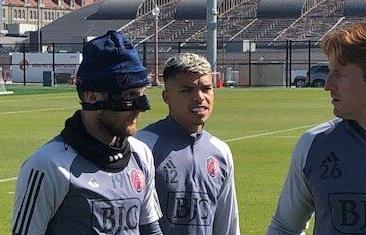 On Thursday, the mask was back.
"I think to make some people happy," Vassilev said, "if I start or come off the bench (Saturday), or if I don't come off the bench, even on the bench, I will be wearing the mask to begin with. And then if I end up going on, it's a different story. We'll see what happens. I think I'll have to stick it out and put the mask on, for the beginning, let's say. ... If I feel like it's altering how I play in a negative way, then I'm going to take it off. I don't want the team to suffer from me not being able to play at my best.
"I think I'm smart enough to not put myself in the situations where I am vulnerable. But if I do get hit in the nose, I spoke to the physios — they definitely want me to wear the mask, but I'm very stubborn — and the worst that can happen is if I get by the ball or a stray arm hits me in the nose, it's going to hurt, but it's going to take trauma again, like a very hard hit again, to put it back out of place, to break it again, so to speak. So I'm not too worried about it. ... I'm OK with living on the edge in terms of that."
When he first broke his nose it hurt, but Vassilev recalls teammate Tim Parker telling him, "Indy, you're OK, don't worry about it. Well done."
That left Vassilev thinking all was well, but the trainer checking on him wasn't so confident and said he would have to see the doctor on the sideline, and the doctor confirmed his nose was broken. Meanwhile, his nose kept bleeding. Technically, Vassilev was subbed out because he might have a concussion, though he said he didn't have one and passed the necessary tests after the game.
"To be honest," he said, "I'm not sure that I was ready to go back in because for the next 15 minutes after, I was swallowing blood because the blood is going down the wrong pipe because my nose was out of place. I was just swallowing blood for 10-15 minutes, I was like, ooh, this isn't ideal."
Also not ideal, getting his nose put back into place. That process wasn't painful thanks to the anesthesia, but it was the anesthesia that was part of the problem. The three injections of it were only the start.
"Because you're angled (on your back)," he said, "the anesthetic starts dripping down the back of your throat, and your throat starts getting numb and it feels like it's closing up, but it's not, it's just numb."
Vassilev expects to be dealing with this for a month or so until everything is healed. And in case anyone wants to see it, he's got the video of the collision saved on his phone.
"It's a cool story to tell," he said.
Leagues Cup dates set
MLS has set the dates for City SC's two games in the Leagues Cup, the new tournament that puts MLS and Mexican Liga MX teams in a World Cup-style format. City SC will play at Columbus on July 23 and will host Mexican team Club America on July 27 at CityPark. The top two teams in each group advance to a knockout stage and if City SC were to advance, the next round would be Aug. 2-4. All games will be played in MLS cities, so if City SC were to advance and face a Mexican team, or have a better record than its MLS opponent in the first round, it would host the game in the next round. Tickets for the Club America game go on sale on Tuesday, April 5.