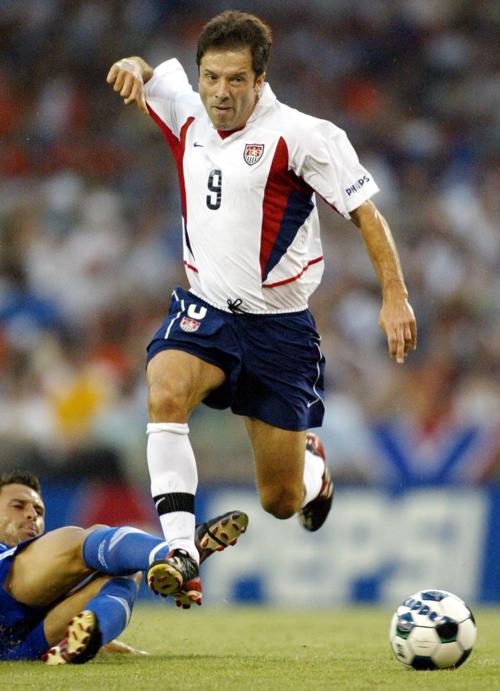 Steve Ralston, who started at Oakville High and Forest Park Community College before going on to a long and successful career in Major League Soccer, was named one of the league's 25 greatest players of its first 25 seasons on Wednesday.
Also named to the team was Preki, who played two seasons with the indoor St. Louis Storm and became a fan favorite here during the year's the outdoor game was in hibernation in America, also made the list.
Ralston, a midfielder who also played one season of second-division soccer with AC St. Louis at the end of his career, was a midfielder who played in the league fro 1996 to 2010, with Tampa Bay and New England. He was a seven-time All-Star and was named to the league's best XI three times. His 135 assists are the second-most in MLS history and also had 76 goals, which is 23rd best. His 378 games are the sixth-most.
While never winning the MLS Cup, he won the Supporters' Shield for the best regular-season record and the U.S. Open Cup. He was the league's rookie of the year in its inaugural season.
After retirement, he went on to coach in the league as an assistant with Houston and San Jose.
Preki played with the Storm from 1990 to 1992 and had 113 goals in 91 games. The Serbian-born midfielder, who resumed using his full name, Predrag Radosavljevic when he played in MLS, played in MLS from 1996 to 2005, mostly with Kansas City but with one season with Miami. He's the only player in MLS history to win the league MVP award twice, in 1997 and 2003. He led the league in scoring twice and finished with 112 assists (fifth most) and 79 goals (20th). He was chosen for the league's Best XI four times and an All-Star eight times. He won the MLS Cup, Supporters' Shield twice, and the Open Cup.  
He coached St. Louis FC in 2017, when it thought the team might graduate from there to MLS, but that season didn't work very well and he moved on. At present, he's a coach with Seattle in MLS. The Sounders will play for the MLS championship on Saturday.
The complete list of players chosen by the league:
Jeff Agoos, Kyle Beckerman, David Beckham, Carlos Bocanegra, Dwayne De Rosario, Clint Dempsey, Landon Donovan, Marco Etcheverry, Robin Fraser, Sebastian Giovinco, Kevin Hartman, Cobi Jones, Robbie Keane, Chad Marshall, Josef Martinez, Tony Meola, Jaime Moreno, Eddie Pope, Preki, Steve Ralston, Nick Rimando, Carlos Valderrama, Diego Valeri, Chris Wondolowski, Bradley Wright-Phillips.
The league enlisted a panel of nearly 200 MLS experts to select the group, and drew from 137 nominees for the honor.