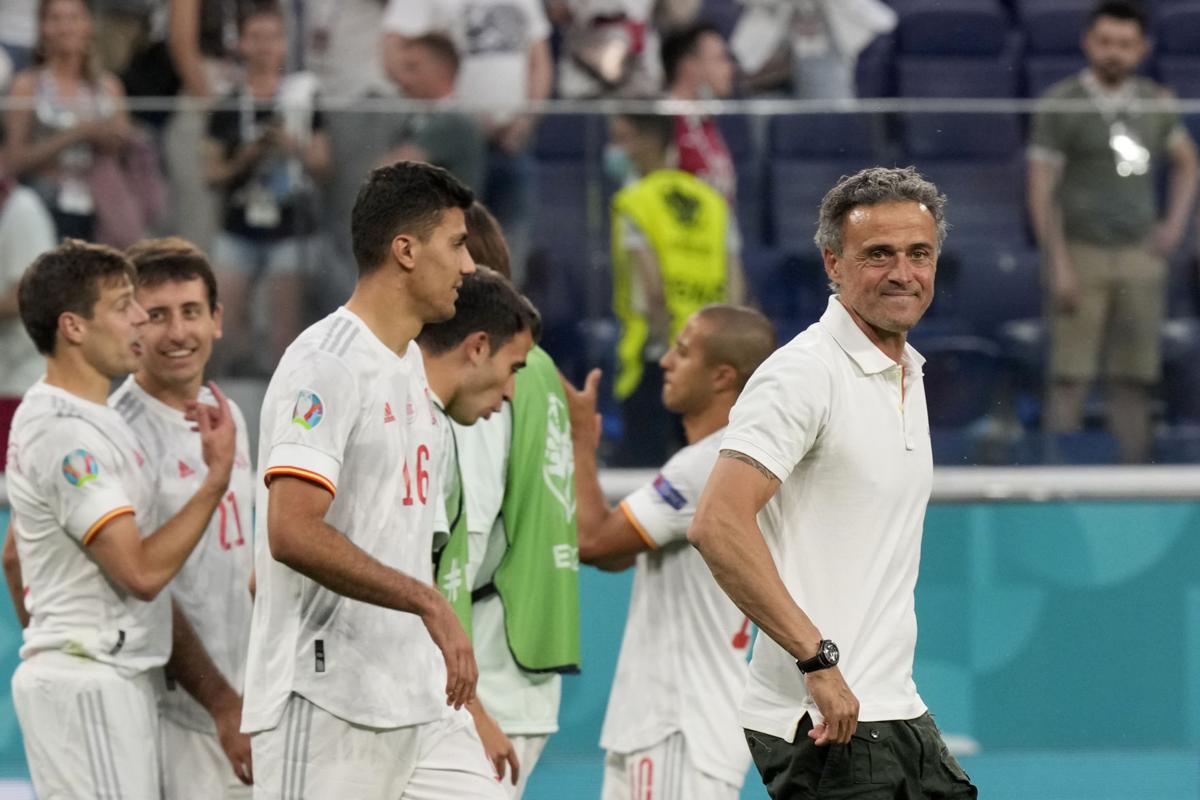 LONDON — Luis Enrique thought for a couple of seconds, looked straight back at the questioner, and gave the curtest of replies.
"No," said the Spain coach, with the blankest of looks on his face, after being asked if he had seen a better team than his at the European Championship soccer tournament.
An answer out of blind loyalty? Perhaps.
Or was it the fact that Spain is the leading scorer at Euro 2020? Maybe.
Or the fact that La Roja is on an unbeaten streak stretching back to October, a run of 13 games? Quite possibly.
Spain's opponent in the European Championship semifinals on Tuesday might have something to say about all that.
Italy, another of the continent's traditional powers, brings an even better run of form to Wembley Stadium — a national-record 32 matches unbeaten, going all the way back to September 2018.
The winner advances to the championship match, on Sunday at Wembley, against the winner of Wednesday's Denmark-England semifinal match.
From the moment tenor Andrea Bocelli cleared the field at Stadio Olimpico after his stirring rendition of "Nessun Dorma" at the opening ceremony, making way for the start of the tournament, the Italians have been right on the money.
Three impressive wins in the group stage, without conceding. A gutsy victory over a better-than-expected Austria in the round of 16. The elimination of top-ranked Belgium in the quarterfinals.
Maybe Luis Enrique isn't aware, but Italy is rolling at the moment.
This might be a match between teams who have almost forgotten what it feels like to lose — Spain has only one defeat in its last 29 games — but Italy looks to have the edge, at both ends of the field.
Neither team has made it this far in a major international competition since 2012, when they met in the European Championship final in Kyiv. Spain won that match 4-0. Two players remain from each country: Bonucci and Chiellini for Italy, and Jordi Alba and Busquets for Spain.
So while this is far from uncharted territory for two countries with nine European Championship or World Cup titles between them, it is for most of the players involved.
Expect the Spanish to have the majority of possession, but maybe by not as much as they are accustomed. And expect the Italians to launch quick counterattacks from turnover balls, seeking to get behind the aging Busquets and attack the soft center of Spain's defense.
"It's a style of football that Spain has played over the last 15-20 years and has brought incredible success," Mancini said Monday through a translator. "Our style of play is slightly different. We are Italy. We can't necessarily become Spanish overnight. We have our won way of playing and we'll try to be true to that."
Spain will be without winger Pablo Sarabia, who hurt his thigh against Switzerland, but Luis Enrique said Laporte will be available despite missing training on Sunday as he recovers from playing all of the team's games so far.
A win for Spain, which has the youngest squad at the tournament, sets up the prospect of a third European Championship title in four editions and potentially the start of new period of success for a nation that dominated world soccer from 2008-12.
A win for Italy surely means Mancini's team would enter the final as the favorite, no matter who wins the second semifinal match between England and Denmark.
Denmark vs. England
Outnumbered in the stands, not outplayed on the field.
That is the expectation of Denmark's players ahead of their semifinal match against England on Wednesday at Wembley Stadium.
Entry restrictions to Britain amid the pandemic are stopping Danish fans from traveling to London from abroad to cheer on their team at English soccer's national stadium. Only Danish people already in England, or who live in England, can buy a ticket from the country's allocation of about 5,800 from an expected capacity of 60,000 spectators.
Denmark midfielder Christian Norgaard is gearing up for a "hostile environment" at Wembley. That, though, might not be such a bad thing. . . . "Maybe they'll turn on their own team if things don't go well for them."
Denmark has been struck by a groundswell of support following Christian Eriksen's collapse in the team's opening group game against Finland, during which he suffered cardiac arrest and was resuscitated with a defibrillator. The way Eriksen's teammates acted during and after the incident at Parken Stadium attracted widespread praise.
They have ridden a wave of emotion to bounce back from losing to Finland and also to Belgium in their second game to qualify from the group, and then beat Wales and the Czech Republic on the way to the semifinals.
England, meanwhile, is the only team remaining in the tourney to have also made the semifinals at the last World Cup.
Of its five games so far, only the quarterfinal victory over Ukraine was played away from Wembley Stadium. And it's back to Wembley for the semifinals with England yet to concede a goal in the tournament.
While Harry Kane didn't score in the group stage, the striker now has three goals in two games. Raheem Sterling also has three.
Among the decisions for English coach Gareth Southgate are whether to stick with a four-man defense or go with three at the back, and whether to bring Bukayo Saka back into the starting lineup in place of Jadon Sancho if the winger has recovered from a minor injury.