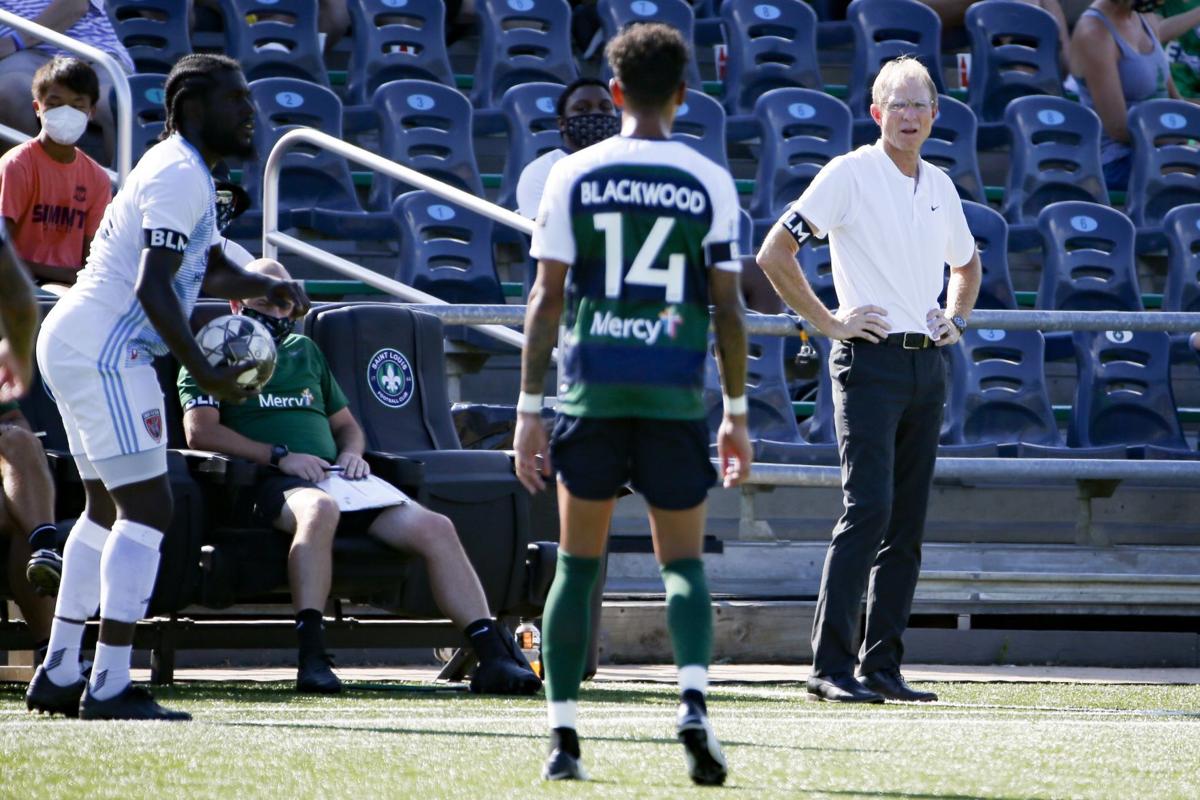 St. Louis FC is heading into a key stretch of its United Soccer League Championship schedule.
Off to a 3-2 start, STLFC plays host to Sporting Kansas City II (2-3) in a 7 p.m. match Wednesday at West Community Stadium in Fenton. Once again, the stadium will operate at under 25 percent capacity in accordance with the latest St. Louis County health ordinances.
It will be one of three consecutive home matches for STLFC, which will play at home in five of its next six matches.
"In a short season like this, we know every game is key," STLFC coach Steve Trittschuh said. "I kidded at practice today that I'd stop talking about how important each game is because all I'm doing is repeating myself. But our goal is to make sure we win at home; if we do that, we should be in good shape when the season wraps up."
STLFC has lost just five home matches since the start of the 2018 season.
Entering Wednesday's action, Indy Eleven leads the Group E standings at 5-2, but STLFC (3-2), Sporting KC II (2-3) and Louisville City (2-3) are all right there. The top two finishers will reach the playoffs.
Following 1-0 wins over Louisville City and Indy Eleven, STLFC stumbled over the weekend in a 1-0 loss at Memphis 901 F. Following three straight one-goal losses to open the season, Sporting KC II is coming off road wins at Louisville City (2-1) and at Indy Eleven (1-0).
The Saturday win at Lucas Oil Stadium in Indy snapped a 28-game home unbeaten streak for Indy Eleven. It gave Sporting KC its first consecutive road wins since July 2017.
"They're young, but they're a very good side that's playing with a lot of confidence right now," Trittschuh said of Sporting KC II, which is scheduled to play just one more home game — Sept. 11 against the Oklahoma City Energy — this season. "We have a good feel for how they're going to play and we have to ready from the opening whistle. We want to set a tone early, play aggressively and hopefully put them under a little bit of pressure."
STLFC is unbeaten at home against Sporting KC II and is 4-2-4 overall against them since entering the USL in 2015.
Wednesday's game will mark the STLFC debut of goalkeeper John Berner, who starred at St. Mary's High and at Southern Illinois University Edwardsville. He was the 35th overall selection in the 2014 MLS Super Draft by the Colorado Rapids and played in five MLS games. Since then, he's competed with the Charlotte Independence, Phoenix Rising and Oklahoma Energy of the USL before sitting out last summer to rehab an injury.
"We've been planning to give John this start and I have a lot of confidence in his ability," Trittschuh said. "In addition, we'll use Wednesday as a chance to rest some of our guys who've played a lot of minutes. It'll be an opportunity for some guys off our bench to get a chance to show what they can do. Over the course of the season, everybody on the roster needs to produce and hopefully these guys will make the most of that opportunity."
Tyler Blackwood leads the STLFC attack this season with three goals, including a pair of game-winners. Russell Cicerone has a pair of goals this season while Kyle Greig has scored once. Todd Wharton leads the way with a pair of assists. Wal Fall, Guy Abend and Joaquin Rivas have the team's other assists.
Goalkeeper Kyle Morton has been a leader in the back with two shutouts and 21 saves this season.
Sporting KC II keeper Brooks Thompson was named to the USL Championship Team of the Week after posting his first professional shutout at Indy Eleven. Wilson Harris, who has 12 goals in his last 16 league appearances, is an attacker to watch.
STLFC will host FC Tulsa on Saturday at 7 p.m. before welcoming Sporting KC II for another 7 p.m. match on Saturday, Aug. 15.
Be the first to know
Get local news delivered to your inbox!