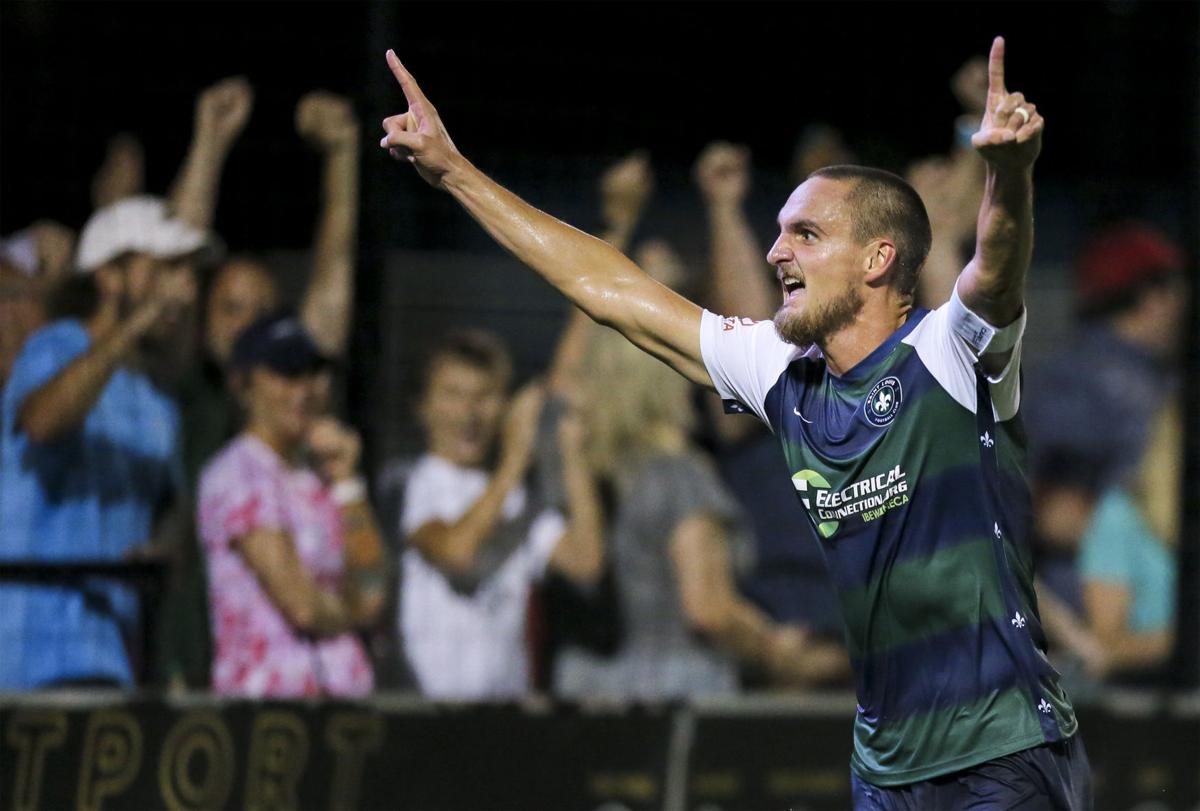 St. Louis FC isn't finished just yet.
Thanks to Sporting Kansas City II's dramatic 2-1 win over Indy Eleven in Indianapolis on Wednesday, STLFC's regular-season finale Saturday at West Community Stadium in Fenton could become one of the most impactful in franchise history.
A win Saturday over visiting Indy Eleven will send STLFC to the United Soccer League Championship playoffs.
"We're excited," STLFC coach Steve Trittschuh said shortly after training on Thursday. "We have an opportunity to do something special, so now let's take advantage of it."
STLFC enters Saturday's 6:30 p.m. Group E match at 6-5-4, one point behind 7-6-2 Indy Eleven. So it's win or go home for STLFC, which will shut down operations at the end of the season.
"They're a top team and we've had some good battles with them this year," STLFC defender Sam Fink said. "We're definitely taking this one very seriously."
STLFC president Patrick Barry is excited that the final regular-season match will matter, even if fans aren't allowed in the stands due to the coronavirus.
"It's always good when you have something to play for," he said. "It's been a tough time; it's disappointing because of the passion that was created among the fans, the staff and the players. St. Louis FC soccer became something that a lot of people cared about.
"But we have to keep looking forward. Like a lot of people, we're excited about St. Louis City SC."
St. Louis City SC, the area's Major League Soccer franchise, is expected to begin play in 2023.
Barry said the decision to shut down STLFC after this season hinged on a number of factors, including the MLS in St. Louis, the current financial climate and the uncertainty of the future.
"There were just way too many question marks," he stressed. "We had to make an unfortunate decision. But we're extremely proud of what we did over six years."
Barry saw something special in this year's STLFC squad.
"I believe it's the best team we've had and, in a normal season, playing a full schedule, we could've put together a very successful run," he said. "But COVID changed everything, putting us in the Group of Death and having to play power teams like Louisville and Indianapolis in eight of our 16 games.
"But you can't make excuses; you play the hand you're dealt and you do the best you can."
Following is a quick recap of STLFC's history:
2015
The first-year USL squad was coached by St. Louis Scott Gallagher director Dale Schilly, finished 8-11-9 in the Eastern Conference. The team's average attendance was 4,846.
The squad, led in scoring by Bryan Gaul (six goals, four assists) had a good number of area products on the roster, including goalkeeper Mark Pais (Ladue, SLU/Tulsa), defender Sam Fink (Edwardsville, Wake Forest), midfielder Brandon Barklage (CBC, New Mexico/SLU), midfielder Mike Ambersley (De Smet, Indiana), forward Mike Roach (Chaminade, Indiana/SLU), midfielder Jack Mathis (DeSmet, Drury), defender Chad Vandegriffe (Chaminade, SMU), and midfielder Peter Kelly (Priory, SIUE) and goalkeeper Alex Riggs (Fort Zumwalt South, Missouri State).
2016
The squad went 8-12-10 following a shift to the Western Conference. Schilly started the season as coach, but fellow St. Louisan Tim Leonard finished up. The team's average home attendance was 4,923.
Key additions to the squad included El Salvador's Irvin Herrera, who scored a franchise-record 14 goals. SLU product Vince Cicciarelli added five goals. Another key addition to the squad was defender A.J. Cochran (CBC, Wisconsin).
2017
With Preki taking over as head coach, STLFC entered the season with extremely high hopes. But with a new-look roster, the team again fell short, finishing 9-14-9 after a return to the Eastern Conference. The team, which drew 4,739 per home game, went 1-5-1 during a key midseason slump.
Cochran and Seth Rudolph (Belleville West, George Washington) were among the squad's few holdover players under Preki. Other area players in the mix that season included Austin Ledbetter (CBC, SIU Edwardsville) and key Academy signings Aedan Stanley (Columbia High) and Jack Maher (Althoff), who went on to star at Duke and Indiana, respectively.
2018
Back in the Western Conference and with Anthony Pulis as head coach, STLFC finally enjoyed some sustained success, finishing 14-9-11 and earning its first playoff spot. The team, which drew 3,127 per home match, came on strong with a 9-3-3 run to close out the season. But in the franchise's lone playoff appearance to date, a red-card ejection in the 21st minute helped pave the way in a 4-0 loss to Orange County SC in California.
Key players that season included goalkeeper Tomas Gomez (Webster Groves, Georgetown), defenders Fink and Phanuel Kavita, midfielder Lewis Hilton and forward Kyle Greig.
2019
"By far, the strangest season I've ever been a part of, as a player of as a coach," Pulis said following a campaign where the team finished the regular season at 11-14-9 and missed the playoffs by a single point. After a strong 5-1-4 start, injuries took their toll as the team struggled through a 1-8-4 midseason slump in league play.
During that rough stretch, STLFC managed to go on a run in the Lamar Hunt U.S. Open Cup that saw it knock off MLS squads Chicago and Cincinnati before losing in the quarterfinals to another MLS squad, Atlanta United, which went on to win the tournament championship.
A late-season string of one-goal losses cost the team a shot at a playoff repeat.