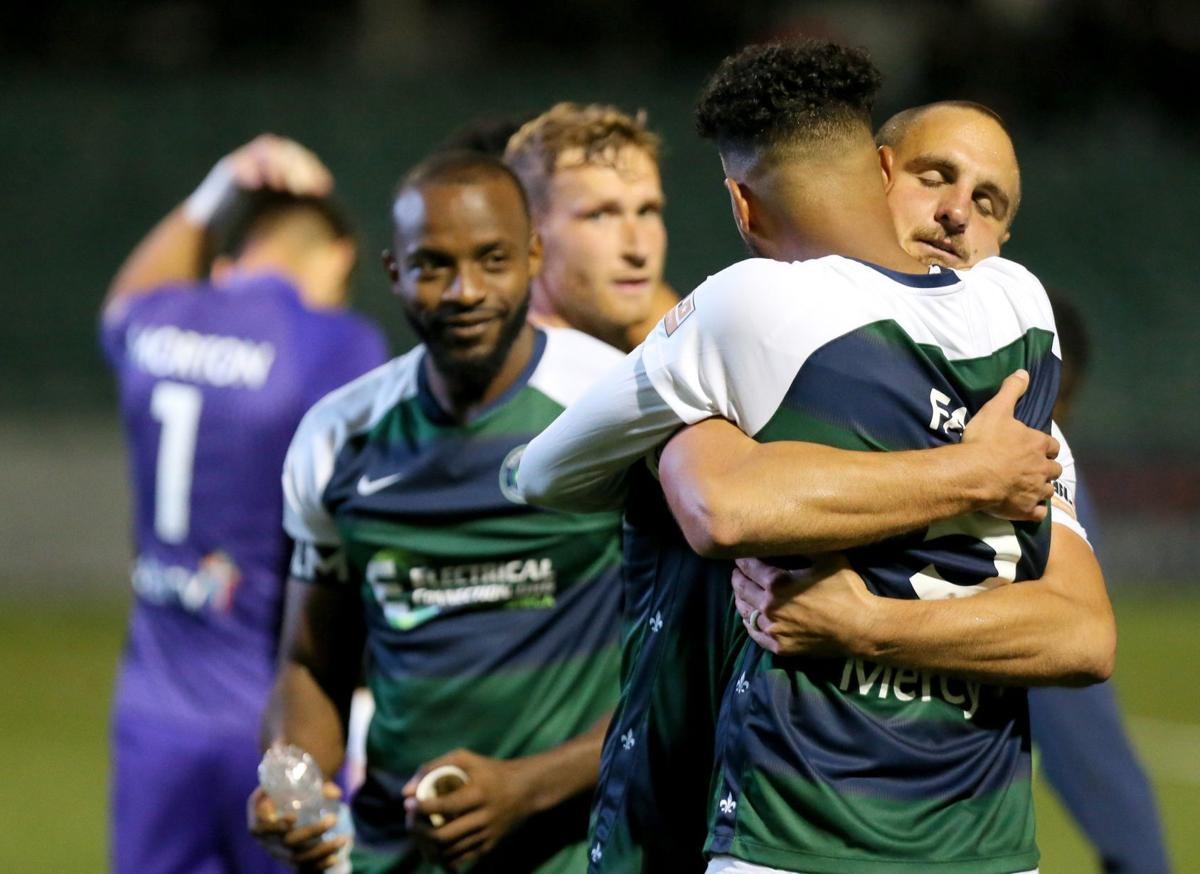 St. Louis FC defender Sam Fink knew the team's final season couldn't last forever. But he was hoping for at least a few more weeks.
"This really was a special group of guys; I think that's what made the ending so tough," said Fink, an Edwardsville High product who was with the area's United Soccer League Championship squad in five of its six seasons here. "In some years, you play that last game and everybody scatters because personalities don't mesh. But this group, because of all we'd been through, seemed to become closer and closer as the season went on. Even on Saturday (in a season-ending 2-0 loss at Louisville City), I think we showed our character.
"Give credit to Louisville; they're a veteran team that did what it needed to do. But we went toe-to-toe with the giant, traded blows and never backed down. We went down swinging and I'm proud of our guys for that."
In the season-ending loss, STLFC missed on an early penalty kick, had two goals called back and gave up an own goal.
"Those four things just don't happen, not in one game," Fink stressed. "I definitely feel we put out enough of an effort that night to get a better result, but ..."
A USL Championship power, Louisville City improved to 13-3-2 with its eighth straight victory and has now gone 11-0-2 since the beginning of August. Marking its sixth consecutive appearance in the Eastern Conference final, Louisville City hosts the Tampa Bay Rowdies (12-3-3) on Saturday.
Louisville City won USL titles in 2017 and 2018 and lost 3-1 to Real Monarchs Salt Lake City in the league championship game a year ago.
"Louisville's a fantastic team. They're well coached and experienced," STLFC coach Steve Trittschuh said. "But I felt like we played better than they did Saturday, and I couldn't be more proud of these guys. ... We played our hearts out."
Trittschuh, who took over as STLFC head coach when predecessor Anthony Pulis left to become an assistant coach for the Major League Soccer's Inter Miami CF, expects to stay with St. Louis Scott Gallagher and serve as academy director.
In a trying season interrupted by the coronavirus, STLFC finished 8-6-4 and won its first-ever playoff game, 1-0 at Hartford Athletic on a stoppage-time goal from reserve Joaquin Rivas and some exceptional goalkeeping from Kyle Morton.
"We're all super proud of the guys and the coaching staff for staying so focused despite all the distractions this season," STLFC president Patrick Barry said. "Even though fans weren't allowed most of this season, we provided our fans, our staff and our players a chance to really get excited and to get behind the club."
STLFC opened its 2020 campaign on March 7 with an impressive 4-1 home win over The Miami FC. Not long after that, however, the season was shut down by the coronavirus. And when it resumed on July 11, STLFC was placed in Group E along with league power Louisville City, Indy Eleven and Sporting Kansas City II.
In August, it was announced that due to the financial impact of the coronavirus and the emergence of the area's new Major League Soccer franchise, St. Louis City SC, STLFC would cease operations at the end of this season. The MLS team is expected to begin play in 2023.
"Naturally, we are disappointed that the club will not continue," Barry said in a club statement. "However, we are proud of what we accomplished and the impact we had on soccer in St. Louis and the community at-large. Our goal was to bring professional soccer back to St. Louis, reestablish St. Louis at the national level and give back to our community. We accomplished all of that and much more."
STLFC battled through the regular season and needed some late-season drama to secure the franchise's second playoff spot. STLFC also made the postseason in 2018.
This year's dramatic finish was highlighted by a 3-2 win over Sporting KC II on Sept. 19. STLFC took control early and led 2-0 at the half. But the young squad from Sporting pulled even on goals in the 59th and 86th minutes. But STLFC somehow found a way as Fink headed in a free kick from Todd Wharton in stoppage time for the dramatic win.
In the next game, STLFC held on for a 1-1 draw in Indianapolis, playing most of the second half shorthanded after both Fink and Wharton were ejected after picking up their second yellow cards.
Three days later, without Fink and Wharton available, STLFC battled gamely but fell short in a 1-0 loss to visiting Louisville City.
At that point, STLFC trailed Indy Eleven by one point in the standings. And Indy Eleven had one more game than STLFC to play, a mid-week contest against Sporting KC II.
But Sporting, which finished the season 5-10-1, did the cross-state rival a huge favor, winning 2-1 in Indianapolis with a goal in stoppage time.
That set up a STLFC-Indy Eleven showdown in the regular-season finale in Fenton. The home team came out strong, getting a first-half goal from Tyler Blackwood and then going up 2-0 when Wal Fall converted an early second-half penalty kick. Indy Eleven got one goal back on a PK of its own, but STLFC held on for the win and the playoff spot.
"What an incredible life lesson this whole season was," Fink said. "You can be counted out, you can be punched in the face a hundred times, but you can always push on and find a way to defy the odds. These guys were a great inspiration to me moving forward in life."
Blackwood led STLFC in scoring this season with six goals and an assist. Other top scorers included Russell Cicerone (five goals), Kyle Greig (three goals, two assists), Rivas (three goals, one assist), Mour Samb (two goals) and Fall (two goals, three assists). Wharton led the way with four assists.
Goalkeeper Morton posted four shutouts and was among the league leaders in saves. His chief defensive support came from defenders Fink, Phanuel Kavita, Paris Gee and Tobi Adewole.