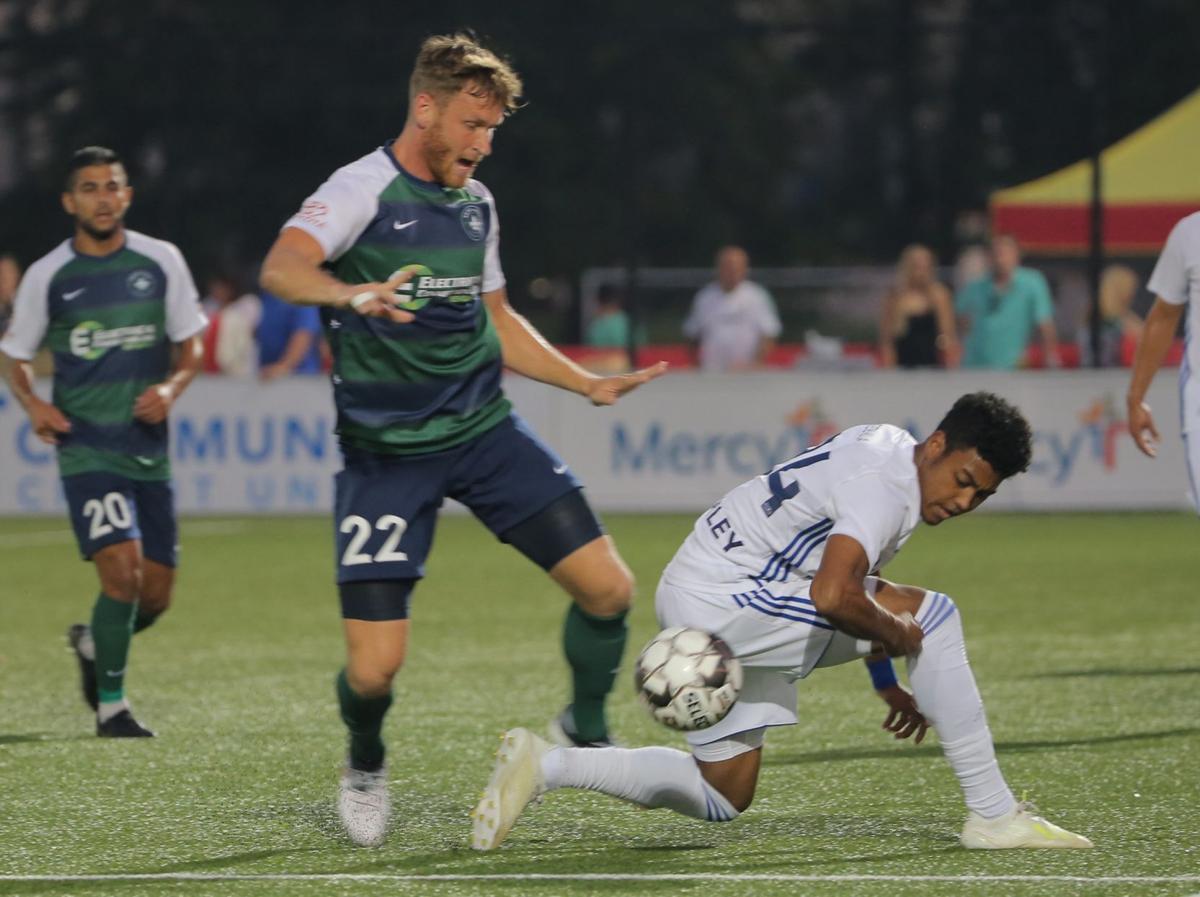 St. Louis FC restarted its United Soccer League Championship season to mixed results last week in Indianapolis, dropping a 2-0 decision.
Next up, a showdown with traditional league power Louisville City FC in Kentucky on Saturday. The 7 p.m. match will be played at the new Lynn Family Stadium.
"The guys are really looking forward to this trip," STLFC coach Steve Trittschuh said. "It's a chance to play a good Louisville team in a brand-new stadium with a grass field. I watched Louisville and saw a team that plays a game that's very similar to ours; they like to play quick and they like to get their outside backs involved in the attack whenever possible. I expect a good test that'll come down to the team that can take advantage of the other side's mistakes."
Both squads opened the season with wins — back on March 7, STLFC beat visiting Miami FC 4-1 while Louisville City won 1-0 at North Carolina FC — and returned to action following the pandemic with losses last weekend. Louisville City opened its new stadium with a 3-1 loss to visiting Pittsburgh.
STLFC and Louisville City both entered the USL in 2015. But while STLFC has reached the playoffs once, in 2018, Louisville City has advanced to the conference finals or farther in every season. They won USL titles in 2017 and 2018 and lost 3-1 in the title game last year to Real Monarchs SLC.
In club history, STLFC is 1-5-4 against Louisville City. And Saturday's match will mark the second of eight consecutive home games for Louisville City, which is slated for 11 games at its new stadium this season.
STLFC will play nine home games in 2020. Skewing the Group E schedule this summer is the fact that the team joining STLFC, Louisville City and Indy Eleven in group play, Sporting Kansas City II, is unable to play home matches this season.
"The league did (Louisville) some favors with the schedule — both them and Indy (which plays 10 home games this summer) — but you know what, that's fine," Trittschuh said. "If we're going to be one of the top teams, we have to find a way to beat those guys. None of these games are going to be easy, whether they're played at home or on the road."
STLFC was without two starters in Indianapolis; last year's top scorer, Kyle Greig, returned home to be with his wife, who was due to give birth, and defender Phanuel Kavita sat out after waking with an elevated temperature. Both are expected back this weekend.
"Being without Phan and Kyle threw us off a bit, but those things happen," Trittschuh said. "We had some good moments in the game — Russell (Cicerone) has a great chance to put us up 1-0 early — and I thought we played well against a solid opponent. The goals we gave up, I thought they were a little soft and could've been avoided if we'd been sharper. But those things are going to happen after a long layoff.
"In a short season, you can't afford to dwell on any one result. We've tried to focus on the positives from last week and we've had a great week in training. So now we try to build on that going into this weekend's game in Louisville."
STLFC will make its return home on Sunday, July 26, when it plays host to Indy Eleven in a 4 p.m. match at West Community Stadium in Fenton.
Be the first to know
Get local news delivered to your inbox!