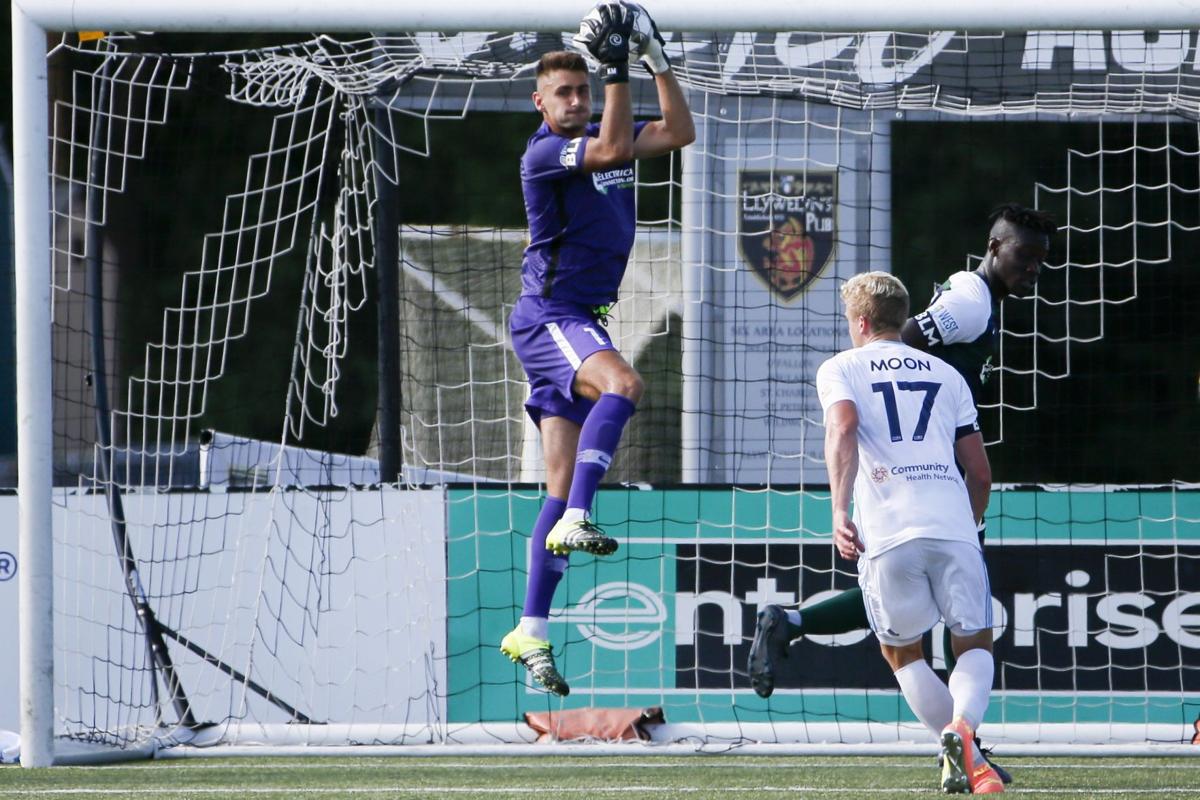 St. Louis FC coach Steve Trittschuh didn't say a lot to his squad following its dramatic 1-1 draw against Sporting Kansas City II on Wednesday night at West Community Stadium in Fenton.
That's because his players were just as frustrated as he was.
"Finishing strong and getting the tie was huge, but honestly, we felt we should've come away with three points that night," Trittschuh explained. "After the game, I wasn't happy and I could see our guys were upset, too. That's good. Our mindset is to get the win every time we play at home and when we don't, it's a disappointment.
"We did a lot of good things that night. We had great possession, especially in the first half. Our build-up and our possession to a certain point on the field were outstanding. But for whatever reason, we just weren't as aggressive or as sharp as we needed to be in the attacking third."
Still, STLFC found a way to salvage a point, rallying for the draw in the game's final minute. Kadeem Dacres started the tying sequence with a corner kick that STLFC goalkeeper John Bermer headed toward a crowded goal mouth. Kyle Greig took a whack at the loose ball, which somehow found its way to STLFC central defender Phanuel Kavita, whose desperation shot went off the right post and deflected across the goal into the side netting on the left side.
"I'm just glad we were able to come back," Kavita said afterward. "I know we made it harder on ourselves, giving up that first goal. But I think it shows a lot of character in the way the boys fought back and at least got a point."
Now 3-2-1 in United Soccer League Championship play, STLFC returns to action on Saturday when it hosts Tulsa FC (1-0-2) at 7 p.m in Fenton. FC Tulsa is off to its best start in franchise history and is one of just four USL Championship squads without a loss this summer.
FC Tulsa, which has yet to play a home game in 2020, last played in a 2-1 win on Aug. 2 at Rio Grande Valley in Texas. That match, delayed by lightning, finished 6 ½ hours after its scheduled start time.
STLFC and Tulsa FC played to a 1-1 draw in exhibition play back on Feb. 16. The Tulsa lineup includes wingback Matt Sheldon, who played for STLFC in 2017.
"They're a solid team that's off to a great start," Trittschuh said. "But playing at home, it's a game we need to win. We need to be a bit sharper, especially in our attack, and that's something we worked on in practice (Friday).
"I liked our workout today — I thought we looked sharp — and I'm looking for that to carry over into Saturday night."
After getting a strong effort from Berner (St. Mary's/Southern Illinois University Edwardsville) in goal against Sporting KC II on Wednesday in his first game action since 2016 due to injury, STLFC expects Kyle Morton to return to the net on Saturday.
Morton is first in the USL Championship with 21 saves and is among the league leaders with a pair of shutouts. STLFC striker Tyler Blackwood is among the league leaders with three early-season goals.
STLFC is in a stretch where it's playing five of six games at home. There is a rematch with Sporting KC II on Aug. 15. After an Aug. 22 match in Pittsburgh against the Riverhounds, STLFC will host Louisville City on Aug. 29 before hosting Sporting KC II again on Sept. 4.