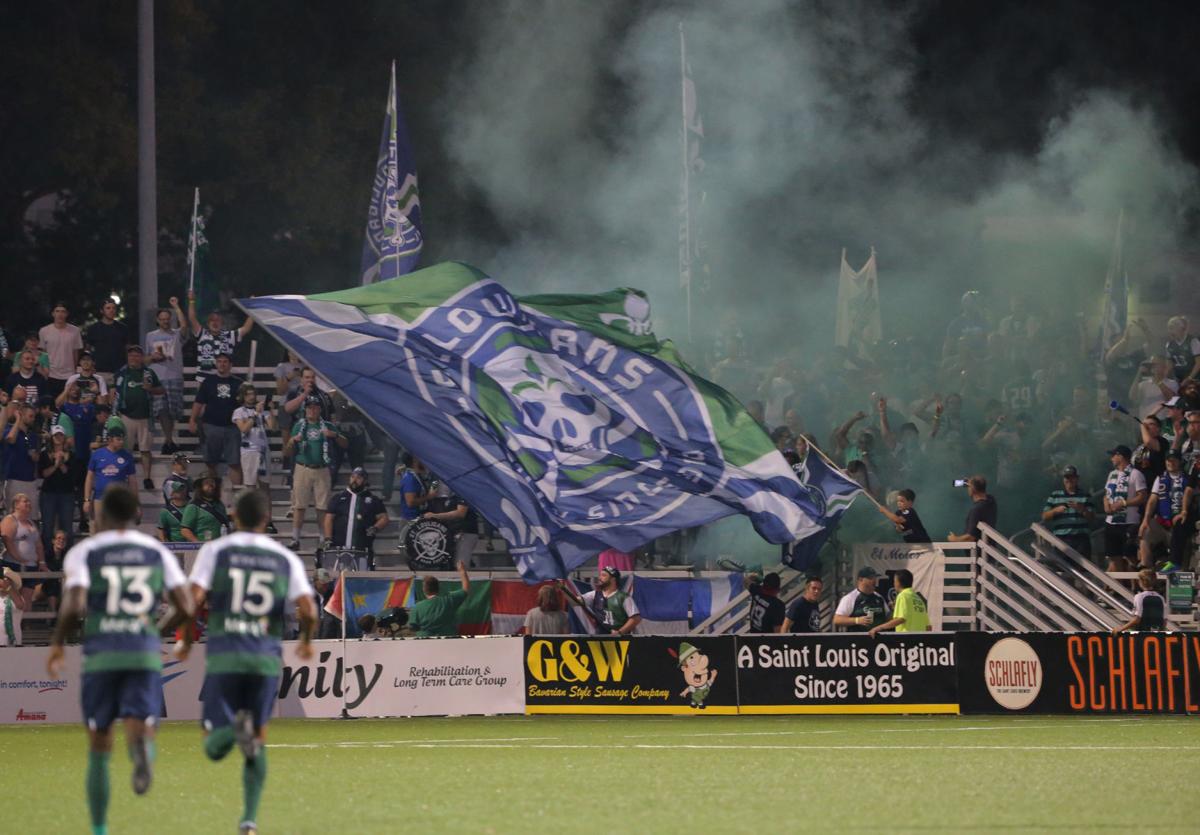 St. Louis FC kicked off its 2020 season in dramatic fashion, posting a 4-1 victory over The Miami FC at West Community Stadium in Fenton.
That was back on March 7.
Following the lengthy layoff due to the coronavirus, United Soccer League Championship action will resume next weekend with nine matches. One of those will be a 6 p.m. showdown on July 11 at Lucas Oil Stadium in Indianapolis between STLFC and Indy Eleven.
Under the new USL competition format, STLFC is paired with Indy Eleven, Louisville City FC and Sporting Kansas City II in Group E and will square off with those three squads four times each to finish the season. After playing a total of 16 games — STLFC is 1-0, thanks to the Miami win — the top two teams in each group will move on to the USL Championship playoffs.
On Thursday, STLFC announced that St. Louis County has approved opening West Community Stadium at 50 percent with social distancing measures and a mandatory face covering policy in effect.
STLFC will open its home schedule on July 26 against Indy Eleven. That comes after the July 11 showdown with Indy Eleven in Indianapolis and a July 18 game against Louisville City FC in Kentucky.
In club history, STLFC is 1-5-4 against Louisville City FC, 4-2-3 against Sporting Kansas City II and 1-1 against Indy Eleven. Louisville City FC won the USL title in 2017 and 2018. Last year, Louisville City FC again reached the league title match but lost 3-1 to visiting Real Monarchs SLC.
"We're excited and we're looking forward to playing again," said first-year STLFC coach Steve Trittschuh, a Granite City native who coached the USL's Colorado Springs Switchbacks from 2015 into the 2019 season. "It's been tough at times; it was it was difficult to accomplish whole lot in small groups, but the last couple of weeks have been much better. We've been able to do a little more work as a team and definitely feel like we're moving in the right direction."
Trittschuh said that STLFC will travel to Springfield, Missouri, this weekend for a workout with USL Championship rival FC Tulsa.
"To get in at least one training match-up will be key for us," Trittschuh said. "At this point, we're all pretty much in the same boat, trying to play catch-up. So any game experience we can get will be a plus. I suspect, at least at the start, those first few games could be a little rough and somewhat sporadic. But hopefully we can work our way through those times quickly and get back to playing the type of soccer we were playing before the long layoff."
To this point, however, Trittschuh stressed, the attitude has been overwhelmingly positive.
"The guys are excited to be together and they're looking forward to that first game," the coach said. "We're looking to finish this week strong and then hopefully get some more positives from the game with Tulsa to carry us through next week."
In the season-opening win back on March 7, STLFC got a pair of goals from Russell Cicerone to go along with single tallies from Kyle Greig and Tyler Blackwood.
The Championship will allow five substitutions this season.
"A very positive move," Trittschuh pointed out. "At this point, guys are not game-fit and ready for 90 minutes of action. And having five subs, it can definitely help change the complexion of a game. I think it's a rule that we can use because of our overall depth."
Trittschuh continued: "Getting a chance to play this weekend against somebody else will definitely help. It's important that we're mentally prepared for a battle, to play physical and to stay positive. In a shortened season like this, every game is important. We need results and we need to stay positive."
Remaining schedule
Following is a rundown of St. Louis FC's schedule for the remainder of the season: (Note: Home matches in all CAPS. Most start times will be announced later.)
July 11: at Indianapolis, 6 p.m.
September 12: at Louisville
September 19: KANSAS CITY
September 23: Indianapolis
Concerned about COVID-19?
Sign up now to get the most recent coronavirus headlines and other important local and national news sent to your email inbox daily.