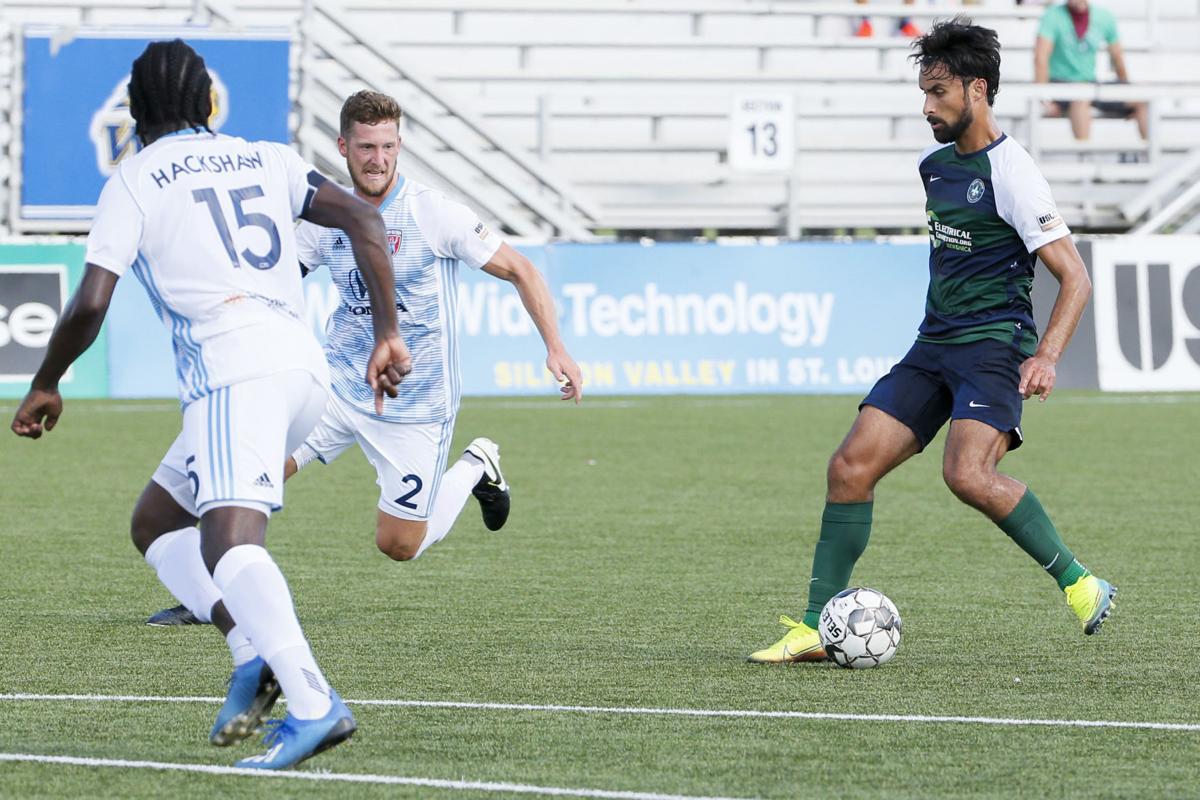 After four regular-season meetings in a campaign impacted and shortened by the coronavirus, there aren't a lot of secrets between the soccer teams from St. Louis FC and Louisville City FC.
The two United Soccer League Championship squads will square off 6:30 p.m. Saturday in Eastern Conference semifinal action at Lynn Family Stadium in Kentucky.
"We know them well and they know us well, and this one's for all the marbles," said STLFC coach Steve Trittschuh, whose team is 8-5-4 in its final season. "We've had some really good training sessions this week and I feel like we're ready."
Louisville City coach John Hackworth has similar feelings.
"I don't know if we have anything new to throw at them," he said before a practice this week. "I've never played a team five times in a season and I doubt (Trittschuh) has either. We've done some things against them, different nuances, and I'm sure we'll try some things again on Saturday, but there's only so many different things you can do in a game.
"I think we're going to play this one straight up and we'll see who comes out on top."
Louisville City enters Saturday's game at 12-3-2 and riding a 10-0-2 streak since the end of July. The team has won its last seven matches and has outscored its opponents 17-3 in those stretch. Louisville City went 2-1-1 against STLFC this season, once again coming out on top in the Kings' Cup rivalry.
Louisville City has qualified for the USL playoffs in each of its six seasons, winning league championships in 2017 and 2018. Last year, they finished as league runner-up after losing 3-1 in the title match to visiting Real Monarchs Salt Lake City.
This year's strong finish came after Louisville City went 2-3 to open the season. Included in that early run was a 1-0 STLFC win at Lynn Family Stadium on July 18.
"I like the fact that we went through those hard moments," Hackworth said. "And they were growth moments for us. Everything's easier when you're on a winning streak; even when you're critical of one another, everyone's more receptive."
Louisville City won 3-0 in the other game at Lynn on Sept. 12. In Fenton, the teams played to a 1-1 draw on Aug. 29 and Louisville City beat STLFC 1-0 on Sept. 26.
STLFC, which will shut down operations at the end of this season, is making its second playoff appearance and is coming off its first playoff win, a 1-0 victory at Hartford Athletic on Saturday. That goal, from reserve Joaquin Rivas, came in stoppage time just before the end of the match.
"One of the most important goals of my life — for me and for the team," said Rivas, who followed up when teammate Mour Samb was taken down in the midfield. "At first, I hesitated. But when (Mour) was tackled, I pounced on it and my eyes lit up like I was given a gift. I'm more of a left-footed player, but the ball was on my right. I just kept telling myself to make sure I got the shot on target."
He did, scoring the first postseason goal in STLFC history.
Rivas, who has made five international appearances for El Salvador, scored 12 goals for Tulsa in the season before joining STLFC. Last season, his first in St. Louis, was cut short due to a season-ending knee injury.
"My time in St. Louis has been frustrating," Rivas admitted. "Last year, I had the injury and this year, it's been hard getting minutes. But I'm trying to stay ready, trying to do whatever I can to help the team. If it's off the bench, fine. Whenever they need me, I'm going to come in and I'm going to try to make a difference."
Trittschuh added: "The guys have really pulled together. There's a lot of spirit and a lot of teamwork here. We know that Louisville's a great team and that we're in for a tough game. But I think we're prepared for it. We're going to go out and give it everything we've got."
STLFC's attack is led by Tyler Blackwood (six goals, one assist), Russell Cicerone (five goals), Kyle Greig (three goals, two assists) and Rivas (three goals, one assist). Todd Wharton leads the way with four assists while Wal Fall has chipped in with two goals and three assists. Edwardsville High product Sam Fink and Phanuel Kavita set the tone in the back while goalkeeper Kyle Morton has four shutouts and is among the league leaders in saves.
Louisville City features one of the top attackers in the USL Championship in Cameron Lancaster (12 goals, two assists). Other top scorers are Corben Bone (seven goals), Devon Williams (four goals) and Napo Matsos (three goals, two assists). The team's top playmakers are Antoine Hoppenot (one goal, six assists) and Brian Ownby (one goal, five assists). In goal, Benjamin Lundt is among the league leaders this season with nine shutouts.