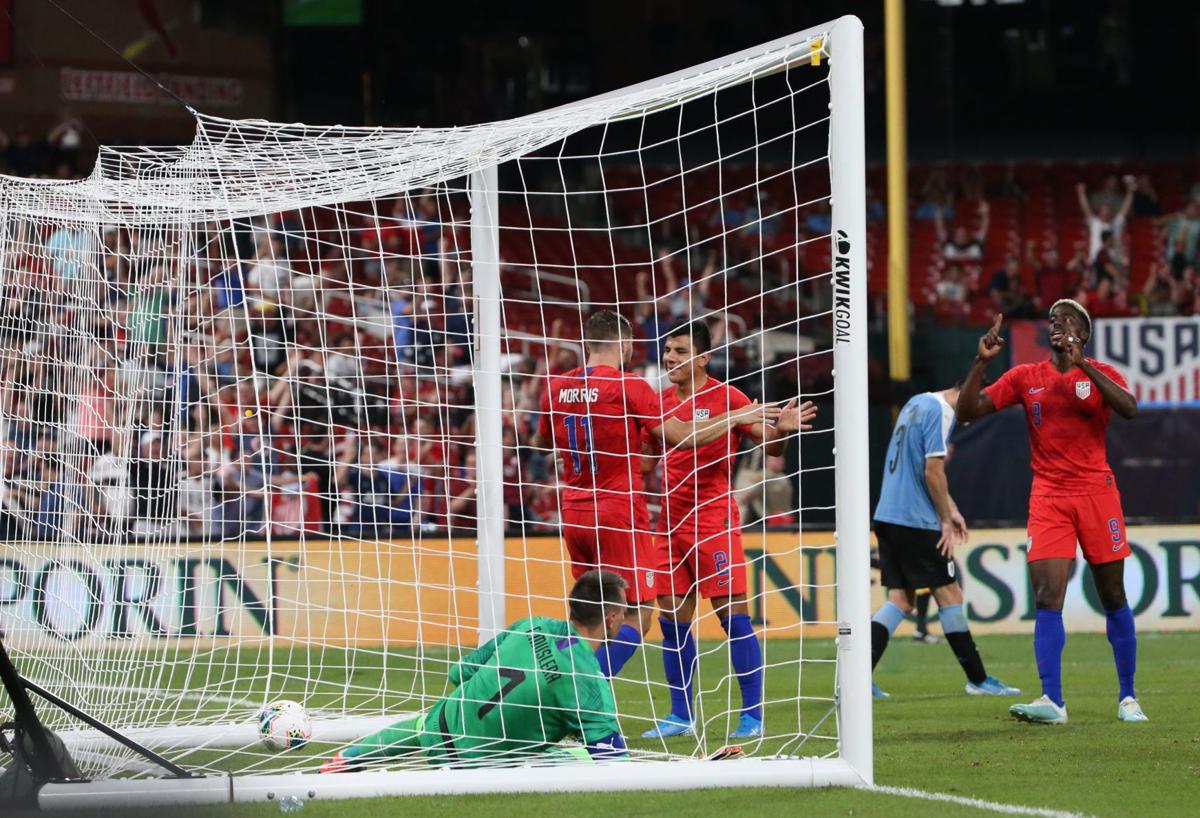 It wasn't a win, but it was a step forward for the U.S. national soccer team on Tuesday at Busch Stadium.
After consecutive losses to Mexico, getting outscored 4-0 in the process, some sign of progress was needed for the Americans in their game against Uruguay, ranked fifth in the world, at Busch Stadium. Which is why a 1-1 tie, if not totally satisfying, left the national team feeling much better about itself as it left Busch than they did on Friday against Mexico in New Jersey, where they lost 3-0. And while this remains very much a team in transition, the month leading up to the national team's matches with Cuba and Canada in the CONCACAF Nations League in October won't seem quite as long.
"There's a lot of room to improve, but it's a good step forward," U.S. defender Aaron Long said. "There's a lot of (young) guys stepping up and taking big roles and everyone knows they've got to pull their part."
It's hard to make direct comparisons between the Mexico and Uruguay games since the opponents played very different styles and the U.S. team was significantly different, with seven new starters, but it was clear this one was the better of the two, and not just because they didn't lose.
"Two different games but two very important challenges," U.S. coach Gregg Berhalter said. "In CONCACAF, we will play teams that will be very compact (like Uruguay). We have to understand how we can break them down. The challenge today was the mentality of the Uruguayans is very strong and it's very warm out today. We're going to play qualifiers where it's really warm and having that mental capacity to battle through these things, being relentless to keep going was very important today. Against Mexico it was a totally different challenge. Mexico is a high-pressing, active team in front of a loud crowd, a boisterous crowd and that presented us with good challenges and good learning opportunities. There, we came out of that with a lot to talk about and a lot to learn."
There will be a lot to go over after this game too, and Berhalter said the two games gave him and his staff good insights as they whittle the size of the national team player pool down. So far this season, Berhalter has used 41 different players.
Jordan Morris, one of the most experienced players on the roster, got the goal for the Americans in the 79th minute, ending a run of 262 minutes where the U.S. team hadn't scored. Morris, who had been effective on crosses up to that point, creating some of the more dangerous chances for the United States, got the goal by being in the right place at the right time. He chested the ball in from a few feet after a Uruguayan clearance attempt hit U.S. defender Nick Lima and came across to Morris at the other post. "Never had one of those before," he said.
"We saw today we're able to exploit them with patient play out of the back," Morris said, "and stretching the field, all things we've been working on. I think it was definitely a step forward."
St. Louis continues to be good to Morris. He won the Hermann Trophy here as the top collegiate soccer player and played in his first World Cup qualifying match for the U.S. here. Now, he got his first goal with the national team since coming back from knee surgery that cost him all of last year. It was Morris' sixth career goal with the national team and first since 2017.
Tim Ream and Josh Sargent both started for the U.S., in front of 20,625 fans in their home town. Ream, captaining the team and playing at center back, ran the defense well, blocking a good chance for Uruguay in the 24th minute and later starting the play that led to Morris' goal. Sargent, playing up top, came out in the 75th minute, having one shot and just 26 touches. The closest he came to scoring was when a header by Morris in the 58th minute was stopped and held by Uruguay keeper Fernando Muslera. Had Muslera only blocked the shot, Sargent was ready to pounce.
"We came out a little flat at the start of the second half," Sargent said, "but it was good to come back and get the goal and get a point. Not the best situation for us but we responded well against a great opponent. It was an improvement; we still have plenty to work on."
Sargent wouldn't have minded staying in the game longer.
"A little upset at that point because of how things were going," he said. "I still felt like I could contribute."
The Americans created more chances than they did against Mexico and some players who struggled in that game took steps forward on Tuesday. With the players Berhalter had in camp, it was inevitably a young lineup -- the average age of the starting lineup was 25 years, 65 days and with 17 caps -- but after the first few minutes, they didn't look that way.
The U.S. team, in fact, had the half's best chance when Morris crossed to Tyler Boyd in the box in the 22nd minute. Boyd got around his Uruguayan defender and got to the ball, but he got his foot on top of it and hit it down, causing it to take a high bounce over the net, which was open in front of him. The U.S. team also thought a handball could have been called on Uruguay in the box in injury time of the first half, but it wasn't.
Uruguay went ahead in the 50th minute on a very nice end-to-end goal. After the Americans threatened in front of the Uruguay goal, Uruguay got the ball out and quickly moved it upfield. Federico Valverde made a into the U.S. box, passing to Brian Rodriguez, who plays in MLS for Los Angeles FC and was making just his second start with Uruguay's national team. He cut the ball around U.S. defender Aaron Long, starting in with his left foot and then bringing it back to his right and firing it in from 10 yards out past goalie Brad Guzan. That highlighted one of the things Berhalter wasn't happy with about the game.
"I wasn't happy with our defensive transition today," Berhalter said. "Part of it is personnel; there's a big difference if Weston McKennie and Tyler Adams are on the field than the personnel we had today. They're smart players and it's just about being little bit smarter in plays We have chance to foul, don't do it. The recovery wasn't great and then we got isolated in the box and the individual defending could have been better. Against quality teams, you can get punished. In international soccer, there's a huge emphasis on offensive transition and, for us it's about getting better in that phase of game."