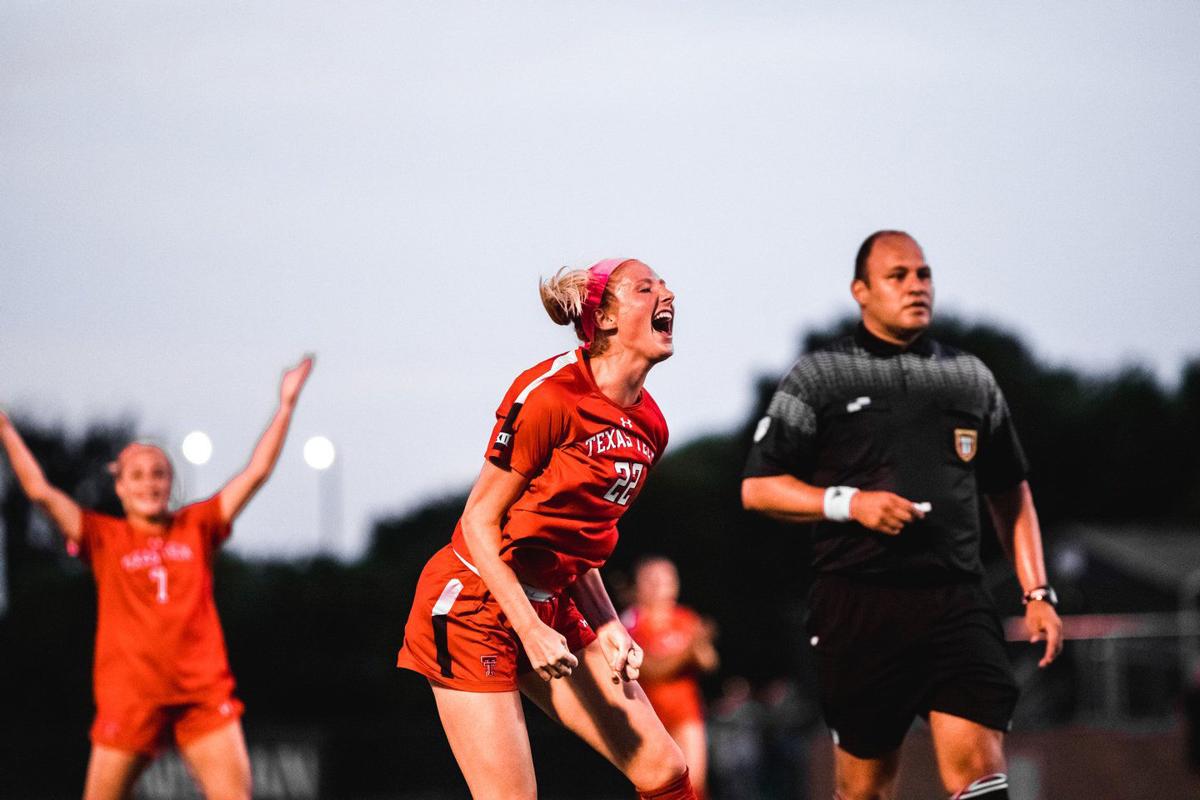 This isn't the senior soccer season that Texas Tech University's Kirsten Davis expected.
A record-setting forward from Westminster Christian Academy in St. Louis, Davis earned a number of national honors after finishing her Red Raiders junior season last fall with 16 goals and seven assists. She was named Big 12 Conference offensive player of the year while earning all-Midwest and all-American honors. And she also repeated as an All-Big 12 academic selection.
Her accomplishments in 2019 included a school-record six game-winning goals. And the team also enjoyed major success, finishing 15-4-3 overall and 6-1-2 in conference play. The Red Raiders, ranked 15th in the nation, earned their seventh NCAA appearance in eight seasons.
Davis entered this fall at No. 2 in Red Raiders history for game-winning goals (11) and points (39). She's also third in single-season goals (16), fourth in career points (68) and fifth in career goals (27).
Challenging season
But this year has been a challenge for everyone, thanks to the coronavirus.
"It's been a different year, no question, but like everybody else, I just wanted to play," said Davis, who's second on the squad with one goal and one assist. "Coming into the season with such a young team and knowing that there wouldn't be any nonconference games, we knew it'd be tough. But even though the results haven't been what we hoped for, we're a young team that's improving and making progress.
"We still have three games to play in the fall season and we're trying to remain optimistic."
One of three captains on a largely untested Texas Tech squad, Davis and her Red Raider teammates picked up their first win of the season with a 1-0 victory over Iowa State in Friday's senior night festivities at the John Walker Soccer Complex in Lubbock, Texas. Texas Tech is 1-3-2 while Iowa State falls to 2-5.
Davis, a 5-foot-9 forward, helped set up the winning goal, scored by freshman Gisselle Kozarski just before halftime. It's the first time Texas Tech has led all season.
"Normally, there are nonconference games to help you prepare," said Davis, 22. "And that's key because you know every game in the Big 12 is going to be challenging. This year, the inexperienced players were thrown right into the challenge of conference play. It's been difficult, trying to keep the newer players from getting frustrated by their mistakes, but we're definitely seeing progress.
"And as a team captain, there's a different dynamic. I feel like I'm in a position to help my teammates more this season. And I feel that I've grown as a leader, vocally and by example, and as a communicator."
Shining in St. Louis
Davis dominated as a high school player in St. Louis, finishing her Westminster career with 172 goals and 34 assists while earning All-Metro honors following her sophomore, junior and senior campaigns. In her career, the Wildcats went 63-18-2.
Following her senior season, she was named the Missouri girls soccer Gatorade player of the year.
During high school, the St. Louis Scott Gallagher product went to Under-19 and U-20 camps six different times. She was invited to her first U-23 camp in March, but the event was postponed because of the coronavirus.
"We're supposed to get together in the spring, but I haven't heard a date yet," she said.
Both of Davis' parents attended Texas Tech. At first, that was among her main reasons to look elsewhere. Still, she ended up committing to the Red Raiders as a Westminster sophomore.
"I wanted to find my own place," she explained. "But after my visit there, getting a chance to meet the coaches and get a feel for the team, I knew this was my home. And I'm very, very happy with the decision I made."
Davis played in 19 games as a Red Raiders freshman and chipped in with four goals. She had seven goals and seven assists in 22 games as a sophomore in 2018. That season, she was her team's offensive MVP and earned second-team All-Midwest honors.
Looking ahead
Davis is taking online classes this semester in Lubbock and will wrap up this semester a class short of a degree in human development and family studies. She plans to graduate in May.
"I want to go into the foster care system or maybe get my teaching degree," she said.
But first, she plans to play soccer professionally.
"At this point, I have another year of eligibility and I expect to use it," she said. "I plan to sit down with my college coaches at the end of the season and look at all my options before making any decisions."
An attacking player at heart, Davis said that she's always been a natural goal scorer.
"I'm a player who creates chances, scoring opportunities, for myself and for my teammates," she said. "I have good size and I feel my speed and being quick on the ball is a weapon. It's been a little tougher this season because teams are marking up and trying to double-team me.
"But that's all part of the challenge. I'm working to find new ways to attack and to create more scoring chances. And I'm thinking more now, trying to come up with new ways to be dangerous."
All this while trying to deal with the coronavirus.
"I'm concerned about it, no question," she said. "You try to focus on soccer and school, but it's something we all have to be aware of. We're tested three times a week and we live a different life than most college students. We don't go out to eat at restaurants and we're not hanging out with people on campus who aren't being tested regularly. We're just trying to be careful."