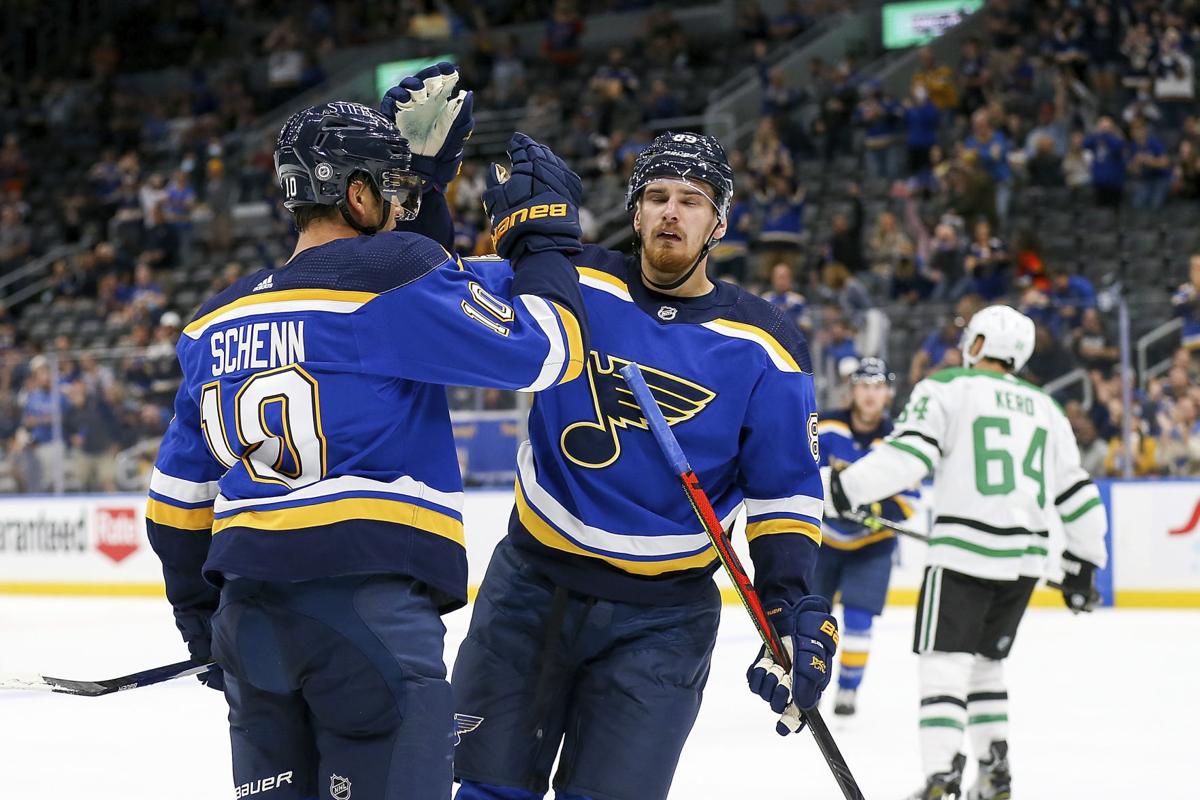 Here are the highlights from our weekly chat with Post-Dispatch readers.
Q: I believe the Blues are an exceptionally mediocre team. … The individual talent may be there on paper, but in reality the chemistry doesn't seem to come to fruition. Do you think that take is accurate?
A: I'm still in a wait-and-see mode on this team. But I will say, at the moment, they're on a 100-point pace — which I think you will agree is better than mediocre. The Blues are as healthy as they've been all season now that Brayden Schenn is back. Let's see if they can go on a run. There are still questions in my mind about the defense and, to a lesser extent, the goaltending.
Q: Would the recent offensive production from Blues defensemen be a result of internal discussion to chip in more? Has there been a shift in focus?
A: I wouldn't be surprised if it has been discussed internally, but I don't know for sure if that was the case. The Blues have gotten a lot of scoring from defensemen in recent years, usually ranking near the top of the NHL in goals by D-men. Craig Berube encourages it. As long as they're staying responsible defensively, that is. I thought the Blues 'D' was really active against San Jose, then not so much against Dallas, and then was active again vs. Vegas. Without Alex Pietrangelo and Vince Dunn, I wondered where the offense would come from on D. But so far, the blueliners are scoring at a pretty good clip.
Q: Klim Kostin drew three penalties in the Stars game and then promptly was basically benched. It seems that the Stars felt he was a threat, so why the low playing time?
A: I don't know. Sometimes tripping penalties just happen by accident. Kostin at times tends to disappear on the ice. Craig Berube has talked to him about being more of a presence, even with his limited playing time, to make the most of whatever opportunities he has by driving the net, establishing a net-front presence. He wants Kostin to make the other team uncomfortable, which he does pretty well with his hitting. But he must do it in other areas of his game, as well.
Q: Could Klim Kostin be sent down to the AHL without having to clear waivers?
A: Yes, believe it or not, he is still waivers exempt. He and Scott Perunovich are the only players on the current Blues roster that are waivers exempt.
Q: Why don't NHL teams give more detailed information on injuries? Is it for competitive reasons?
A: It is a strange tradition in hockey that I find almost amusing after coming over from the football realm. I can almost guarantee you that if Brayden Schenn had undergone surgery and was out more long term, we would've been told he had surgery for whatever that injury was.
But you're right; coming back from a shorter-term injury, the fear is that opponents would try to slash the heck out of that hand if it indeed were a hand/wrist injury. Silly me, I thought once the NHL started getting money from gambling organizations, it might do something more formalized with injuries (like the NFL's injury reports). But no.
Q: How have COVID-19 procedures changed this year regarding vaccines and testing?
A: Testing is less frequent this year, once every three days as opposed to every day last year. Also, protocols on the road are much more relaxed. Robby Fabbri had dinner Tuesday with about a dozen former Blues teammates — that would not have been allowed last year. Torey Krug, who's from the Detroit area, had an early Thanksgiving dinner with his family Tuesday night. Again, that would not have been allowed. So those are just a few examples. It seems like the positive COVID cases are lessening around the league.
Q: How many more impressive games by Ville Husso before he cements himself as a legit No. 1 backup?
A: He has played in only two games this season, so we need more of a sample size. But he's in net Wednesday night. And he'll almost certainly start one of the back-to-backs this weekend — I would think Saturday against Columbus. I don't know how management and the coaching staff feels about this, but I would like to see him stack up a series of consistent starts. Keep in mind, too, he's scheduled for unrestricted free agency after this season.