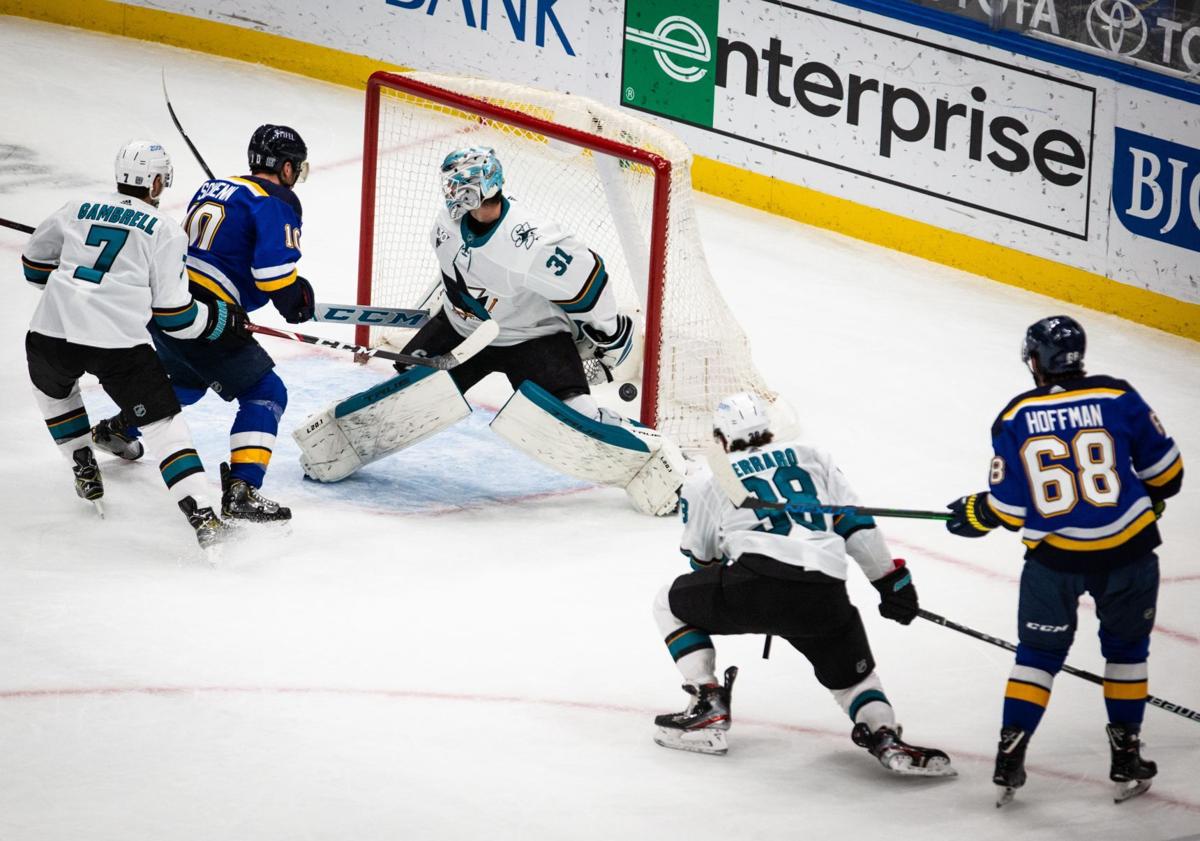 Here are the highlights from our weekly chat with Post-Dispatch readers.
Q: Were the Blues hoping to see more from Klim Kostin during camp? What seems to be the problem?
A: The Blues hoped to see more from Kostin, yes. Not sure what the issue is, but Craig Berube's enthusiasm was below how he talked about Jake Neighbours and above how he talked about Logan Brown. Berube's description of what was missing from Kostin in camp was pretty wide-ranging — "gotta keep working on his game … important to learn to become a good pro … watch how our guys handle things" — which sounds like detail work, doing the little things. Kostin and Kyle Clifford were the only players who made the opening roster that we didn't get a chance to talk to during training camp, so it's hard to put a finger on how he feels at the moment. But the Blues valued him enough that he made the opening-day roster and isn't starting the season in Springfield.
Q: What is the current cap situation for the Blues?
A: The opening-day roster is $14,484 under the salary cap, and that's with Oskar Sundqvist on it (the Blues placed him on long-term injured reserve). So when he comes back, getting under it shouldn't be a problem. The Blues at the moment have $1.67 million of cap space to work with, which they can bank for future use at the deadline. They are probably in as good a situation as they've been in in a while, with some room to maneuver.
Q: Will the Blues defense be better than it was last year?
A: A healthy Colton Parayko will make everyone look better. Having him at half speed at the start of last season was a drag on everyone. Pavel Buchnevich will be a big help, Brandon Saad less so. (It's been about four seasons since Saad had above average defensive numbers.) If Marco Scandella struggles — and last year probably wasn't as bad as it looked at times for him — then Niko Mikkola is the only option there. Jake Walman is not going to be a shutdown defender, nor is Scott Perunovich. There's no reason everyone can't be more physical. They're hockey players.
Q: Barring injury, how many 20-goal scorers do the Blues end the season with?
A: Ryan O'Reilly, David Perron, Brandon Saad, Jordan Kyrou, Vladimir Tarasenko, Pavel Buchnevich, Robert Thomas, Brayden Schenn all can do it. That would be eight, but once you factor in injuries, which obviously I can predict will happen but which I can't say to whom, not all of them will get there. It would help the Blues if James Neal gets there, too. Last year, if it was a full season, they likely would have had five: O'Reilly, Perron, Mike Hoffman, Schenn and Kyrou. But I don't know that any of those guys above will get to 30, and some of them may be getting over 20 in the final days of the season.
Q: What kind of season does Jordan Binnington need to have to prove he's elite? He's looking more and more like a flash in the pan.
A: Simply, he needs an elite season. I wouldn't say he's a flash in the pan yet, but the last two seasons obviously haven't been as good as the first one. But that first season was exceptional, one of the best you're going to see in a long time. I remember in that 2018-19 season, Binnington would hit all sorts of milestones for rookie goalies. But if you looked at who he was joining in that company, it was a lot of guys you barely heard from again. The message was clear: A great rookie season doesn't always translate into a great career. Binnington has looked very good in camp and the preseason, but that's camp and the preseason. He needs to play better this season. He's been average lately. But at least he's been average with an upside.
And he's going to be around for a while.
Q: Craig Berube's comments on Logan Brown indicated that he hasn't been willing to put in the work to become better, hoping that his father's (Jeff Brown) background would carry him. Does it seem that way to you?
A: I don't think he's been riding his father's coattails, but throughout Logan Brown's career he's been the biggest guy on the ice. He was able to dominate play at a young age because of that. There was less need for him to go 100%,  because 80% was enough. Now he's at the point where being big isn't enough. He's got to find that extra 20%, which went unused for much of his youth. If he can find it, with his size and good hands for a big man, he can play in the NHL. So I wouldn't say he hasn't been willing to put in the work; he's just got to figure out what that looks like. At too many points in camp, he seemed to be cruising. And, as Berube pointed out, his confidence has to be pretty low right now, and going unclaimed through waivers can't help.
Q: You say the Blues were not good at zone exits last year. All the more reason to get Scott Perunovich in the lineup ASAP. Who would the Blues have to trade to make that happen? Marco Scandella?
A: Perunovich will be here soon enough, and once he gets here there's a good chance he never goes back to the AHL. (Assuming he doesn't get called up in the first few weeks.) Until then, he will benefit from the abundant ice time he'll get in Springfield. As far as making room, it will depend on the situation that led him to get here. The Blues wouldn't have to make a move until the injured player is ready to come back. In many ways, Robert Bortuzzo is the easiest to trade: small contract that's in its last year. Trading Scandella, in season, would be more difficult.
Q: If Jake Neighbours is playing primarily on the fourth line, are the Blues wasting a year of development for a potential top-six forward?
A: Craig Berube has talked of being able to play Neighbours in the lineup if needed, and putting him on the fourth line will keep his minutes in check. He's shown a physical nature that's not out of place on the fourth line. This also isn't the classic fourth line of old which just runs around hitting people. Tyler Bozak is 35. His crashing days are over.
If Neighbours doesn't stick around, it's possible he will learn more and benefit more from his nine NHL games than he will from a season in the Western Hockey League. But let's see how he looks in these early games. He held his own in camp and was effective with the fourth line in the preseason.
Q: David Perron seems to be getting better with age. Has he mentioned his contract status, or have talks been kicked around? What might his next contract look like?
A: When we asked him recently, he said, "Next question." When we nagged him about it, he held his ground and wouldn't answer, which is unusual for Perron. (He's quite chatty.) With his age, he won't get more than a two-year deal. If his numbers this season match last season, there would be a case he could make for getting $4 million a year again. Unless his game falls through the floor, no less than $3 million I would think.
Q: Is James Neal more important to the Blues than many might think? He seems to have the drive … and he's that veteran presence that may have been missing since Alexander Steen left.
A: I don't know how important some people think he is, but if the Blues could get 15 or 20 goals out of Neal while paying him the league minimum, that would be like finding $100 in your sofa cushions. And that third line could play a big role for this team. Right now, it's Neal, Robert Thomas and Vladimir Tarasenko. That's a pretty good third line, if — and it's a big if — Neal and Tarasenko look like the Neal and Tarasenko of a few years past. The Blues are the fifth team in six seasons for Neal. A lot of teams have moved on from him. Everyone talks about his presence in the room, but his presence on the ice will be significant.