During our weekly chat we weigh in on the long-term future of Carlos Martinez, and the playoff future of the Blues. Here are some of the top questions.
Q: Are you ready to admit you were wrong about Carlos Martinez? And, should the Cardinals pick up his contract option for 2021 if he keeps pitching like this?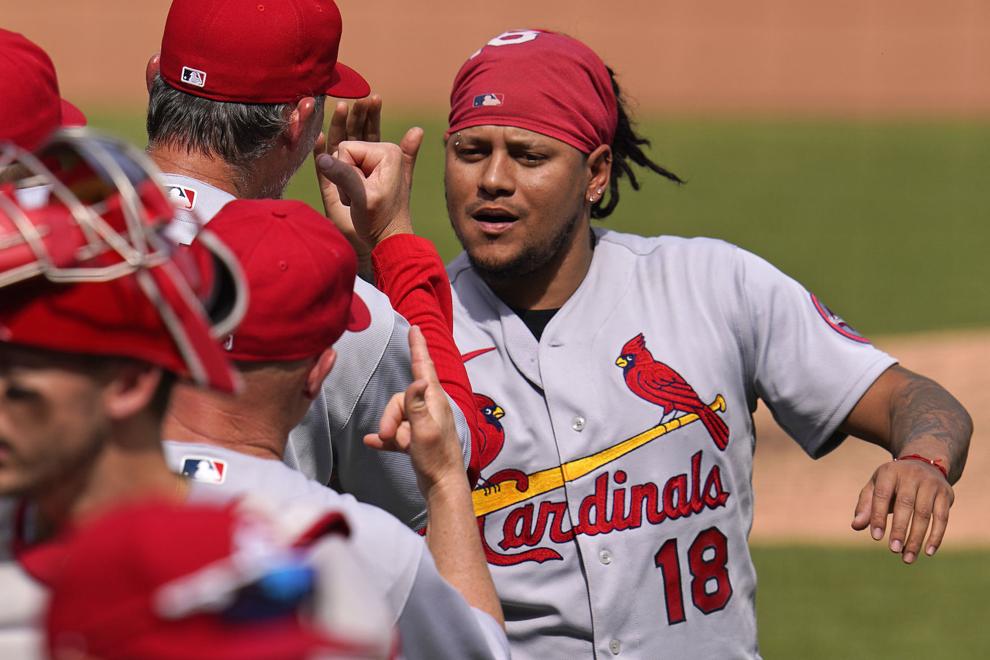 A: Sure. I was not convinced he had starts like this left in him. He's been very impressive, and the Cardinals are being rewarded for their patience. He's now had as many strong starts as he did just OK or subpar ones to start the season. If he keeps it up, stays physically healthy and mentally sharp, I'm going to look very wrong by the season's end. Good for him for proving it so.
That said, predicting which direction Tsunami will blow for months based on six starts -- three blah ones and three strong ones -- is dangerous. The Cardinals can wait, and they will. They have plenty of reasons to do just that. Carlos on a contract year seems to be a good thing for the team he is pitching to impress. If he keeps this up, consider the option. If he gets off track, thank him for his service and move forward.
Q: With Jordan Hicks on the injured list, who could be getting some of those save chances in addition to current closer Alex Reyes?
A: Giovanny Gallegos is the only other reliever who has had save opportunities this season, so I would guess him first. Ryan Helsley, too. Reyes is eight-for-eight so far, so the Cardinals could lean on him a little more, too. He seems to be holding up OK.
Q: Vegas, or Colorado? Which matchup do you like better for the Blues in the postseason? Do you think they could turn out to be a dangerous postseason team?
A: Colorado. Keep them off that lethal power play, and you have a chance. Some good momentum there for the Blues after beating them the final two regular season meetings too, maybe. Vegas is 4-1-1 against the Blues with a +12 goal differential. It hasn't been a good matchup.
Sure, the Blues can be a postseason dark horse. They have a coach, a goalie and a captain who have won it all before. They have health, for the most part, which is something they chased all season. Will they be the favorites? Nope. But their play has been inspired as of late, and that's something we certainly did not see in last season's bubble setting. If they take their current energy into the postseason, they might make some magic. If they hit snooze once they lock in a spot and try to rev up again before the playoffs, I don't like their chances. They are a team that builds toward their best, not one that can flip a switch on and off.
Q: I know everyone loves a balanced offense, but is it a bad thing that the Cardinals are looking a little more home-run heavy so far this season?
A: No. And great point. Power plays. Power wins. Hitting home runs is good! The Cardinals are winning games when they do it. Busch Stadium is not a great hitter's park. Harder thane some realize. But by God, the ball can leave it. We have watched it this season. The Cardinals are 15-5 in games they hit at least one home run. Their rate of at-bats per home run (25.1) is fifth-best in the National League. Their .402 slugging percentage is seventh-best in the NL. They are far from a perfect lineup, but they are powering through some of their flaws. That's good.
Q: Nolan Arenado and the Cardinals always seemed like a perfect fit. It finally happened. Maybe Max Scherzer gets to finish his career with the Redbirds, who knows. Is there another player you see as an obvious fit for this team at some point?
A: Yes. Bryce Harper. It was one of the reasons I pounded the Harper drum so hard when he was going through free agency. He would love it here, and he would be loved here. Maybe the Phillies feel burdened by that contract at some point down the line?
Q: Joey Gallo is not the answer the Cardinals need, is he? He's already struck out 47 times as of Tuesday, and this is after a down 2020 season.
A: Well, his .410 on-base percentage is encouraging as his walk rate, like his strikeout rate, is way up so far this season. But he's been a league average-ish hitter or slightly below since the start of last season. He is not exactly screaming that he's The Answer for the Cards at the moment. First up the Cardinals want to get a good, long read on the outfield of Tyler O'Neill, Harrison Bader and Dylan Carlson.
They have not made those decisions yet and won't until they get a chance to see the outfield they wanted to see start the season -- Tyler O'Neill, Harrison Bader and Dylan Carlson -- log more games together in the same outfield and lineup. Right now the Cardinals outfield has climbed to the middle of the pack in terms of National League teams outfield OPS production. There's some power there, with Cards outfielders hitting the third-most home runs (14) among NL outfielders. If the defense is as good as it should be, and the power holds, then this outfield with Justin Williams as the fourth outfielder could be good enough. Could it be better? Sure. O'Neill has had a hard time staying healthy. We know plenty about Bader's struggles against right-handed pitching. The question you are asking, and it's a fair one, will be influenced by what O'Neill and Bader do in the comin days, weeks and months.
Q: How much of the team's offensive success is riding on Paul DeJong's offense for the Cardinals right now? They need more from him than they're currently getting.
A: Somewhat, yes. The outfield has a big say in the offense's direction as well. DeJong's riding a roller coaster. I'm starting to wonder if that's just the hitter he is. Four of his six homers came in two games. Eight of his 18 hits came in four games. If he's hitting sixth or seventh, he is the surprise power hitter who can ambush a game after a pitcher sneaks past Paul Goldschmidt and Nolan Arenado. If he's hitting fifth, it is a lot to ask of him when he's hitting like this. That's why it's a bummer Yadier Molina is out right now. I know people don't like Molina hitting fifth, but the way he was hitting before his injury, he was the perfect bat for that job in this lineup.
Q: Is Harrison Bader's defense overrated? He made a bad throw to home on a ball that should have gone to second base soon after his return. Why is his defense always called Gold Glove caliber?
A: That was a bad throw, indeed. Bader seemed determined to prove his arm was heathy, or something. It was strange, and he can be prone to making the hopeful throw instead of the right one at times. But his speed and range are in elite categories. He gets to balls others cannot. He can improve, sure, but he has the makings of a Gold Glove center fielder. He's been a finalist for it before, so that phrase was not just made up or something.
Q: Is it just wishful thinking on my part or has Robert Thomas recently kicked it up a notch or two?
A: Your eyes are not lying. It took him a bit but he's got six points in his last seven games, with twice as many shots during that stretch than he had in his first four games back from the injury. He's quietly coming on strong.
Q: Is there any specific reason Randy Arozarena has had less-than-stellar numbers for the Rays so far this season? Are pitchers finally figuring him out, and is this something that should take some heat off the Cardinals for trading him?
A: The postseason flourish that made Arozarena the talk of the league in the last postseason has been scaled back quite a bit so far this season. He's averaging .265 with a .348 on-base percentage, which are both fine numbers. But his slugging percentage has drooped to .392. O'Neill, Bader and Carlson all have higher on-base plus slugging percentages at the moment -- clearly Bader just got started again -- than Arozarena's .740. The Cardinals have admitted they underestimated Arozarena. But they still seem to think they got the better of the deal in the long haul. We will have to see what lefty pitchin prospect Matthew Liberatore is about in the majors before deciding for sure. Arozarena is a better player than the Cardinals thought, it's clear. Is he a superstar? This season will tell us. At the moment, it does not look like it. Last postseason it sure did.
Arozarena this season is seeing a higher percentage of sliders this season, which are not the four-seamers and sinkers he crushed last season. He's swinging at a higher percentage of pitches outside the zone, too. Teams have realized he crushes mistakes and have made it important to not give him many to crush.
Q: Is Andrew Miller's declining dependability and consistency kind of put him in the same camp as Matt Carpenter? Both have big money still guaranteed them this season. Also: Who do the Cardinals turn to for left-handed relief if Miller continues to struggle?
A: Not exactly. Miller, who is on the injured list at the moment, was pretty good last season -- when he was able to pitch. He's making $12 million this season, and has not been very good. That's still $6.5 million less than Carpenter. Miller is, however, definitely in that group of veteran relievers the Cardinals wound up paying big for past performance while not getting great results during the contract with the Cardinals. I don't think we will see them pursue name brand veteran relievers at big prices very often moving forward.
The only other left-handed reliever currently on the 40-man is Bernardo Flores Jr.
The Cardinals claimed him off waivers from the White Sox in April.
He has options remaining.
Might be time to see what he can do soon.
If the Cardinals decide to add someone to the 40 man, Evan Kruczynski, Garrett Williams and Austin Warner could be options.
Zack Thompson would be the fan favorite and he got looks this spring.
I think they would prefer to keep Liberatore in the starter's realm especially this early in the season.
(Hat tip to DG for some of the names mentioned here.)
Q: Is MLB going with play like you've been there before, or let the kids play? It can't have both. Some guys bat flip one night then get mad at a strikeout celebration the next.
A: A lot of it is intent, and how the opponent determines that.
A bat flipped toward one's own dugout tends to be no big deal.
A bit flipped toward the opposing dugout? Different story.
But as younger players phase out older players, we are going to see more celebrating.
We see football players celebrate tackles and NBA players celebrate shots. Even the NHL has lightened up.
Check out college baseball highlights. Those kids are going crazy. It doesn't lead to fights. It will work itself out.
Again, a little excitement is better than the alternative. Baseball needs more, not less.
And as always: If you don't want to watch bat flips or strikeout celebrations, don't give the opponent reasons to celebrate them.
I'm not a big Trevor Bauer fan, but I'll give him credit for shooting straight on this topic. If he's going to celebrate strikeouts, he realizes he can't get red ass if a player pimps a home run.
Q: Did not think it was possible to have more respect for Adam Wainwright, and then heard his post-game comments about helping take care of his family when COVID hit. How did that interview strike out?
A: Incredible comments that everyone hopefully got the chance to read, hear and watch. A good testament to keeping the main things the main things, whether you play baseball or dig ditches for a living. Family first. What really struck me was Wainwright saying he is glad he got vaccinated because if he wasn't it would have forced him to leave the team for weeks to go help his family. And it would not have been a question for him. For those wondering about the details of his family's vaccination situation, I'm not going to be the one asking. If you see that as a journalism fail on my part, so be it. As far as I see it, I cover the Cardinals. Wainwright is a Cardinal. His wife and kids are not.