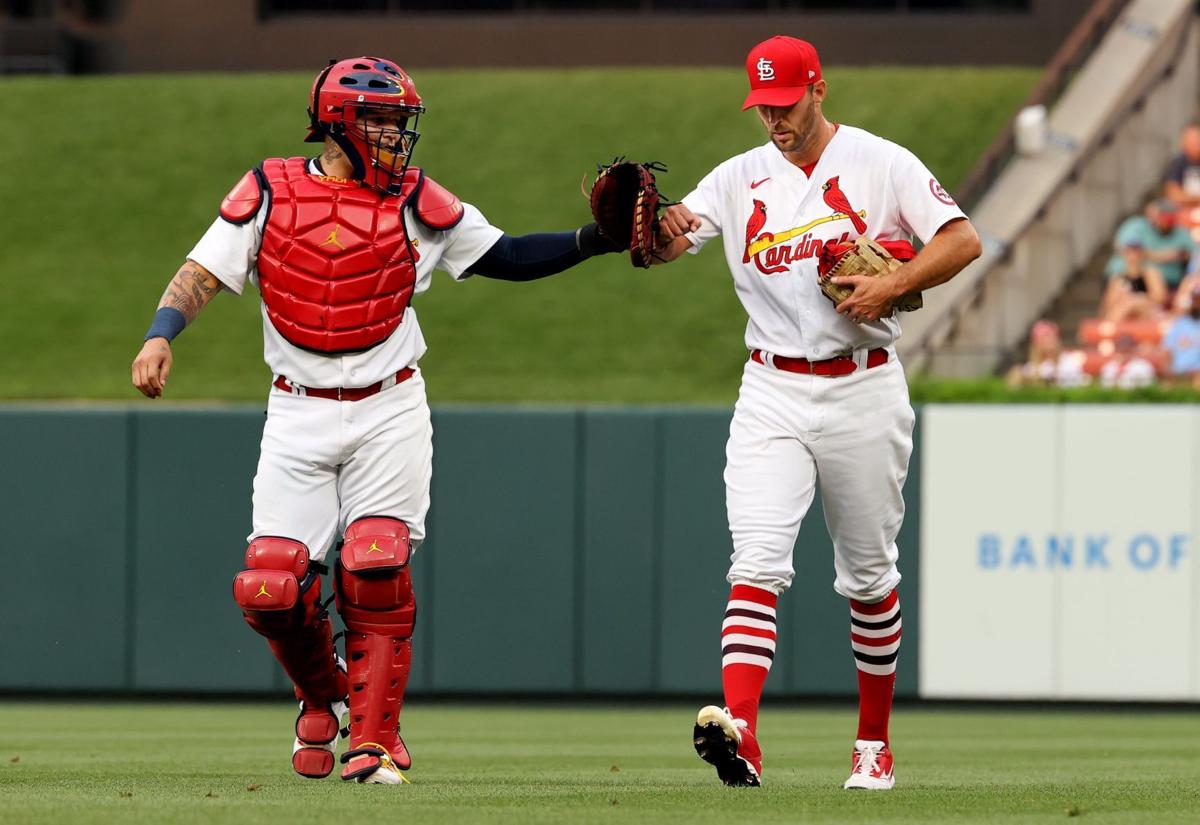 Here are the highlights from sports columnist Ben Frederickson's weekly chat with St. Louis sports fans.
Q: I like how the Cardinals are positioned heading into 2022, and don't think they are too far from being a legitimate World Series contender, but does the front office feel like now is the time to go for it? Surely it does, considering this window and the fact Paul Goldschmidt and Nolan Arenado could be nearing decline stages?
A: The front office is on the record as being anti-window. It goes against the sustained-success model. There was a window argument available for what might have been Adam Wainwright and Yadier Molina's final shot at a championship, and that narrative was pushed back against. I believe the Cardinals truly believe what they say, that their goal is to be competitive annually, and that they think a team good enough to get in can be good enough to win. They can point to the Braves as an example of that in 2021. They can point to the Nationals as an example of that in 2019.
What the Cardinals have to also acknowledge, though, is the trend of how recent champions have aggressively improved their teams not just during the offseason but over the course of the season, specifically at the trade deadline. The Cardinals' more tentative approach to recent trade deadlines, not so much their preseason moves, have contrasted more than compared to recent champions. And the the track record of champions making the right, bold calls to improve their teams during the course of the season can be traced back pretty well to, at least, the 2011 Cardinals. How the Cardinals go about their offseason will be a good read on how much the Cardinals are going to push it, but how they push it (or don't) throughout the season once it starts matters too, perhaps now more than ever before.
Q: I don't want to overreact, but I think the Mizzou men's basketball loss to Kansas City was the worst I've observed in 20-plus years of following the team. What do the finances look like if the Tigers decide to terminate Martin's contract? Can Mizzou afford to keep him if the Tigers don't right the ship by the start of conference play?
A: You must not have watched much between 2014-17.
It's a very bad loss, one of those ones that will get remembered for a long time, and one that raises very fair questions about if this transfer-heavy reboot is going to work. You have to be able to make some threes in the college game now, and the early signs for this team are not good. And if you can't shoot you sure as heck better defend, and the defense was soft against a team that was not nearly as good as Mizzou made it look. It's understandable that a team with so many new players is going to take some time to gel, but there's no sugar-coating this one, and it will cause problems for this team in terms of support moving forward. It's just brutal to shoot yourself in the foot like that in game two.
I'm sure firing talk will be all the rage now, and I get the frustration, but it would not make sense to let a coach overhaul a roster with transfers that have eligibility left then fire him two games in. You've gotta let it play out. Long season. See if things get better. See how the team responds and grows — or if it doesn't.
The financials need to be mentioned. They complicate the conversation. Martin is owed $3 million if fired between now and April 30, and that figure doubles if the team hits certain benchmarks — which it probably would not if he was fired. That's a steep buyout for a school and fanbase that seems to be confused about what it wants its basketball team to be these days, in terms of success and support.
Remember, Martin has a good relationship with new AD Desiree Reed-Francois, who helped hire Martin at Tennessee. Her son is committed to walk-on to the team in the near future. And there is the buyout.
Whether you think Martin should be fired (I don't) or not, those are factors that suggest no sudden decisions will be made.
As for questions about fan interest and morale, attendance in the non-student-section portion of the stadium is lousy anyway, so I'm not sure that's as big of an in-season factor as some hope it will be. Mizzou attendance in general is in a bad place. The football Tigers beat SEC East opponent South Carolina to move to one win from bowl eligibility, and it happened in front of the smallest crowd of the season. Not good.
Q: Do you find it curious that Cardinals president of baseball operations John Mozeliak is trying to pump up the idea of a Paul DeJong rebound at shortstop? Do you think he's been told he can't move that contract?
A: I don't think he's been told that. That said, there's no good reason for Mozeliak to pile on DeJong publicly. If DeJong is back for 2022, he's more likely to perform better if he feels the team believes in his chance to rebound. If he gets traded, there's no reason for the team to do anything that could hurt his value. One thing I found as somewhat humorous, though, was how former manager Mike Shildt was criticized by some for not switching from Paul DeJong to Edmundo Sosa soon enough, as if the front office has no influence or say in a matter like that. Well, how often has the front office mentioned Sosa so far this offseason? Not much. And we are hearing some real straw-man stuff from Mozeliak lately about how DeJong has all these unfair critics. Huh? So, if you think there wasn't some sort of pressure for DeJong to get as many chances as he did, consider the situation the front office is creating for new manager Oli Marmol if DeJong indeed returns and continues to struggle.
Q: Did St. Louis really turn down a $1 billion settlement offer from Stan Kroenke? I'm probably in the minority here, but I'm still hoping this relocation lawsuit produces an expansion team.
A: No. But I do think they turned down a $100 million settlement offer, because I think they think they can get more, potentially a good amount more.
The lawsuit, if it goes to trial, seeks billions of dollars between damages and punitive damages.
I don't think you are in the minority.
A recent poll of 700 STL area voters conducted by a group called Show Me Victories last week provided an interesting snapshot to debate and discuss.
Nearly half of responders said they would support an expansion team.
I really do think it's pretty split.
But here's the problem: Expansion does not appear to be a real option at the moment. Speculation about it, which is understandable, doesn't change that.
I think this continues to be about the money, and I do think the NFL/Kroenke side is interested in settling.
I don't know what size of check would make the plaintiffs (city, county, dome authority) punt on their opportunity for a trial.
I do think $100 million was a lowball offer.
Q: Can you explain your National League rookie of the year vote? Also, do you expect Dylan Carlson to be able to avoid regression in year two?
A: Sure. Thanks for asking. Jonathan India was the very obvious and easy first-place choice. Most plate appearances (630) among qualified NL rookies. Highest average (.269), highest on-base percentage (.376) and highest slugging percentage (.459). Dylan Carlson, who ranked either second or third in each of those same categories, was the easy second-place choice. Both of those guys played in more than 90% of their teams' games. No one else really came close to them in terms of position players. And no other position player was more impressive or impactful, I thought, than Trevor Rogers. 2.64 ERA in 25 starts Only thing to nitpick was 133 innings. It was a pretty easy 1-2-3 vote in that order for me.
As for Carlson's future, the 2022 season will really be more like year three for him. He played 35 games in the pandemic-shortened 60-game season in 2020, and got his first taste of the postseason that year.
So, I think he is more prepared for a post-rookie season than most. He's a pretty cerebral, mature player for his age (23). You never know for sure, but I think he's just going to keep getting better for a while still. Linear progress is nice but it doesn't always work that way. Carlson, so far, has done a decent job of it.
Q: Should Mizzou consider prioritizing a great recruiter if it moves away from Cuonzo Martin at some point? Former Tigers guard turned college coach Kim English could check that box?
A: I'm a big fan of Kim, the person and the up-and-coming coach. We were in college together when I was on the Mizzou hoops beat for the Columbia Missourian. He's on an awesome track, and I think he's going to be a name to know in the coaching industry for years to come. And yes, I do think he could be the right coach for his alma mater one day. But now? He just got started as a head coach at George Mason. At Tennessee he was recruiting for Rick Barnes. You know, the guy who got Kevin Durant. Let's see how he coaches, most importantly, but also how he recruits to a school not named Tennessee under Barnes. English is going places. Maybe back to Mizzou in the future, even. But he needs to get some head coaching experience before he jumps into the SEC. And this is where I remind everyone Kim had one of the all-time best Mizzou quotes, said confidently after Back-Door Mike Anderson bolted for Arkansas: "Reconcile by winning."
Q: Can SLU's men's soccer team make a deep run in the NCAA Tournament?
A: Sure. The A-10 is not a soccer force but SLU may be, and the 10th overall seed puts the Billikens in decent position. They've got a good goalkeeper, too, and that can be a difference-maker in tournament play. A great season no matter what happens. Congrats to them.
Q: Do you see the Cardinals being a serious contender for Max Scherzer?
A: Why not? The Cardinals have suggested they are cool on the idea of shortstop shopping, and see pitching as a bigger need. They have admitted in the past that they should have signed Mad Max when they had the chance. He's a fit, but also it would be as close to righting a wrong as you can get. And he would sell tickets on top of that. And he's not going to break a bank. He's 37. But he's still Max Scherzer.
Q: Oskar Sundqvist has been missed by the Blues. Can he be expected to be ready to roll from the jump now that he's back?
A: Patience would be wise. He's coming back off a pretty brutal recovery. But yes, his presence was missed. He's a key piece of this team, more than some seem to realize.
Q: Regarding Oklahoma and Texas joining the SEC, how can Mizzou really think that is a good idea? The Tigers have their hands full trying to beat Arkansas and Kentucky, let alone the Longhorns and Sooners. The Tigers will be hard to get out of the bottom-five if slotted in a western division with those schools along with A&M and LSU, don't you think?
A: First off, Texas is not Oklahoma. The Longhorns just lost to Kansas at home. Longhorns coach Sarkisian might get fired in his first season. Texas has had a 10-win football team one time since 2010. More importantly, Eli Drinkwitz and Mizzou have no power over the addition of either Texas or Oklahoma. It makes the league money. It was going to happen regardless of Mizzou's wishes. Period.
Most of the folks who had Big 12 bad blood left with those two programs have now moved on from Mizzou, at least in official capacity. The Tigers are having a hard time getting off the bottom floor of the SEC East as it is, so yes, additions of respectable programs will make things harder, but that's what Mizzou signed up for when it entered the SEC. It proved that it can be highly competitive in the league during Pinkel's best SEC seasons. That's the goal. Adding Texas and Oklahoma won't change that challenge, or the reality that it can be embraced and overcome with the right combination of coach and support.
Q: What kind of Florida football team shows up in CoMo on Saturday?
A: A definitely distracted, potentially disinterested one. I asked Drinkwitz if he's still hoping for snow.
He requested some fake stuff gets pumped in. The Gators had big goals, and they have all been dashed. They have little to play for and their coach is, somehow, on a seat that is growing warm. Probably a more winnable game than Arkansas on the road, at this point.
Q: When will Albert get his statue outside of Busch Stadium?
A: Jeff? To be determined. Oh, you mean Pujols. It won't be before he retires, officially, and it won't be before whatever is left to be determined on his Angels' post-playing situation is settled once and for all. I do think it will happen, eventually.
​Special Announcement: Thanks for checking out this week's chat. If you want to chop up more STL sports with some members of the Post-Dispatch sports crew, there are still some tickets available for Wednesday's Post-Dispatch Sports On Tap event at Ballpark Village. We hope to see you there!