Here are the highlights from our weekly chat with Post-Dispatch readers.
Q: How has Cardinals pitching coach Mike Maddux escaped criticism so far this season?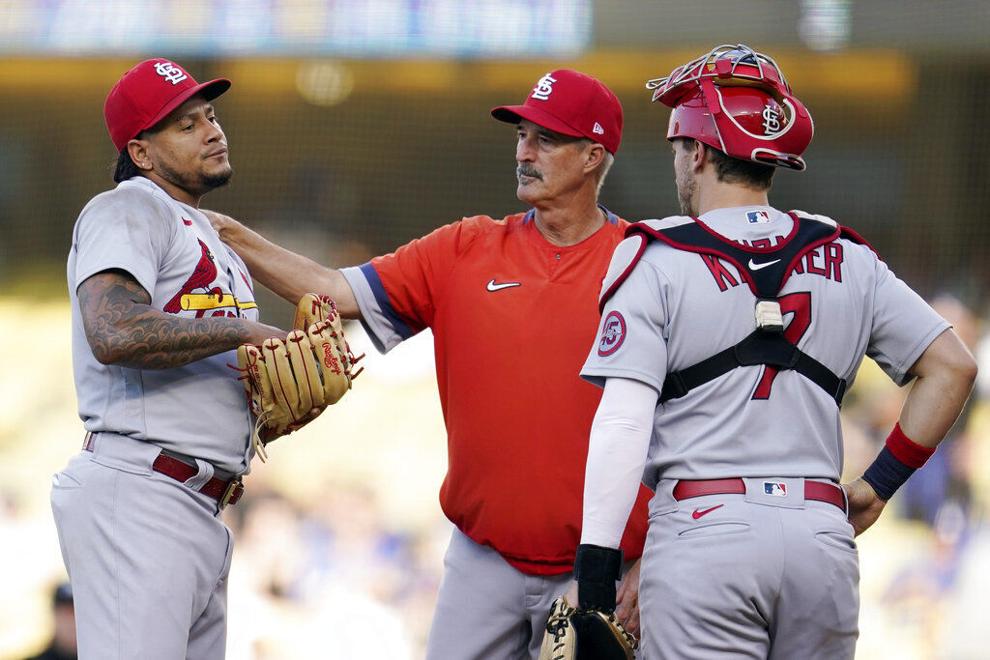 A: Expecting more from Maddux seems fair to me. I'm no certified pitching analyst, but my numbers show the Cardinals entered Tuesday's game ranked second-to-last in the majors in strikeouts (481) while leading the majors in walks (269) and hit batsmen (37). One of those three stats would be hard for a pitching coach to defend, let alone all three of them at once. But wait, there is more. And this one continues to be overlooked. The Cardinals were second-to-last in the majors and last in the National League in percentage of first-pitch strikes (56.5 percent). That's huge. Here's why. National League hitters this season have a batting line of .206/.254/.332 after falling behind 0-1. But after they get ahead 1-0, they have a batting line of .246/.370/.427. That's why we always hear about the importance of getting ahead. I know it's not Mad Dog out there on the mound, but of the 14 pitchers who have made more than 10 appearances for the Cards this season, seven have an ERA above 5.00. If that's not enough evidence to wonder if the approach being taught by the pitching coach is not working for a lot of these pitchers, I don't know what is. (I didn't update the numbers after Tsunami had another low-tide night, but they didn't get any better.)
It's great that the Cardinals have been one of the better teams at taking away the home run from opponents. Entering Tuesday's game they ranked in MLB's bottom-five in HR allowed (48) in that department, which is no small thing considering how often balls are leaving the ballpark these days, but at what cost? A ball that is put in play that doesn't go over the fence has a very good chance of turning into an out with this defense. Yet too many free passes via walk and hit-by-pitch keep happening. It has reached the point where the Cardinals kind of sound like Billikens basketball coach Travis Ford when he used to talk about why his team couldn't make free throws. The Billikens did their best to make it an off-limits topic to the team and the media, hoping it would correct itself. That didn't work, just like the Cardinals downplaying their free-pass problem won't work. It's being talked about a lot because it's a problem the team can't seem to figure out how to fix. And yes, if one person is directly responsible for pitching it, it's the pitching coach.
Q: At what point is the Cardinals medical and training staff going to be held accountable for the team's endless injuries? It seems like no one is staying healthy enough to be counted upon reliably.
A: I see your point, I do, but it's not a Cardinals-specific problem.
Baseball is behind other sports at preventing preventable injuries, specifically soft-tissue injuries.
No team has figured it out.
It's a combination of the length of the season, the way baseball has trailed other sports at monitoring and securing rest for the players, etc.
For the Cardinals, specifically, it's a byproduct of pitchers being asked to hit in 2021 after not hitting in 2020. Two of their starters are on the injured list for that reason.
And it's all coming to a head this season. Part of that can be blamed on the 2020 season.
Stan Conte, a former head trainer with the Giants and Dodgers who now runs his own injury analytics firm, has told multiple outlets including the New York Times that soft-tissue ailments, like muscle strains, were up 117 percent through the start of 2021 spring training and the first two months of the season compared to the same stretch of time in 2019, the last non-pandemic-shortened season. Groin injuries were up 700 percent. Hamstrings up 194 percent. Obliques up 83 percent.
Those numbers were in a fascinating article by James Wagner I read recently, but Conte has talked to plenty of others too.
Many think it is the year not mentioned: 2020
The 60-game sprint, the stop-start of that season, and then the return to the full 162-game grind this season, which baseball is not even halfway through.
Every team feared there could be an uptick in injury issues this season due to last season's strange schedule, but it's turned out to be worse than imagined.
And no team is immune. Mike Trout. Fernando Tatis Jr. George Springer. Jack Flaerty. Trevor Story. The list of injuries to prominent players goes on, and on, and on.
It's in the best interest of every team to make sure they are preparing their players the best way possible, and it's fair and smart for the Cardinals to examine their approaches, but a suggestion they are doing it worse than other teams doesn't match up what we are seeing across the league. It's a baseball-wide problem.
Q: What are some of the names you see as potential fits for the Cardinals at or before the trade deadline?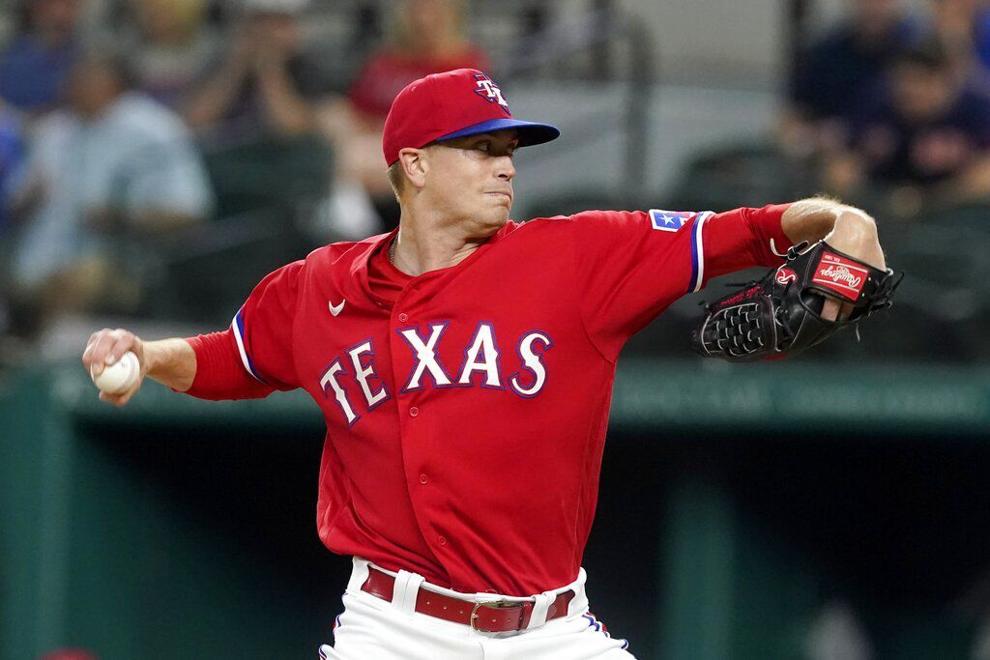 Or how about another Mizzou Hall of Famer?
He's having a strong season with the Rangers and would not be a true rental, meaning he might cost more in trade chips than the Cardinals are willing to give up. His contract runs through 2022. He was one of the few major leaguers -- none were Cardinals -- who showed up for the Players' Alliance charity event here this summer. Gibson and his wife have a home in the area.
David Peralta of the Diamondbacks could make some sense for lineup help, if you think a change might help him boost some numbers that have been down this season. Traditionally he has been an on-base booster. The Cardinals could use some of that in their lineup. There is a name I like more, though. And he will be a free agent after the season. He's going to be a desirable trade target for teams in search of offense. He can play in the outfield, including center field, or first base. He gets on base big time, and has power. Oakland's Mark Canha. The Cardinals and Oakland speak the same trade language and have been active swapping partners over the years. The last time the Cards made a trade-deadline addition for offense it was Brandon Moss of Oakland in 2015. Just one problem, at the moment. The A's are leading their dang division.
Q: What would it take for the Nationals to give up Scherzer? Nolan Gorman?
A: The Cardinals should not trade Nolan Gorman for any rental, including Mad Max.
Scherzer is on an expiring contract. Free agent after the season ends. If Nationals continue to struggle, and they are not interested in re-signing him beyond this season, they would be incentivized to move him to get what they can before he walks.
The contract expiring is the key. It's the reason no team should be giving up their Gormans for Scherzer. So, what it would take, more than anything, is the Nationals not finding a groove and Washington front office's lack of interest in an extension for Scherzer. Don't think of the trade cost as Scherzer, forever. It will be for a half-season and postseason of Scherzer, with the reality the Nationals could get next to nothing for him if they don't deal him, and the reality the team that trades for him will not be guaranteed to get anything more than a half-season and postseason from him. Will there be competition for him if that plays out? Certainly. But the prices teams are willing to pay will be similar, and a team's tip-top prospects should not be included in the mix.
Q: Do you get the sense the Cardinals players are leaning on the front office to make moves to help the team?
A: If Cardinals players had much leverage with the front office on when to add help from the outside, the Cardinals would not have gone five consecutive trade deadlines without a significant improvement at the deadline. They would get reinforcements every year, if players had their say. The 2019 decision to stand down was especially telling, as the team had played like one that deserved an upgrade but did not get one. Manager Mike Shildt has never once been rewarded with a win-now move at the deadline to help spark his team toward the playoffs. That's rough, for a manager who already has one manager of the year award and received votes for another. I think what we see between now and the end of July will be as much of a test of the front office as the team on the field. The Cardinals have offered a series of mixed messages about 2021. Big splash of Arenado says team is serious about the present, but trusting an inexperienced outfield did not. The hope that was baked into the pitching conflicted with the urgency of one more ride for Molina and Wainwright, and the Cardinals' insistence on bringing them back. You see what I'm saying? The Cardinals are never, under DeWitt going to be a win-now-at-all-costs-and-tank-later team, but they have really been sitting on the fence so far this season, and the moves that are made (or not) before the deadline are going to tell us a lot more than anything they say. Actions speak louder than words, and the ballpark is cleared for swelling crowds hungry for postseason baseball.
Q: At what point does Cardinals chairman Bill DeWitt Jr. look at the growing list of president of baseball operations John Mozeliak swings and misses and make a change?
A: DeWitt, unlike some in the chats as the Cardinals have taken a turn for the worse as of late, also factors in the trades that landed Paul Goldschmidt and Nolan Arenado into those evaluations, along with Mozeliak's past success and the team's annual winning record, which is something very important to ownership.
Plus there is the simple fact the two just have a good working relationship, often see things the same way, and have for a long time.
Could that change? Sure. Nothing is forever, and 10 years without a championship for the Cardinals would be a long time for this ownership group.
The number one thing that is vital to the Cardinals is making sure they are not continuing to foul up projections of their own players, because nothing is worse for a draft-and-develop model. Mozeliak has been candid about that. He's actually been pretty candid about a lot of things lately. Perhaps you have noticed that in some of his comments about needing to add outside help, or the recent disappointment he expressed in the season Zack Thompson is having. He's becoming more and more of a straight shooter, which is interesting to me. (I am buying that the Cardinals are not ready to throw Thompson into the major league fire just yet because of his inconsistency, but I'm not yet buying they won't do it with Matthew Liberatore, who could help the bullpen.)
Anyway, the Cardinals' track record says change works in bottom-up fashion for this organization. Players, coaches, managers and front office executives not named Mozeliak are all more likely to be changed before there is a shift at the top. It's a lot more likely that DeWitt and Mozeliak go about making changes they think will improve things than DeWitt changes out Mozeliak.
Q: What Cardinals pitcher currently in the minors might be able to help this team the most this season?
A: The most obvious one appears to be Liberatore.
I'm sorry, but I won't be weeping for the red, white and blue if the Cardinals keep the kid home from the Olympics.
If we (America) cared about fielding our best Olympic baseball team, we would send an All-Star team instead of out-of-work veterans and up-and-comers.
If the Cardinals do keep Liberatore home, they should give him his shot in the majors. He might help, especially in a bullpen role.
Breaking in as a reliever doesn't mean you can't start later. Ask Adam Wainwright.
Q: Is Tyler O'Neill finally turning a corner?
A: He's showing some serious signs of it, which is great news for the Cards and a testament to their patience in him.
His durability seems to be his biggest knock at the moment.
I'm not going to feel good about declaring him proven until he can play 145 games in a season.
His career-high is 61 since 2018.
Q: Which players do you think the Blues lose through trades or the expansion draft?
A: Any of the restricted free agents -- Zach Sanford, Ivan Barbashev and Vince Dunn could depart one way or the other. Vladimir Tarasenko will be interesting. Maybe the Blues won't risk it due to their hope he can be better with more distance from the shoulder injury, but if the Blues want the cap space they could shop him to see if other teams are interested in his upside, or leave him unprotected and tempt Seattle with a name brand with injury unknown. While we are talking hockey, can I just point out I was not the world's biggest idiot -- maybe second biggest but not the biggest -- by thinking the Golden Knights would have been the worse playoff matchup for the Blues. Vegas is making it a series against the Avalanche, after a bit of a slow start.