Jim Thomas dashed back home from Blues practice at Enterprise to take questions from fans who are feeling a sense of desperation as the season winds down. Here were some of the top questions.
Q: The results from the Blues this season are obviously disappointing. This is a very simplified explanation, but I think it hits the root of the problem: either they aren't good enough or they aren't working hard enough. Do you think that about sums it up, and if so, which option would you say is the case?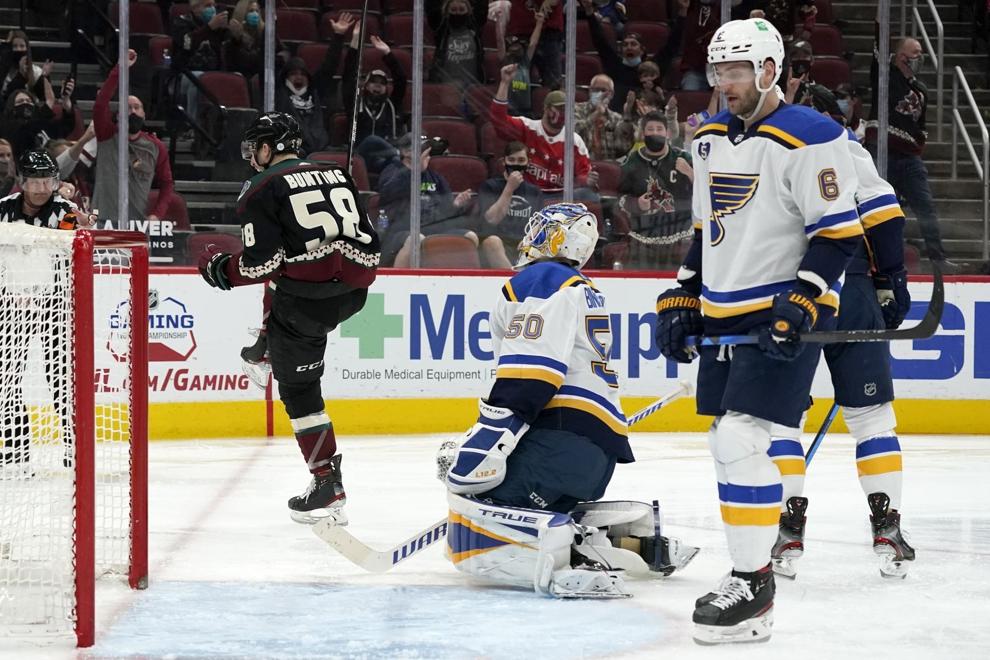 A: It's interesting that you brought this up, because on our NetFront Presence podcast taping this morning - which is now up and posted on stltoday.com and wherever else you get podcasts, I mentioned basically the exact same thing. At it's most basic element, this team is either not as talented as we all thought - myself included - or they're not working hard enough. And by not working hard enough, I don't mean they're dogging it. I mean not enough players are consistently putting out the level of work rate that makes this Berube system work. You know, where you're hounding pucks, checking like a fiend, etc.
Q:  I expected the Blues to take a bit of a step back this year after losing Petro and Bouwmeester. That's a lot of minutes from two very good players. Plus, Parayko getting hurt didn't help and Steen was a good leader in the locker room. But to be fighting for a playoff berth in a division that is not terribly deep is terribly disappointing. Seems pretty simple to me -- The team's best players and the ones we count on the most, other than O'Reilly and maybe Perron, are playing terribly. Even Faulk has cooled off and Krug has to be better. That's what is so disappointing. Many of the guys that Armstrong wanted to keep and build around have gone in the tank. Any comments?
A: Even without Pietrangelo and Bouwmeester, I thought the Blues could cruise-control it to third place in the division. I imagined no scenario where they'd be fighting for their lives just to finish fourth place. So yes, this definitely is an underachieving team. I don't think guys are tanking it. But for whatever reason, the chemistry and the results haven't been there since all the injured players (and more established players) started returning to the lineup.
Keep these numbers in mind:
Blues during all the injuries: 14-8-2
Blues after injured players started returning (starting with Tarasenko): 5-10-4.
Q: It's interesting to watch the playoffs odds jump day to day in the battle for the 4th spot. The Kings beat the lowly Ducks and jump way up in their chances. The Blues odds get better by then not playing and the Coyotes keep losing. Which team do you see of the three (discounting SJ but who knows?) getting it together and taking the spot? Or do all four muddle their way to the finish line and one gets in by default?
A: I find the playoff odds entertaining, but I don't take them very seriously. Obviously, if you start winning a game or two, that makes it more likely you're in the playoffs. (And vice versa.) But in a game where the puck can take such odd, unpredictable bounces, to put a precise percentage on playoff participation based on a win or loss is silly to me. OK, Hoffman shot bounces off Dumba's arm and in, Blues win. Let's make their playoff chances, uh, 48%. as a result. I don't get it.
As to who gets into that fourth and final playoff spot in the West, I'd say it's your last suggestion - who gets in by default. Like you, I'm pretty much discounting San Jose, but I'm still keeping an eye on LA because the Kings have 4 games left with Anaheim and have not played more games than the Blues (unlike Arizona), so they at least have more opportunities to rack up points.
Q: With the additions of Krug and Hoffman, along with the expanded roles of Thomas and Kyrou, it seems like the Blues have gotten away from a heavy style of game. Do you see this as a continuing trend and/or a type of team Berube is comfortable with.
A: I've been writing and talking about this (on chats, and radio and podcast) since the beginning of the season. How could the Blues adopt a more offensive, better skating style of play while still staying true to their heavy, defensive style of play? The answer, based on what we've seen so far is they can't marry the two. Even with all the injuries, they were scoring at a higher rate than even last year - when their goals per game was the highest it had been in a quarter of a century. But once the injured players starting returning in waves the scoring went down. The defense has been a little better over that same span but not quite what we've been used to seeing for most of the last decade. I don't think Berube was necessarily unhappy with adding more "skilled," better-skating players. He has always liked D-men, for example, that got up in the play on offense. So I don't know what they do going forward.
Q: Do you think there is any chance Dunn is protected from Seattle this summer?
Dunn has played better lately. He's on a five-game points streak which is a career-high. And that's important to keep in mind since the Blues defensemen scoring is down noticeably this year. I had Dunn on my protected list entering the season, but now I'm going with Parayko-Faulk-Krug. (I reserve the right to change my mind before the season's over.)
Q: With the OHL canceling its season, do you think the Blues might have their prospects who normally play there maybe go to Utica just to try and play? Couldn't hurt, right? Even if it's just to practice. Luckily I think they only have several prospects in the OHL.
A: Complicating matters with Utica is that you're sharing the roster with the Canucks. So I guess they could go there and practice. I know the Blues had a couple of picks from the 2020 draft that were supposed to play in the OHL this year - the goalie Cranley and the forward Dickinson. And I think they had a couple of older players from previous drafts scheduled to play in the OHL as well. I'm supposed to talk with Tim Taylor of Blues player development later tonight for a story I'm working on, so I may have more on the fate of those OHL players later.
Q: Haven't you seen goalies play unbelievable to carry their teams in past years? Was Binnington just pretty good w a great defensive team in the cup run and therefore are the Blues and fans expecting too much from him this year w not as solid of a team in front of him?
A: These are fair questions. As the late NFL football coach Dennis Green used to say: You are what your record says you are. So with that in mind, on a mediocre Blues team with mediocre defensive support, Binnington has been a mediocre goalie this year. Earlier in the season - I'd say roughly over the first half of the condensed year - Binnington was keeping the Blues in games and stealing points. More often than not, he's still keeping them in games. But he's not stealing points lately. And the Blues are losing a lot of close games that they used to routinely win. So saying all that, I'm not sure what the Blues have in Binnington any more. Does that make sense?
Q: What has stabilized the PK? What the best chemistry to get the PP going? Do Hoffman/Dunn need to be on the first unit? Won't special teams decide most of the close games moving forward?
The PK has had a couple of hiccups lately, with the Blues yielding a power play goal in each of their last 3 games. But the return of core special teams players Bozak, Barbashev and Parayko has helped even in the absence of Sundqvist. I definitely would like to see Hoffman on the first power play unit. Not sure about Dunn, although he has been good on the PP lately. The thing I'd like to see most on the Blues' power play - I'll leave the Xs and Os to the coaches _ is more aggressiveness, more sense of urgency. Instead of looking for the perfect shot and making the extra (often unnecessary pass). Concentrate more simply on putting pucks on net. So far into a season - we'd be beyond the halfway point even in an 82-game season - it's strange to see the Blues so far down the rankings in both the power play (17th) and PK (27th)., I don't know if improved special teams will be the No. 1 factor going forward in close games but it certainly wouldn't hurt.
Q: Have you seen an increase in Paranko's mobility and play since his return? Can he play that good shut down 25 minutes a game to help stabilize the defense in front of Binnington?
Yes, he's looks better - and more comfortable - on almost a game-to-game basis. I don't think he's quite at the vintage Parayko rate of play, but he's getting closer. It's interesting what you say about minutes, because he was paired with Scandella in practice Weds. Berube said that was partly a pairing made for matchup reasons (for Colorado) and partly a response to Parayko looking more comfortable out on the ice. Parayko has been averaging a little under 20 minutes since his return. If he stays with Scandella - which was the team's shutdown pairing last season post-Bouwmeester - I would think Parayko's minutes go up.
Q: Is there any possible way the Blues can keep/resign both LW Schwartz and C-RW Bozak this off season? Both are dependable, strong elements to the team's success, and a loss of either would be significant. What if both have great playoffs--assuming the Blues make the playoffs? They're going to lose one salary in the expansion draft. Who might that be?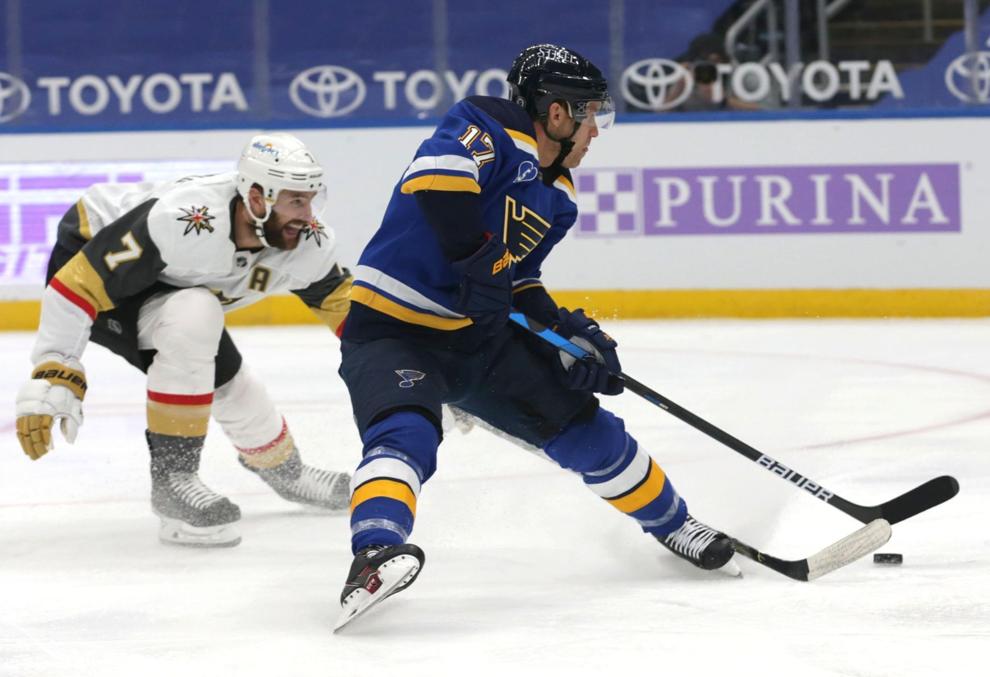 A: I think there's a way it can happen, but probably only if Schwartz an Bozak agree to a paycut. For example, would Schwartz return for $5 million a year (he's making $5.35M now)? Would Bozak come back for $3M (he's making $5 million now). Remember the Blues overpaid for Bozak; They were desperate for help at center and signed him before they knew they were getting O'Reilly.
So let's say you get Schwartz and Bozak back for a combined $8 million. That leaves you about $10M to bring back Sanford, Barbashev, Thomas, Kyrou and Dunn, who are all scheduled to be RFAs - Thomas and Kyrou do NOT have arbitration rights. So I think that's possible. And keep in mind you're going to lose a player in the expansion draft which in theory could create more cap space. Under this scenario, I'm also assuming you don't re-sign Hoffman and Gunnarsson, who are both scheduled for unrestricted free agency.
Q: With your history of dealing with Stan Kroenke, I am guessing you got a little chuckle seeing what went down this week with the proposed Super League. I guess it shows it wasn't personal with St. Louis. Stan didn't just care about our city. He doesn't care about anyone besides himself. He doesn't care about the passionate football fans either. A Sky Sports reporter said one American owner of a Premier League team showed up at a game and had to ask what jerseys his team was wearing. I'll give you 2-1 odds it was Stan. No apology from him yet either.
A: Stan's perfect business model is to keep his teams just competitive enough to keep the fans spending money and coming out. He's had to have the Rams more competitive in LA because he needs to sell seats in his new stadium. He is all about the money, though. A smart businessman but not smart enough to realize you can't take it with you. And apparently unconcerned with his legacy.
Q: One last comment on Kroenke because he is not really worth wasting time and energy on, the trial coming up what's your thoughts on the trial and outcome?
A: I think St. Louis wins the case. But the NFL often does better in appeals court. So I'm not ready to predict total victory. 
Q: Will we ever be able to sing Gloria again and mean it?
Don't think so. As Mike Martz used to say about the Greatest Show: "It was a special place in time."