We roll into the holiday weekend with a wide range of issues on the minds of St. Louis sports fans.
Q: While Nolan Arenado has made a few signature plays at third this season, his defense at the hot corner has dropped considerably looking at the defensive runs saved numbers over the last 3 seasons. The Cards have gone from leading baseball in defensive runs saved last year to middle of the pack, not what you'd expect after adding one of the great gloves of all time. Why has Nolan's defense has fallen off this season and do you have hopes it will eventually bounce back?
A: Nolan has made many, many highlight reel plays at third base this season. His physical ability remains elite. But he's also made some errors. I'm guessing the team's general malaise has undermined the team's fielding across the board. Pitcher after pitcher working slowly and either walking or hitting batters, looooooooong innings, early deficits night after night, mounting frustration within the group . . . imagine the toll that takes on players. It's not easy to stay mentally sharp in such an environment. In baseball, when things go bad they can really, really go bad.
Q: Can SLU ever be Gonzaga ? And do you see Travis Ford moving on in the next 2 years ?
A: Could SLU do what Gonzaga has done? Or, in a more relevant example, can it become Creighton?
In the A-10 that would be possible, but unlikely. It will take huge resources to sustain a program at that level. Bigger head coaching salary, bigger staff salaries, bigger recruiting budget, more program amenities -- it will need everything!
If Ford can get the Billkens back to the tournament, he will be a hot commodity and hard to keep.
Q: Alex Pietrangelo's was extremely lucky to get that contract the way it was structured. All that signing bonus money up front --no state income tax and that money was immune to the escrow the players have to pay. That contract is impossible for any other team to match! Can't blame him for taking it. But Vegas has gambled and lost. They have no money for a top center and are now on the older side with Stone, Petro, Fleury, and Pachorietty.
A: Yeah, I never saw the allure of that move from the Vegas side. Alex is an outstanding player, yes, but that team's biggest need was up front and down the middle. The Golden Knights added Cup-winning defenseman Alec Martinez at the end of the previous season and he was terrific this year. Shea Theodore was already breaking out as a top offensive defenseman. At the time of the Petro signing Nate Schmidt was a nice fit for the team chemistry. But I also scratched my at their investment in Robin Lehner when Marc-Andre Fleury was still there. Imagine what else Vegas could have done with the Petro dollars and half of the goaltender dollars
Q: Milwaukee is pulling away and should win the Central. The Cards are only playing to keep their 13 season win streak alive but will likely fall short. The organization lacks prospects to move to obtain immediate upgrades and lacks assets to sell to obtain additional prospects. Mo has created this mess and there is no way out in 2021. Play it out, peddle some bobbleheads to sell tickets in Aug/Sept, showcase Gorman and Liberatore in Sept, and hit the reboot in 2022. Where am I wrong?
A: The Cardinals have plenty of good prospects to trade. But those players are not far along enough to help this team today. Also, trading long-term assets now that the season has gotten away from them would be stupid. Not only does Milwaukee have a formidable lead in the division, the Brewers have the ability and the incentive to make more additions.
This team will need a reset for 2022. Fortunately it will cycle out a lot of dead payroll and (they hope) gain pitching help plus offensive support from the minors. But the Cardinals will also need to make additional moves to support the earlier trades that brought Paul Goldschmidt and Nolan Arenado.
Q: Any chance a package based around Robert Thomas, Vince Dunn, and a couple of picks gets the Blues into the Jack Eichel sweepstakes?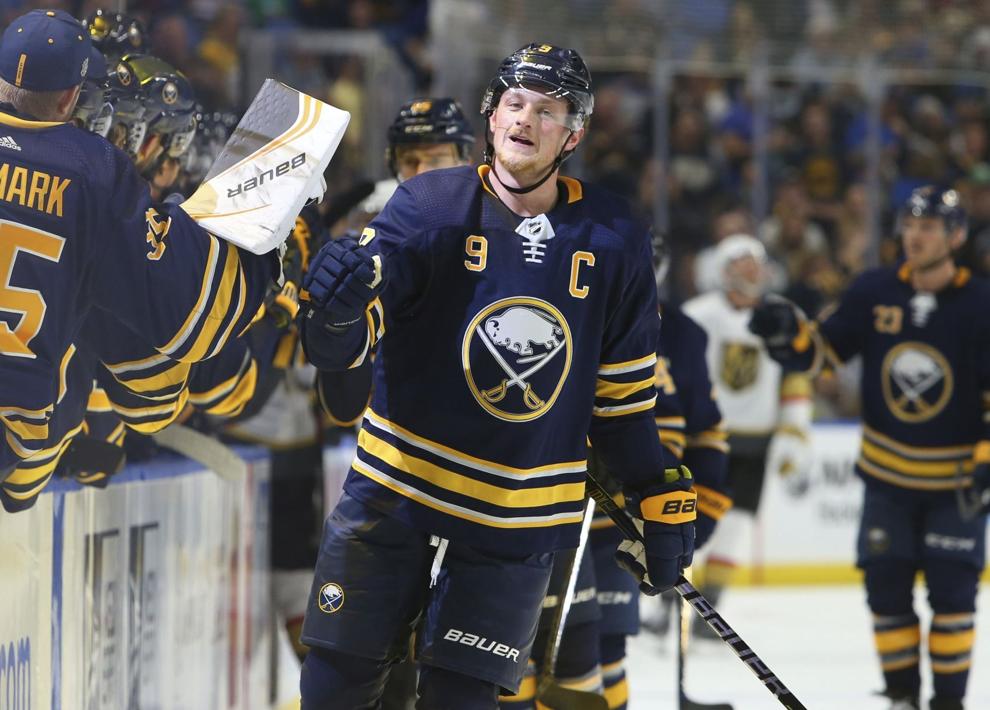 A: Word from the NHL insiders is the Sabres want the equivalent of four first-round picks for Eichel. Another insider suggested it would take a six-player package. The Sabres have Rasmus Dahlin to quarterback the power play as Rasmus Ristolainen as well, so I don't know that Dunn has much appeal to them. They need help up front. Lots of help. Thomas woould be the starting point, but they would be stupid to send Eichel here without getting Kyrou too, along with a couple of first-round picks and some throw-ins.
But the Sabres have been pretty stupid (sorry, Patrik Berglund) so you never know.
Q: I read where Arenado had lunch with his good friend Trevor Story yesterday. Do you think they talked at all about becoming teammates again? I think you could package DeJong and CMart for Story. Maybe you throw Fernandez or Oviedo in to sweeten the deal. In this trade alone you'll shed $16.4m, which could go towards getting Story signed for three years plus an option.
A: There are not a lot of teams looking for shortstop help right now. Oakland needs one, but the A's won't give Story long-term money. That could work in the Cardinals' favor once Story hits the market. As for trading for him as a rental, that wouldn't make sense unless he was willing to sign an extension.
If John Mozeliak is actually feeling heat these days, that's the sort of blockbuster move that cool things down.
Q: Rank the following outfielders you would like to see in your outfield - Harrison Bader, Dylan Carlson, Randy Arozarena, Adolis Garcia.
A: Carlson, Arozarena, Garcia, Bader. I'd be put Tyler O'Neill first -- he has really come on as a full-package player. Carlson's ability to play center, his switch-hitting and his growth potential put him second.
Bader is an excellent fielder, of coure, but he still hasn't proven he can hit consistently at this level. Maybe by the time he's 28, he age Adolis turned the corner, he will prove that.
Garcial proved he can hold up in the field and he finally learned to make enough contact to stay in the majors. Every team in the majors had a shot on this guy and they passed. Again and again. Even the Rangers didn't see him in their plans initially. It's a great story.
Q: With Libertore pitching well in Memphis, don't they have bring him up and stick him in the rotation. ? Or will they use the excuse of not wanting to "start his clock" again ?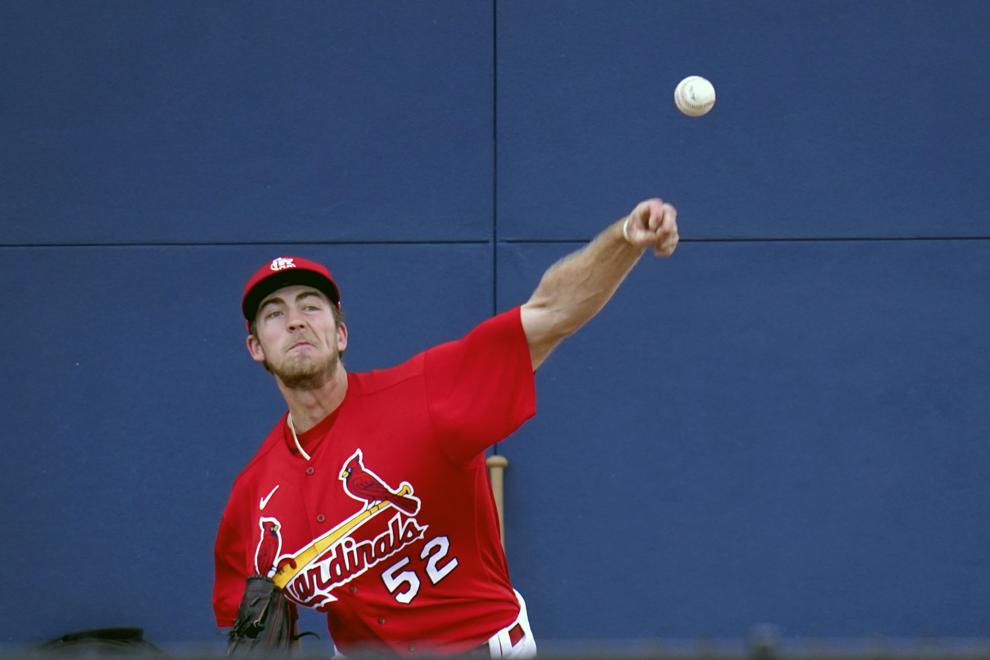 A: The clock is not the issue here. He's had a few good starts, which is great, but his track record about the advanced Class A is still thin. The Cardinals have a history of bringing very young pitchers up to the bigs when they are throwing well in the minors and Liberatore could be the next. Let him enjoy more success down the minors.
And if this team falls apart completely, then do not expose him to that failure at this early point in his career.
Q: With the Blues returning to the Central division next season, is it reasonable to assume the Blues will be in the mix for anywhere between 2nd - WC1? Colorado should handily be the top dog, while the Blues fall into a 2nd tier along with Minnesota, Winnipeg, and Dallas. Arizona and Chicago and in different stages of a rebuild and Nashville seems to be trending down.
A: I see the Blues fitting in nicely in the Central, especially with Nashville in flux and Arizona bringing its rebuilding program to the division. I do not know what to make of Dallas. If Tyler Seguin comes back flying after repairs, they could be tough. They had some young forwards come along last season in his absence. The same goes for Chicago with Jonathan Toews making his comeback.
Q: Mr. Gordon. You mentioned that the Cardinals "have plenty of good prospects to trade." Your colleague, Mr. Hummel, disagreed in Monday's chat. 
A: I believe the Cardinals would find takers for Nolan Gorman, Jordan Walker, Matthew Liberatore, Alec Burleson, Masyn Winn and Jhon Torres. Let's see if Malcom Nunez can make the leap to Double-A and what becomes of Tink Hence, who is very, very early in the process.
But I'd argue they all have value, based on independent assessments they have earned.
Beyond that group, I'm guessing other teams want to see more from former top picks Nick Plummer and Delvin Perez given the long and painful roads each traveled to final compete at the Double-A level.
Pitcher Zack Thompson has had a brutal time of it at Memphis, so you can take him off the trade chop list for the time being.