We answer the Blues questions in our weekly chat with Post-Dispatch readers. Here are some of the highlights.
Q: Vladimir Tarasenko is looking great in the world championships already with three assists and a shootout game-winning goal. Do you think the Blues would consider exposing him in the expansion draft?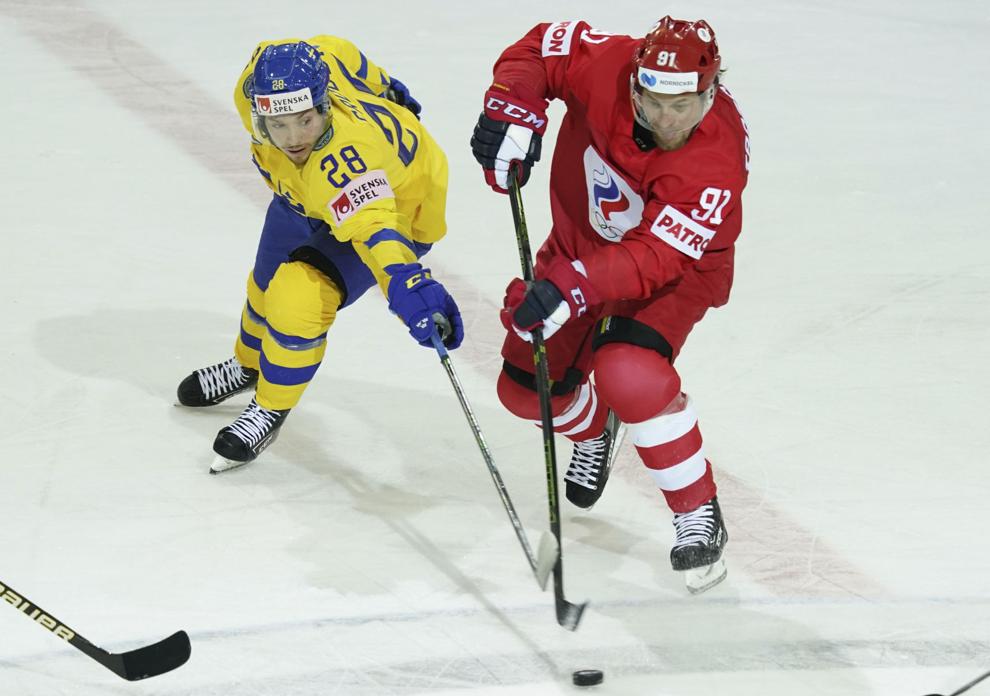 A: Exposing him in the draft would be foolish, since the Blues would be getting nothing for him. (I suppose you could say it would let them keep Vince Dunn or someone else, but that doesn't seem a fair exchange.) If you want to move him, trade him so at least you get something in return. I said this on the last podcast, that I had low expectations for Tarasenko this season after such a long time off and the time it would take for him to get back up to full speed. He probably came in a little low on my expectations, but not by a whole lot. I can't imagine that my expectations were that different from what the team expected.
Giving away a guy who did pretty much what you expected doesn't make a lot of sense, especially when the expectation is that (this season) would have been a stepping stone toward getting better. This is about the time you would expect him to start getting better, with the games played and time since surgery. Trading him is an entirely different matter; if the deal is there, you make it. But on this team, if there is anyone who I think you can expect to make a big jump next season and score a lot more goals, it would be Tarasenko. Letting him go for nothing is not an efficient use of assets.
Q: Will the extent of Colton Parayko's back injury be revealed? Can the fan base expect to see him return to be the dominant leader of the defensive core that we thought would happen after Alex Pietrangelo left?
A: Rarely in the NHL are the full extent of injuries ever revealed, unless a player is exceptionally forthcoming. And hockey players treat injuries differently than normal humans. Limbs can be dangling and it's no big deal.
I think Parayko can be (dominant). He showed signs of it at the end of the season. With more rest and treatment, and if surgery isn't needed, I think he can step into that role. I thought after Pietrangelo left that it would be a medley of events needed to replace him, and the one I would have said was the most likely was Parayko becoming THE guy. Injuries kept that from happening, and that may well have been the biggest problem the team had this season. If Parayko doesn't become a dominant leader of the defense, the Blues will have problems. Big problems.
Q: Will Torey Krug improve next season like Justin Faulk did this season?
A: While past performance is no guarantee of future results, signs point that way. It was a tough spot for Krug to step into, and world events made it worse. I think it was hard for all the newcomers to fit in. Early in the season when asked about what he would do when the pandemic was over, Krug said he'd have everyone on the team over for a barbecue so he could get to know them better. Krug's season wasn't all that bad. Lots of assists, not a lot of goals. And with Colton Parayko's absence, he got pushed into a bit more high-pressure defensive situations than the team would have liked. His first season was better than Faulk's first season.
Q: Since the Stanley Cup finals don't end until the first week of July at the earliest, and generally as a rule no trades or player moves are done until after the Stanley Cup has been awarded, what is Doug Armstrong doing now? Is it a dead period?
A: In the immediate aftermath of the season, the front office staff gets together and goes over everything, player by player, throughout the organization. Discussions are had about free agents, from Jaden Schwartz down to Mitch Reinke, about whether to keep them or let them go, and at what price they want to keep them. As teams are eliminated, general managers will reach out to other GMs who have had similar discussions with their staffs about who they may be looking to move. The expansion list is scrutinized, and the team will try to figure out what other team's lists look like to see if that sparks any ideas. So there's a lot going on. And there's an amateur draft coming up, so the team has to assess what its needs are there. The real dead time for the GMs is right after the trade deadline.
Q: After Year 1 of the Brayden Schenn eight-year contract, many fans already are grumbling about how it won't age well. Prorated over an 82-game schedule, he would have had 23 goals this season. Is that good value?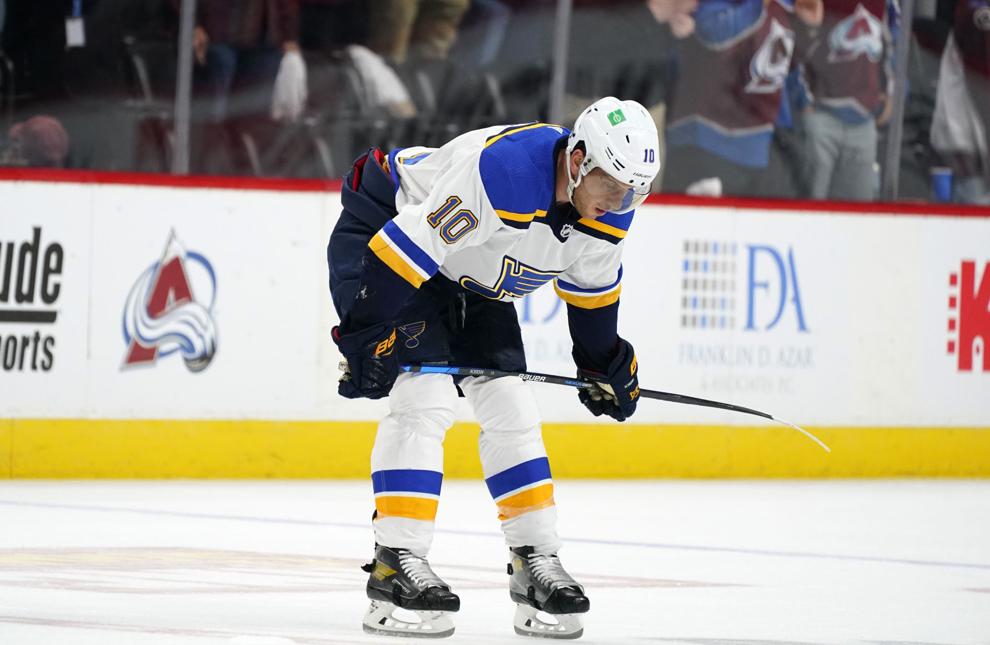 A: Let me tell you that almost every eight-year contract does not age well, unless you're signing the guy to it when he's 23. When Schenn's contract ends, he will be 36. You don't need to be an actuary to know the lifespan of a hockey player's career. But that's the tradeoff you make. You give the guy a big deal for those first four or five seasons, and the added years to reduce the average annual value, and you hope those last few seasons aren't too bad. Armstrong admitted as much when the deal was done, that the last few years of it might very well be another GM's problem.
Schenn may not have had a great season, but it wasn't a terrible one. He got a lot of those goals early. And if he's not producing points, he's one of the more dependably gritty players the Blues have. For a guy with measurable offensive skills, he's not hesitant to mix it up. In fact, he's eager to do it. I think a dependable 20-goal scorer who leads is worth the investment. I would write this off as just a good player having an off year.
Q: If the Blues let Jaden Schwartz go and sign a scoring winger, will they have enough (cap space) to sign a big defenseman and a quality backup goalie?
A: First, unless he gets taken in the expansion draft, Ville Husso is your backup goalie next season. With the flat cap, the Blues aren't going to be spending more than they have to on a backup goalie, and they were reasonably pleased with Husso considering it was his first NHL season. And there are other goalies developing and getting close, so signing an experienced backup for multiple years probably isn't a direction they want to go.
The Blues on defense next season present an interesting situation. If Vince Dunn goes, you've got Torey Krug, Justin Faulk, Colton Parayko, Marco Scandella, Robert Bortuzzo, Nikko Mikkola and Jake Walman. And Scott Perunovich is a year away. One of the things being discussed in those end-of-season meetings is whether the team can put Mikkola and Walman in its top six. If the answer is yes -- and I think both showed it this season -- then the only way you're bringing someone in is if one of those two goes. I doubt that Krug, Faulk or Parayko are going anywhere. So it may end up being a case where the Blues make do with what they have and figure out a way to keep the net front clear other than through brute force.
Q: The Blues often appeared disinterested during the season. It looked like they tuned out Craig Berube for stretches of the season. This team needs an injection of new blood. I would not mind if Carl Gunnarsson, Vince Dunn, Zach Sanford, Tyler Bozak and Jaden Schwartz did not return. Might we see big turnover?
A: You could get your wish. Gunnarsson almost certainly won't be back. With the defensemen they have, and with his injury, I don't see any way he fits. Dunn could go in the expansion draft. Bozak and Schwartz are unrestricted free agents, so it takes one good offer for them to leave. And Sanford is a young player who can score and do other things and would be appealing to other teams. So it won't take much for all five to be somewhere else. And if so, there will have to be some new faces, especially on offense. It's hard to see more than one new face on defense
I've said this before, but I don't know about players tuning out coaches. Seems to me the veterans who are around have for the most part bought into what Berube wants, and the new guys are new. This team never got its act together this season, whether it was because of the constantly changing lineups or something else. Those kind of teams probably seem disinterested.
Q: Time for the Blues to part ways with Jaden Schwartz. What say you?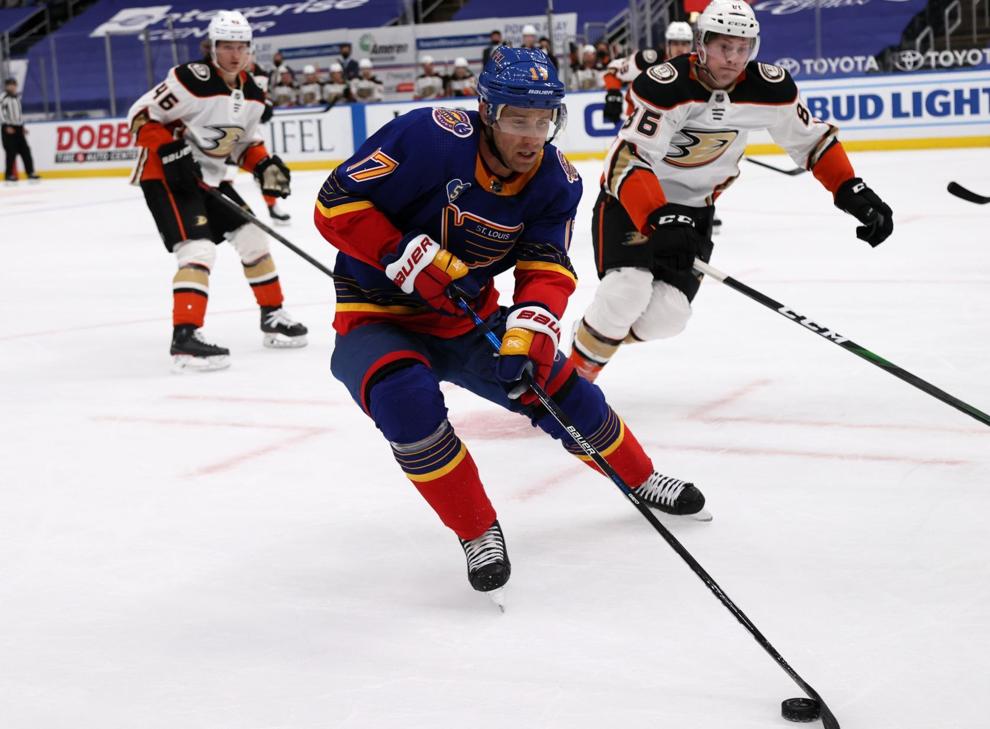 A: All depends on what the contract looks like. If the Blues can get him at the same price or less, and it's not a long-term deal, then bring him back. It may be tough for Schwartz to get a raise, since his production numbers have been limited. The thing is, if you let him go, what does everyone say the Blues need? better defense and someone who will play Craig Berube's forechecking style that wins back pucks. So the Blues would be looking for, well, Jaden Schwartz, though presumably a version that doesn't get hurt as much. The hole created could be tough to fill.
Q: Which of the following three players are most important to have moving forward? Sammy Blais, Zach Sanford, Ivan Barbashev, Oskar Sundqvist, Dakota Joshua, Mackenzie MacEachern, Kyle Clifford. Explain your reasoning.
A: This sounds like an essay question.
Most important? Sanford, Barbashev and Sundqvist. Then Blais. The others are essentially interchangeable parts. I don't think that having Joshua, Clifford or MacEachern in the lineup significantly changes the possibility of winning any particular game. (Though we haven't seen that much of Joshua to know for sure.)
Sanford can score goals and play good defense, though he's prone to silly mistakes and turnovers. Sundqvist can play up and down the lineup, can score goals, play defense and bring energy. Barbashev can do the same, though maybe not quite as well. Blais has shown surprising levels of finesse and likes to hit.
Any of those four could be on the roster next season. All will be exposed in the expansion draft, so Seattle could find one to its liking. Sanford has the best trade value.
Q: After seeing Jordan Binnington's play down the stretch and against Colorado, are you confident the Blues made the right decision signing him long term? Plus won't he add great interviews and occasional fiery outburst to entertain us for the upcoming seasons?
A: A six-year contract for a goalie is a big risk, the biggest ever taken at that position. I am not confident the Blues made the right decision, but their other options were ... go out and sign a free-agent goalie? That's a very risky roll of the dice, which made signing Binnington the safer play. I'm sure most fans would prefer stalwart play in goal over great interviews or the occasional fiery outburst.