Here are the highlights from our weekly chat with Post-Dispatch readers.
Q: Who do you think John Mozeliak needs to try to trade for at the deadline? Trades for next year? Will the Cardinals do anything at the deadline?
A: A starting pitcher. The Cardinals need a starting pitcher. That will make them better now, stronger for August, and interesting in September. And if they pull off a deal for someone signed through 2022, then they have one question already answered before they face it this winter. They get a jump on the market -- and we know Mozeliak likes to do that.
What will Mozeliak do at the deadline? Well, he'll definitely do what he and his staff already are doing -- negotiating, canvassing, and looking for a starter. They've talked to Texas and Minnesota and Texas again and Minnesota again, and they'll definitely have talked to Kansas City multiple times by now, though I have yet to confirm how many times, or how aggressively. But that's what they're doing. And they're trying to regain some leverage with performance from Jake Woodford and Johan Oviedo to buy time and lower costs. We'll see if that works. Because the safest bet is always that the Cardinals play it safe and not make a move at all. That's their trend.
Q: Since the Cardinals are limited by budget, what kind of low-hanging fruit moves should we expect them to make? The Braves supposedly also don't make moves because of budget, yet they traded for Joc Peterson and Stephen Vogt to help solve some of their injury issues/concerns.
A: The Cardinals and Braves share a lot in common, and that's true in the standings or in the financials, which we can read for the Braves because they are part of a publicly traded company, and we know that the Cardinals are close to the Braves in many financial columns. The Cardinals have already made these moves, as you know:
Wade LeBlanc, Luis Garcia, T.J. McFarland, Justin Miller, Brandon Dickson, Brandon Waddell.
Those are the pitchers the Cardinals have picked up off waivers or as free agents in the past month as they've scrambled to cover innings and retool the bullpen around strike throwers. You already have your answer there.
The Braves' move for Joc Pederson is interesting. It did not cost much, but it revealed a lot. Pederson has an option for 2022, so you're looking at the Braves making a move now that will also help them next year, when there is a lot unknown about whether Marcell Ozuna will return. Now they have that outfielder in place. There is a comparable move for the Cardinals: Kyle Gibson -- though it will be more costly in terms of prospects because it cost much financially given how he's pitched. He helps now, and he solves an opening the Cardinals have for 2022, too.
Q: Has Kwang Hyun Kim pitched his way into being a top trade target for other teams? Could the Cardinals leverage that into receiving a better prospect than he would normally return?
A: Probably not. Kim does not have a no-trade clause, but he does have leverage. And he has been open about preferring to stay with the Cardinals through this season. He's pitched well, really well, and if he continues to pitch well it's more likely that he pitches the Cardinals closer to being optimistic about a second-half push than into a trade.
Q: Why aren't radio and TV broadcasters traveling to games?
A: Great question. Some broadcast outlets are making a purely financial decision while hiding being the guise of health and safety in order to save nickels and dimes. It's not really my department -- the Post-Dispatch has not missed a Cardinals game and continued to travel throughout last season and this season to bring readers coverage from the ballpark (even the one time I was not permitted in and covered from outside the ballpark). I definitely feel for some of the excellent broadcasters who are unable to see the entirety of the game and bring it to the fans. The Cubs broadcasters will be in the ballpark this evening and this week.
The Cardinals, behind the scenes, are frustrated and would like their broadcast partner to OK the travel of broadcasters so that the product is better for fans.
Q: If Jack Flaherty doesn't agree to a multi-year contract this offseason, could you envision a scenario where Max Scherzer and Alex Reyes are the 1-2 starters for the Cardinals in 2022? Does the front office entertain the idea of trading Flaherty if he continues to show no interest in signing a deal?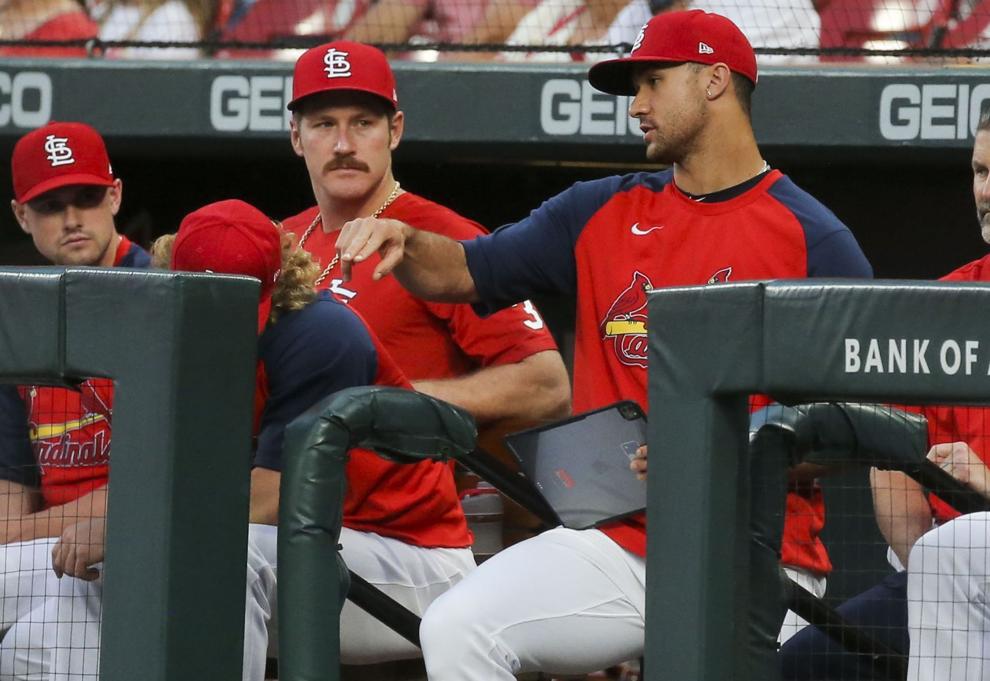 A: I don't see how these are related, and I don't see the Cardinals rushing to divest themselves of Flaherty, whether he signs an extension or not. They're still not going to replace his talent for the price, and that will be true until he leaves as a free agent, if he does at all. If Scherzer and Reyes are 1-2 for the Cardinals in 2022, then there have been injuries and unplanned happenings elsewhere that are hard to compute at this point.
Don't misread Flaherty's frustration with the system as "no interest" in signing a deal. Read it as the kind of deal that the Cardinals are going to have to offer to get him to sign. He knows his worth. He knows it's greater on the open market. A deal must reflect that.
Q: With the Cardinals toeing the line between buyers and sellers, what would they have to see to move one way or the other? I feel like they'll wind up playing to the middle. Not good enough to buy, not bad enough to sell.
A: The Cardinals have classified themselves as BUYERS or HOLDERS. John Mozeliak basically nixed the idea of being a seller, saying the roster isn't built for it, nor are their plans. Yes, the Cardinals are straddling that line between buyer and holder. If they're going to improve on this team, they need to add a starter -- and that can be a move for now and for next year. It's going to be a move done at the deadline, and it might be costly.
Q: If 90 wins is a benchmark for making the postseason, the Cardinals will have to go 44-25 the rest of the way. The Brewers, on the other hand, only have to go 34-33. If the Cardinals should miraculously win 90 games, do you think they have a good chance of catching the Brewers, or would a better bet be that either the Giants, Dodgers, or Padres struggle mightily in the second half?
A: I'm skeptical that 90 wins will win the division because the Pirates exist, and it's possible the Cubs take the plunge in coming weeks. What the Cardinals must cling to is all of the games they have against the Brewers. They have 13, 10 of those in September. They obviously cannot get into a spot where they need to win all 13 to close the gap, because if that's the case they would likely just help the Reds win the division. They could go 10-3 against the Brewers, and the Reds would leapfrog Milwaukee, not fall behind the Cardinals.
That said, the wild-card race is at least interesting. The question really becomes are you a believer in the Giants? Do you think they can win 90-plus games and push that wild card way out of reason?
In either race, the climb is steep, steep, steep for the Cardinals.
Q: I understand why you keep saying a starting pitcher should be the priority because of the innings need. But what's the point of getting innings if the offense struggles to scratch out two and three runs a game? The reality is that the Cardinals need both -- weeks ago.
A: If a boat is sinking, you fix the hole in the hull. Not the sail to make it go faster and try to outrun the leak.
Q: How can you justify opposing a rule change that would abolish or limit shifts? As another beat writer covering another team wrote the other day, nobody comes to games to watch defensive shifts.
A: I don't have to agree with another writer, and clearly I don't: I actually do go to the games to watch strategy and to watch teams outsmart and outplay the other team, and I see shifts as part of that strategy.
If a boxer cannot defend his right cheek do you outlaw the left hook. Or do you say, dude, learn to protect your right cheek or your career will be short.
So if a hitter cannot overcome the shift, we change the game for him? C'mon.
That's against the spirit of baseball -- to eliminate an edge earned by intellect, savvy, and game IQ …
I remember when shifts were celebrated. They were called instincts. In St. Louis, Jose Oquendo was celebrated as a coach of infielders because he would direct traffic on the infield to position players for a better chance of making a play. This was lauded. How many times did you hear about David Eckstein positioning himself for a play because of the info he was given by Oquendo and Dave Duncan, the latter of whom kept intricate charts by hand to help the infielders know where to position themselves for certain hitters. And that was less than FIFTEEN YEARS AGO! Shifts have been in play for baseball as long as there has been baseball and infielders who paid attention. The Cardinals were rightfully ridiculed for not shifting against Anthony Rizzo. They gave up an edge and paid for it. The Cardinals neutralized Ted Williams with the Boudreau shift and won a championship. Should they give that one back?
I go to the ballpark to see the game played well. Banning the shifts is limiting the game without improving it. Solve the real problem: Get more baseballs in play. More balls in play means less predictability balls in play. The shift will adjust. The game will be better. And we won't have artificially eliminated an edge teams get with their smarts.
Q: Any thought to making Alex Reyes a starter for the rest of the season and trading for a closer?
A: There is not. Mike Shildt has shot this question down every time I've asked it. I've tried approximately 17 times, including on five consecutive days in spring training because I could not yet believe the answer.