Our chat this week features plenty of questions about the Cardinals rotation, as well as a detour to the French Open tennis tournament. Here are some of the highlights.
Q: Before the season started, I recall you promoting the question "Where will the innings come from?". It's now (only) June, and I just watched John Gant hit for himself in a game in which he was down 7-0 in the third inning the day before an off day. … Where on earth do the Cardinals find innings that now apart from desperate trades and waiver claims?
A: I've been trying to tell folks what was at risk for the Cardinals. They were risking a serious innings deficit. And here it is. Well, now it's more of an innings crisis. And it's already compromised the bullpen multiple times. When the bullpen is in its role, allowed to perform as designed, then it can be quite good. Daniel Ponce de Leon and Ryan Helsley offer options for "chase" relievers, too. Those are middle relievers who can hold a deficit and allow an offense to chase. The bullpen has the makings of the best in the division. For sure. It just has had to stretch and reach and search to cover the leftover innings from the starters, and the results have shown that.
You're right. That Cardinals are scrambling. They're looking through the moves you describe exactly: waiver claims and trades.
They don't like making trades when they don't have leverage, and this is a time when they don't have leverage. It's no secret they need pitching.
Q: What are the Cardinals thinking right now with Matthew Liberatore? The Team USA experience is good, but at some point the franchise is going to need pitching in Memphis, and they need pitching RIGHT NOW in St. Louis. How does the team see this assignment and has the injury bug (plague?) changed that view?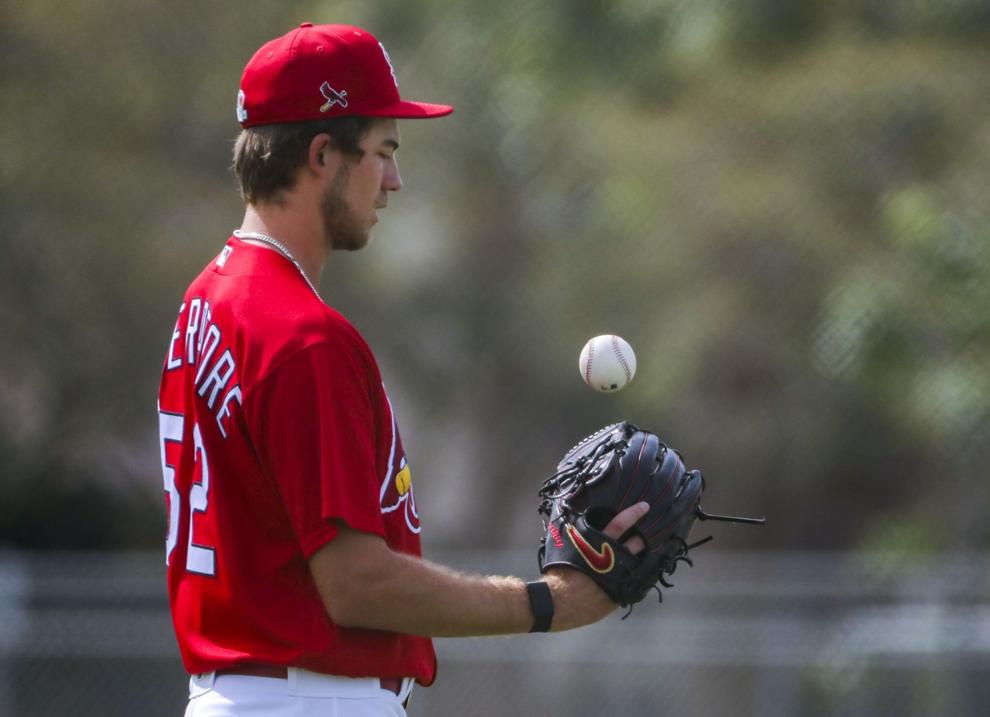 A: The Cardinals are conflicted on this, for sure. I asked this exact question to John Mozeliak, and he said it's tough. They know the experience is once-in-a-lifetime, possibly, and that it would be a good growth experience for their top prospect, but they need pitching at Memphis. Mozeliak said his job is to protect the organization, and that his duty is to the major-league team and the organization's success, and that at the moment they are going to lean toward bringing Liberatore back to help the organization. As I said, Mozeliak was conflicted by that answer because his preference would be to get the young player a chance to go win Gold, to go to the Olympics, to get the honor that he had a big role in earning this past week. The team might feel its situation does not allow for that.
Q: How soon will Harrison Bader be back?
A: It's still unclear. The club is hoping he increases baseball activity (this week) and that perhaps he scores some rehab assignment at-bats while the team is on this stretch of games that takes it to Chicago and Atlanta in the next 14 days. But it's a day to day with Bader as he deals with discomfort, and the Cardinals don't want to create a worse injury.
People heal at different rates, but there is a comparison between Bader and Paul DeJong. They had similar injuries, if not exactly in the same spot. So please keep in mind that the comparison is only a guide and that it is incomplete.
DeJong was injured on May 12 and is set to return about a month later. Bader was injured on May 24. That gives him another two weeks or so to recover.
Q: Is there any chance John Mozeliak will go after Max Scherzer since it appears Washington will not come out of the basement?
A: Yes. I've been trying to tell people this since February. There is this chance. Yes. Scherzer (Parkway Central, Mizzou) has a lot of the power to answer this question because he has a no-trade clause.
Q: The high number walks is not something I can grasp. There cannot be any single reason, and all teams have had adversity of some kind. Any opinion that might improve my understanding?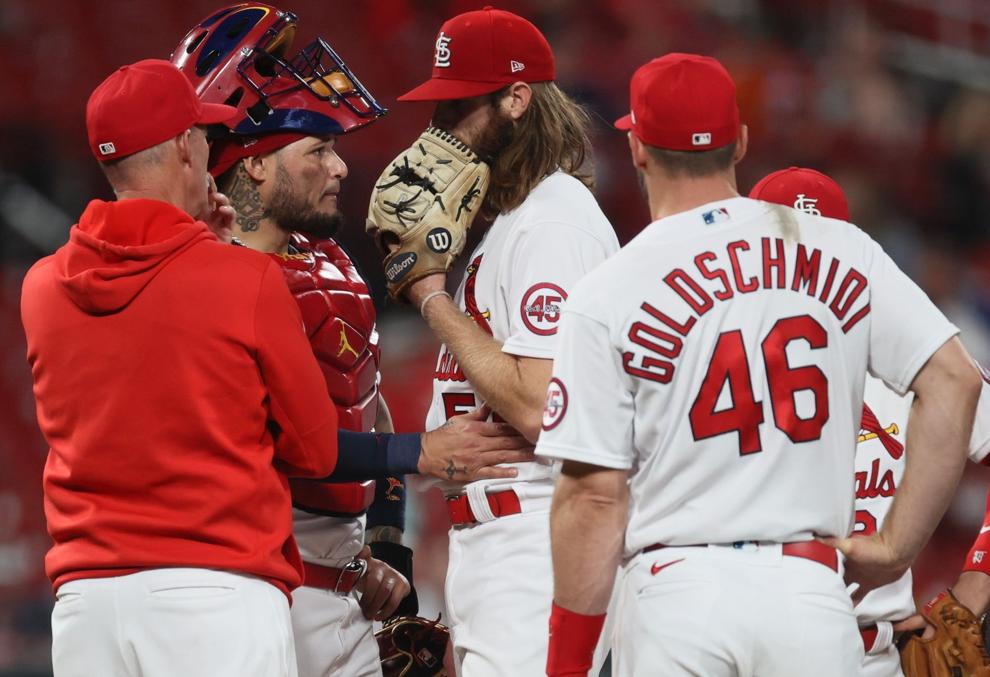 A: I've yet to hear a good explanation from the Cardinals. So let's try to put one together. Yadier Molina may have given the most revealing when he said the goal is to be "aggressive" and to remain "aggressive." And that invites the question as to whether the pitchers have the control to be aggressive. Alex Reyes has a history of a high walk rate and the stuff to avoid it. John Gant's walk rate is harder to understand, given that he could and should attack the zone and get the grounders that lead to quick innings.
If the Cardinals are being aggressive to confound the launch-angle craze and they're unable to hit the spot for those pitches, then walks are going to happen because those pitches are often going to be out of the zone. Dialing back in the zone has been an issue, as we've all watched.
One thing that the Cardinals are tracking internally is the non-competitive pitch. This is sometimes known as a "ball out of hand." It's a pitch that can be dismissed early in the delivery. Hitters can just ignore it. There are a few Cardinals who have pitches that the hitter can just ignore. That slider isn't going to land for a strike -- so see it, ignore it, wait for the fastball, or take the walk. That kind of thing. If a hitter can dismiss one or two of the pitches, he has an advantage, and an increase in walks would happen, too.
Another revealing answer came from Adam Wainwright. He said it can be a cascade effect within a pitching staff if not caught quickly. He said the walks start to mount, the next pitcher tries to be too perfect to get everything on the right track, the mounts continue, and all of sudden the group as a whole is trying to avoid walks. He said that's no way to pitch.
Comment: This is why Bill DeWitt Jr. needs to sell the team. Trading pitching depth time after time instead of paying money for a quality bat and keeping the pitching depth. Refusal to spend in spring training to add reasonable depth. You have to have farm team depth and spend on free agents in today's baseball if you want to win championships.
Reply: If anything they have had that -- depth. Look around the majors at all the former Cardinals that are out there. How did they get there? Many via exactly that kind of trade you're talking about. They have had that depth. In recent years, they've traded a virtual rotation: Sandy Alcantara, Austin Gomber, Zac Gallen, Luke Weaver, Marco Gonzales. If given health, where would that rotation rank in the NL Central?
Plus, they've had the whole outfield thing you may have read about. They traded Randy Arozarena, let Adolis Garcia go for cash, and dealt Oscar Mercado and Magnus Sierra, too. You have outlined exactly the organization DeWitt would prefer to have. One that doesn't pay open-market prices for a player, because it can trade for a player with its depth and then choose to sign the player (Paul Goldschmidt) or choose to absorb another team's price point for that player (Nolan Arenado), with some coverage so that it fits what the Cardinals would have made. In the open market, there's less control of the cost, and that's why they prefer to go this route, and to them they have pulled it off.
If that's not the team you want, that's fine. It's totally your right to say so. But you outlined pretty well the organization that DeWitt wants.
Q: Why haven't the Cardinals given a timeline for Jack Flaherty's return?
A: Because oblique (injuries) are difficult to deal with, offer an uncertain timetable, and can lead to setbacks. The Cardinals haven't offered a timeline for Miles Mikolas or Jordan Hicks, either, and that's the same thing. They've been prescribed a procedure and then rest, and then after that they'll know.
Look, with some injuries the moment they offer a timetable, that timetable is wrong because people heal at different rates, they have different positions, the injuries have the same name but different severity or location.
Flaherty has a torn oblique. That has to heal. That has to recover. And depending on how long it takes for it to heal the team will know how long he'll need to resume throwing. Bake in a set-back, because again a torso injury is tricky, and they'll have some sense of his recovery. For every week he does not throw, it will likely take a week to regain that arm strength. So, he's set for several weeks of rest here. If he recovers at the end of that, you can do the math that he hasn't throw for two weeks or three weeks, he'll need two weeks or three weeks to rebuild arm strength.
Q: Have the Cardinals pondered giving Nolan Gorman a shot in the outfield?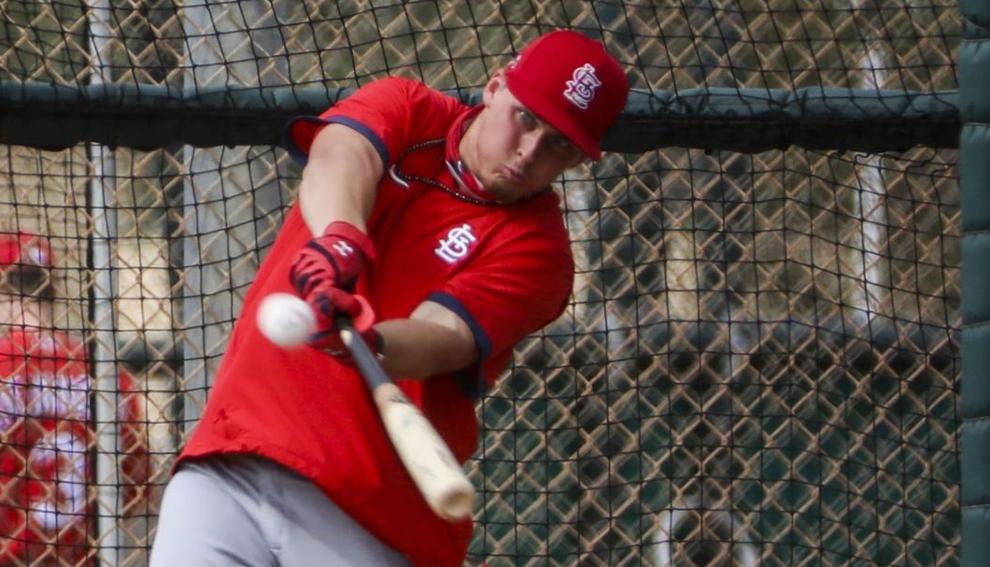 A: It's been pondered, yes. Gorman and the Cardinals were clear they wanted him to stay in the dirt as long as possible -- because he can. His bat at second base plays above the position. Think Dan Uggla, but better defensively. In the outfield, not yet as much. Kyle Schwarber? That seems possible, only again probably better defensively. Anyway, the Cardinals are going to give Gorman time in the outfield and second base and third base, and this isn't something to worry about it. His bat will determine when he reaches the majors, and it will be good enough for them to find a position for him -- and he'll have the versatility to adjust.
Q: Is there a valid concern that former Cardinals minor-leaguers improve in other systems and become strong major-league talents?
A: I think it's a valid concern, yes. We've written a lot about it. It was the focal point of both the season-in-review story for 2020 and the season preview 2021. And all of that was before the latest Former Cardinal du Jour -- Adolis Garcia. It's a clear and pressing concern and question facing the team.
But it would invalidate my premise to point it out over and over and over again if I was only selective with it. That's all. We should be honest about it. Not anecdotal. Not cherry pick to fit a premise while ignoring other facts. Not all examples are the same. Randy Arozarena is a great example. Adolis Garcia is less so. Luke Voit isn't. And so on. We can probably list as many players who didn't go elsewhere and thrive as those who did. Don't hear much about Oscar Mercado or Magnus Sierra, and really hadn't heard much about Patrick Wisdom until recently. Carson Kelly has been really good for Arizona.
What stands out to me isn't the players the Cardinals had who went elsewhere and thrived. It's the players the Cardinals have not pursued or how teams have been able to find contributors readily available, and the Cardinals have sided with their depth and not gotten the same production. Again, if they think they can develop Ryan Ludwick 2.0 and not unearth Ludwick 2.0 as a six-year free agent, more power to them -- but they have to do that. And haven't lately.
Q: I realize it's a different sport, but I'm curious as to your perspective on the Naomi Osaka mess at the French Open.
A: The freedom to speak is also the freedom not to speak. That's how I've always felt.
I respect the right an individual has to choose not to talk and to accept the fines, etc., that go with that based on the requirement of the employer, tournament, league, event sponsor, etc. I also would advocate on behalf of the benefit of speaking. It allows for the person to answer questions directly and not turn the narrative wheel over to the public or the media.
I welcome the conversation this has brought to sports about mental health. It's important. And that goes within the walls of baseball, too.
I am most bothered by some of the fellow journalists who misrepresented what sportswriters do, what press conferences are actually like, or, in some cases, sportswriters' journalistic bona fides.
Media literacy is really important, and we don't do ourselves or our readers any favors when we misrepresent another discipline in our industry, another section of the same newspaper. I invited that dialogue on Twitter. Alas, I was not taken up on it.
As I said on Twitter, I can only speak from my experience about the benefit of access, what press conferences are like, when I've walked out of them and why or not gone at all. I do my best to be honest with readers and chatters about how the job is done -- and I would be honest with colleagues, too -- but only from my perspective of being a beat writer for the NHL, NBA, MLB, and major college football, and covering sports for a daily paper for almost 28 years. It's up to them to decide what that means.