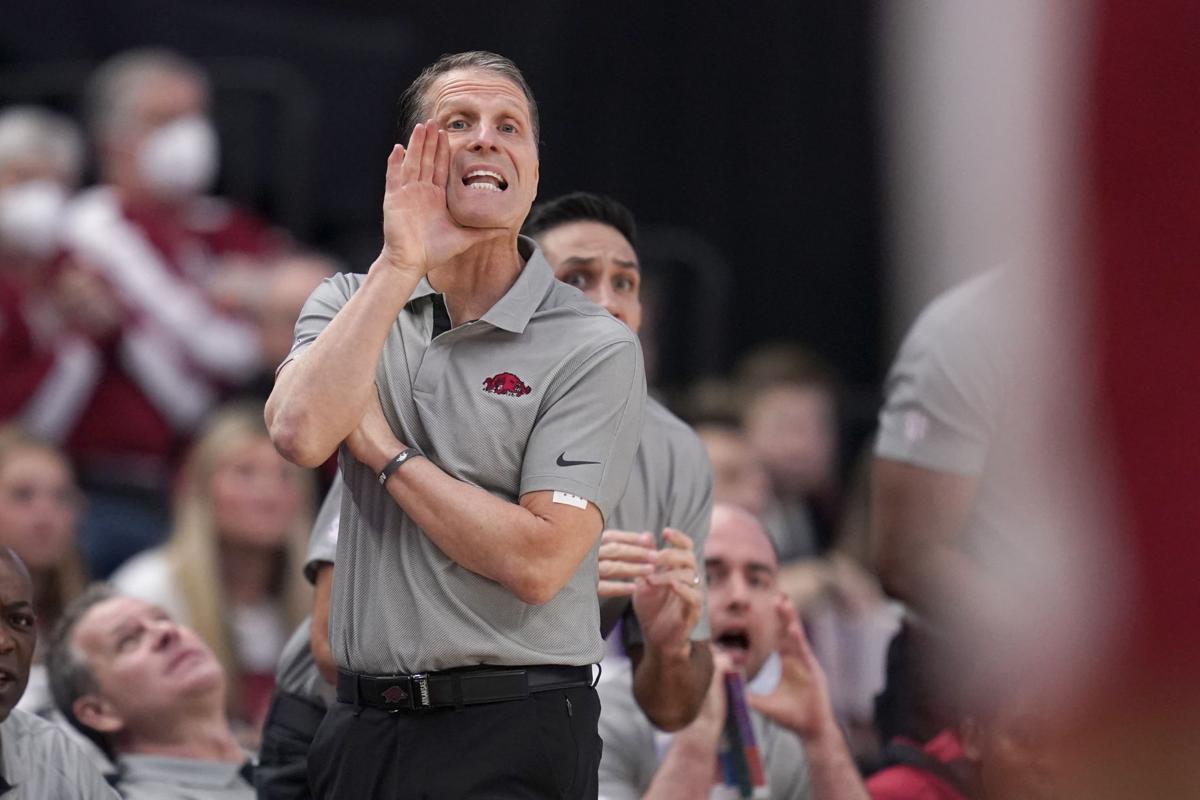 Coaching basketball in Southeastern Conference has become as treacherous as working in the Big Ten or Atlantic Coast Conference.
Every SEC school throws real money at the sport. Every school expects to win and, well, that's not possible.
Just ask Arkansas coach Eric Musselman. His Razorbacks have lost at Mississippi State, at home to Vanderbilt and at Texas A&M in their first three league games.
Next up for them is Missouri, which upset then-No. 15 Alabama on Saturday. The Crimson Tide rolled into to Boone County as 13 ½-point favorites and did not expect to get blitzed.
"Missouri played an incredible game," Musselman told reporters this week. "They scored at a high, high, high clip. But nothing really is a surprise, I don't think, in conference play."
It wasn't always this way. The SEC wasn't nearly as deep back in 2012-2013, when Missouri arrived from the Big 12.
Auburn finished 3-15 in conference play that season under coach Tony Barbee. Mississippi State was only slightly better at 4-14 under Rick Ray.
South Carolina was 4-14 in its first season under Frank Martin and Texas A&M went 7-11 in its second year under Billy Kennedy.
That season Kentucky suffered a rare down year under John Calipari, missing the NCAA Tournament and losing to Robert Morris in the NIT.
A new era dawned in 2014 when the conference launched the SEC Network. Then-commissioner Mike Slive urged schools to invest in basketball.
Auburn hired Bruce Pearl to revive its moribund program. Mississippi State recommitted to the sport by landing Ben Howland and Tennessee quickly corrected its Donnie Tyndall blunder by wooing Rick Barnes.
"I didn't say you guys ought to spend more money in basketball," Slive said at the time. "What I said was by not being successful and being the NCAA Tournament, they were losing a lot of revenue."
Slive, who died in 2018 after a long battle with cancer, created quite a legacy.
Athletic directors have been trying to one-up each other with their hires. LSU landed Will Wade, who embraced Pearl's, um, aggressive recruiting style.
Arkansas scored big by hiring Musselman, an industry leader in transfer acquisition. Alabama hit a home run with Nate Oats, a rising star who worked a miracle at Buffalo.
Missouri (Cuonzo Martin), Vanderbilt (Bryce Drew), Georgia (Tom Crean), Ole Miss (Kermit Davis) and Texas A&M (Buzz Williams) all hired proven winners in recent years.
Trouble is, somebody has to lose. Cutthroat competition inevitably creates casualties.
Drew won four regular season titles and two NCAA Tournament berths in five years at Valparaiso. After reaching the Big Dance in his first season at Vanderbilt, Drew slipped to 12-20 and 9-23 in his next two seasons.
Vanderbilt lost all 18 SEC games in 2018-19 and that was it for Drew, who has resumed winning at Grand Canyon while Jerry Stackhouse takes his stab at coaching the Commodores.
Texas A&M clipped Kennedy in 2019 despite his two Sweet 16 trips in a three-year span. Alabama fired Avery Johnson, a former NBA Coach of the Year, one year after he took the Crimson Tide to the NCAA Tournament.
Cuonzo Martin earned 50 victories in his last two seasons at Missouri State, made NCAA Tournament trips at Tennessee and California, then moved Missouri past the Kim Anderson fiasco with two Big Dance appearances in four years.
But quick exits from those postseasons and his 53-50 mark in his last three-plus seasons spurred booster unrest.
Missouri fans living in the past take success in this league for granted. They shouldn't.
Crean took Marquette to the NCAA Tournament five times in a seven-year span and reached a Final Four. He took Indiana to four NCAA Tournaments and won two Big Ten regular season titles at Indiana.
Yet he posted 2-16, 5-13 and 7-11 records in SEC play during the last three years at Georgia. The Bulldogs started this season 5-10 overall and 0-3 in the SEC.
Davis won five regular season titles and earned three NCAA Tournament bids in his last seven years at Middle Tennessee State. He got Ole Miss into the bracket in his first season, then went 15-17 and 16-12 overall the next two seasons.
Williams took Marquette to five NCAA Tournaments in six seasons, then reached the bracket on his last three seasons at Virginia Tech. But he won just 12 of 28 league game during his first two seasons at Texas A&M.
Frank Martin took South Carolina to the 2017 Final Four, but the Gamecocks went 57-60 during the next four seasons. Sustaining success in this conference is difficult, as even Calipari and Pearl saw last season while posting a combined SEC mark of 15-20.
This season could be especially crazy.
Heading into this week the resurgent Aggies were 13-2, the Gamecocks were 10-4 and Ole Miss was 9-5 with a big non-conference victory over Memphis. These three teams were picked to finish in the bottom half of the SEC this season, but each could be a handful.
And just imagine what Oklahoma and Texas will do to the competitive depth when they arrive from the Big 12.