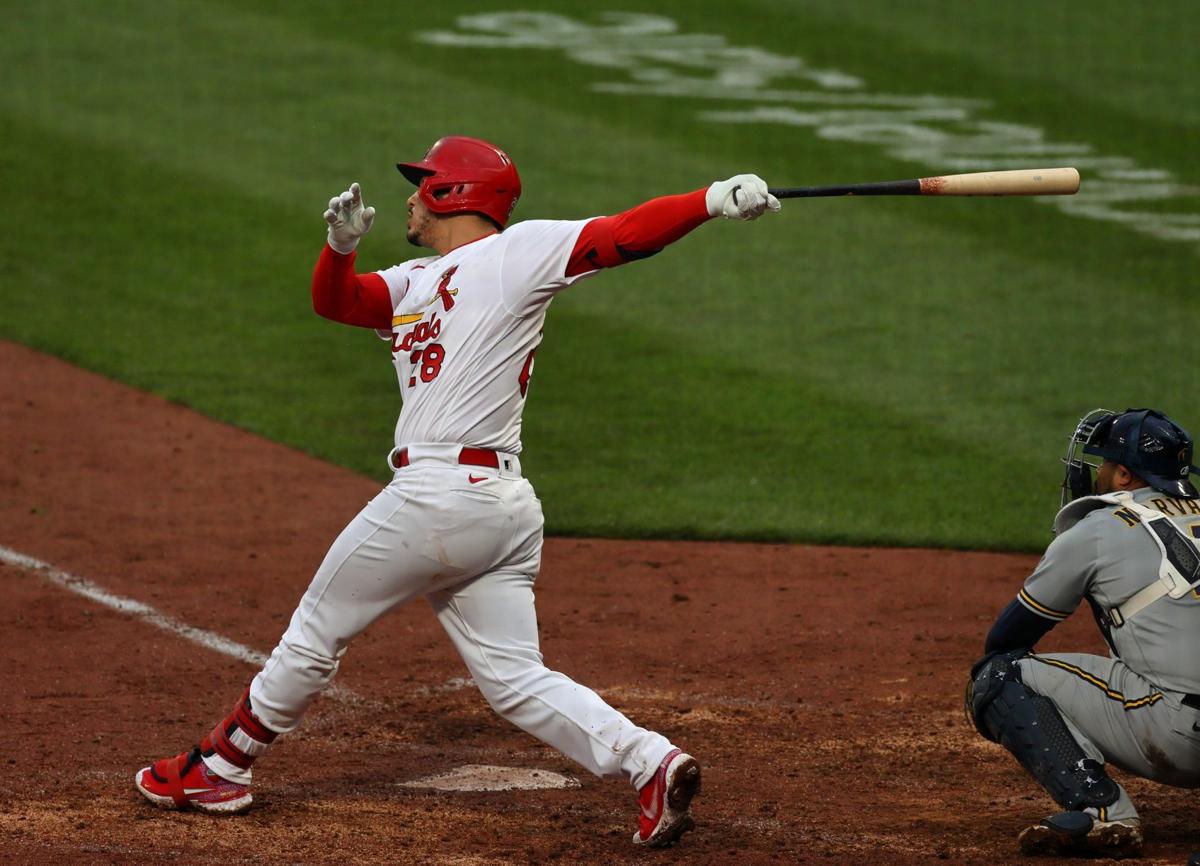 It's probably too early to throw this out there, but I'm going to throw this out there: For all the curtain calls and baby namings in honor of Nolan Arenado, if this team doesn't hit a bunch this year and win a bunch this year, he'll have to at least consider his contractual opt-out this winter.
Fifteen games is a small sample size, but the Cardinals are 7-8, and Sunday's two-hit performance in a 2-0 loss to Philadelphia was yet another quiet day at the plate for the Birds with no bats.
The Cardinals need the thought of the opt-out out of Arenado's brain — they need to make it a no-brainer for him to stay. And so, they need to win for "the now" (this week, month and year) and to preserve "the later" (the Arenado era).
To be fair, it's not like Arenado did anything to help the offense on Sunday. Nolan went 0 for four against the deceiving and will-thieving Phillies pitcher Aaron Nola. But he's got an on-base-plus slugging percentage of .854 and a team-high four homers. And besides Yadier Molina and Tommy Edman, the rest of the Cardinals are hitting like it's still 2020 (and in 2020, the Cardinals were hitting like it still was 2019).
What's the point of getting Nolan Arenado if the offense still is going to underwhelm? The fact that some folks are this excited for the return of Harrison Bader and Tyler O'Neill to the lineup shows the state of the off-base offense. Misery.
This would have to be hitting coach Jeff Albert's last year if the hitting doesn't improve. That's not a wild proclamation. This is a results-based business. And this is his third year.
Naturally, you can't scrutinize Sunday's dud without acknowledging Nola, who pitched like he was Steve Carlton at The Vet. But Sunday's poor hitting display wasn't some weird aberration for this team — it was yet another rough day. The Cardinals are 11th out of 15 National League teams in OPS (.679) and have averaged just 2.3 runs per game in the eight losses.
"We're all frustrated, but at the same time, it's way too early to panic by any means," said the Cards' Matt Carpenter, who is batting .069, on the postgame Zoom. "April is a tough month for offense in general with the cold weather and pitchers typically ahead of hitters. So I'm not worried about this group at all, I think we're going be fine. You just got to keep pushing."
As for Carpenter, if he's going to start, he shouldn't be hitting fifth or higher. Some might say he shouldn't start at all. But manager Mike Shildt and observers will say that when Carpenter does actually hit the ball, he hits it hard. The advanced stats back that up with exit velocity and whatnot.
But on Sunday, Carpenter struck out all three times and looked so odd on a couple swings, I had to ask him on Zoom if he's playing through any injury (he said he's healthy). He has seven strikeouts in the past five games. And no walks. Move Dylan Carlson up in the order, and if Shildt is going to let Carpenter find himself, have him find it lower in the lineup.
"This is a tough man's league — nobody is going to feel sorry for you, both on and off the field," Carpenter said of going through struggles. "You just have to go out there and put yourself in the right frame of mind to compete. I feel like I'm doing my best job of that — obviously I'd like for it to change (in regards to hits), but you really don't have a ton of control over the results. You control your process and your preparation, and I do my best to maintain that — and let it go play out."
Credit Carpenter for making himself available to the media for questions after the Cardinals' loss Sunday. During the days before the pandemic, reporters would enter the clubhouse postgame and ask questions to any player in there. Now, only a few chosen players are on each postgame Zoom, so a player can avoid the tough questions. But there was "Carp," 0 for his last 11, being accountable and showing his frustration, which mirrored that of Cardinals Nation.
"I think it's a little early to push the panic button in any regard for our offense," the former All-Star said. "Look, nobody's more disappointed with the way this has gone than me. I, individually, have been off to a start that isn't ideal. I'm hitting the ball hard, but at the end of the day, hits and production is what matters."
And while the Cardinals produce in spurts — a few of their wins have been offensive onslaughts — there must be more consistency. Arenado needs it. Arenado deserves it.
As for the baby naming, perhaps you saw the story on KMOV (Channel 4) about Megan and Justin Stinnett, who had a boy during the Cardinals' home opener. As Arenado homered, they heard broadcaster Dan McLaughlin on TV say: "Welcome to St. Louis, Nolan!" So, Justin suggested the name Nolan. So, yeah, if only for the Stinnetts, the Cardinals need to get the bats going . . . so they can make the playoffs and keep the St. Louis Stinnetts from having a son named after a 2022 Dodger or Yankee.