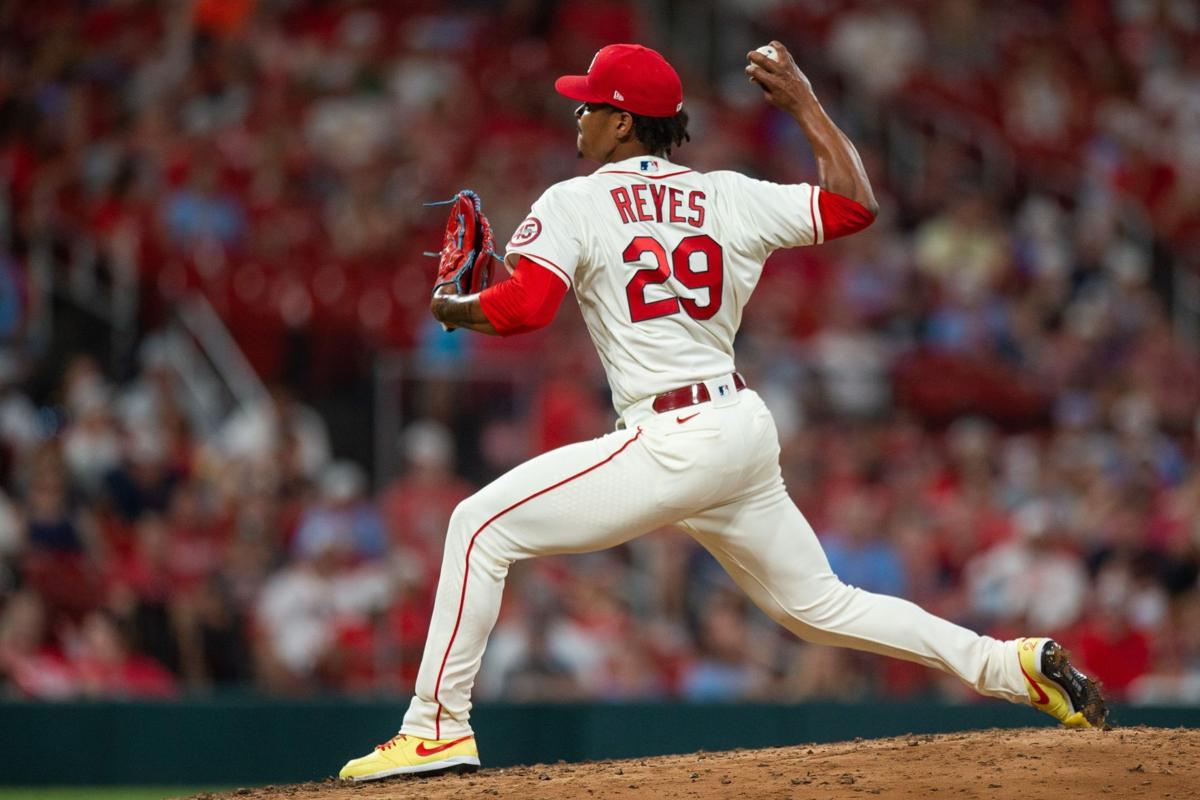 There's a realistic scenario in which the 2022 Cardinals go with a rotation that threw just 338 innings in 2021.
That's alarming — but the justification is disarming.
See, you can make a case of confidence for each arm. With Adam Wainwright, Jack Flaherty, Dakota Hudson and Miles Mikolas, the Cardinals are in good hands with the ball in these guys' hands — even though the final three recovered from injuries during 2021. As for the final spot, the fifth starter could be one of many pitchers, from a guy with plenty of big-league experience (such as free agent Jon Lester) to a guy with literally none (prospect Matthew Liberatore).
On the phone Sunday, president of baseball operations John Mozeliak didn't rule out looking into free agency for a starter. After all, the 2022 Cardinals must win the division. They're too talented, too balanced and have too much money available to not pull this off. And while team executives have referred in the past to the flimsiness of a wild-card berth compared with a division title, they can now share personal L.A. stories that are cautionary tales.
If the Cardinals get a free agent pitcher, that's definitely a proactive move, but it better not prevent them from getting a free agent bat. Offense is where the money should be prioritized — I've mentioned shortstop Corey Seager as a desired target, and as a lefty slugger he's an obvious target. And with the opening in the rotation, there is much intrigue in the internal quartet (or quintet or sextet) of vying, viable starters.
"I was really pleased on what we saw out of (Jake) Woodford, especially after he had time down at the minor league level," Mozeliak said Sunday. "You have guys like (Johan) Oviedo and Liberatore who are knocking at the door at some point. Really, the question remains on what's going to happen with guys like (Alex) Reyes, (Jordan) Hicks and (Ryan) Helsley. What roles do they ultimately fill? So we want to be open-minded about that.
"A lot of is going to be — how they prepare for spring training. We can talk about starter vs. reliever, but it's ultimately their preparation. Can they take you deeper into a game? I've always taken the approach of — the more starters, the merrier. And there are scenarios where we might augment things as well. As we look at our rotation, though, I think we have a little bit more confidence than where we were a year ago, just because I think we have less question marks physically."
"Mo" is right — prognosticators can't know the intensity with which pitchers prepare during the offseason. Come spring training, the Cards have seen both sides of it over the years. But I remain fascinated with the possibility of Reyes starting. Many fans not over the wild-card denouement don't want to even think about Reyes, let alone think about him in an important role for the 2022 St. Louis Cardinals. But I remain enamored (deceived?) by his talent.
Many pitchers would give up their stuff to have his stuff. As a starter, he'd have more runway to work with (and work out) all of his pitches. He already worked on cutting down the walks. Starting would allow him to pitch without fear of being pulled — or blowing a game with a fearful pitch pulled. He's entering his second arbitration season. But there's still time to squeeze out and max out Alex.
The lefty Liberatore, who turns 22 in November, is fascinating if only because of the unknown. He should be good. But how good? And how soon? His Class AAA ERA was 4.04 this season, but in his final 10 games, it was 2.67.
"This was his first season above A-ball," Cards general manager Michael Girsch said by phone Sunday. "He was one or the youngest pitcher in Triple-A, depending on when you checked, relative to other pitchers down there. And he held his own. He did not dominate Triple-A, but he more than held his own. He put himself in a position where he will come to spring training next year as a guy that will be a starting pitcher fighting for an opportunity."
As for the four horses, yes, three of them didn't pitch much in 2021. Hudson and Mikolas returned from arm surgeries, and Flaherty dealt with a pair of non-arm injuries. But all three showed flashes of form in the season's final fortnight. And one lesson of the pandemic season, per Mozeliak, was the shortened and wacky schedule didn't prevent many pitchers from pitching many innings in 2021. So why can't guys who missed much of 2021 return to 25-30 starts each in 2022?
"I'm very optimistic that these guys can eat innings," Mozeliak said.
But let's not forget, 13 Cardinals started at least one game in 2021. Each year it's like "Groundhog Day," because seemingly every spring training, within weeks after Groundhog Day, some starter suffers an injury. Stuff happens.
"So," said Mo, "augmenting what and how we think about our rotation, and just pitching in general, is something that we have to give thought to. I would say we'll explore all (options)."