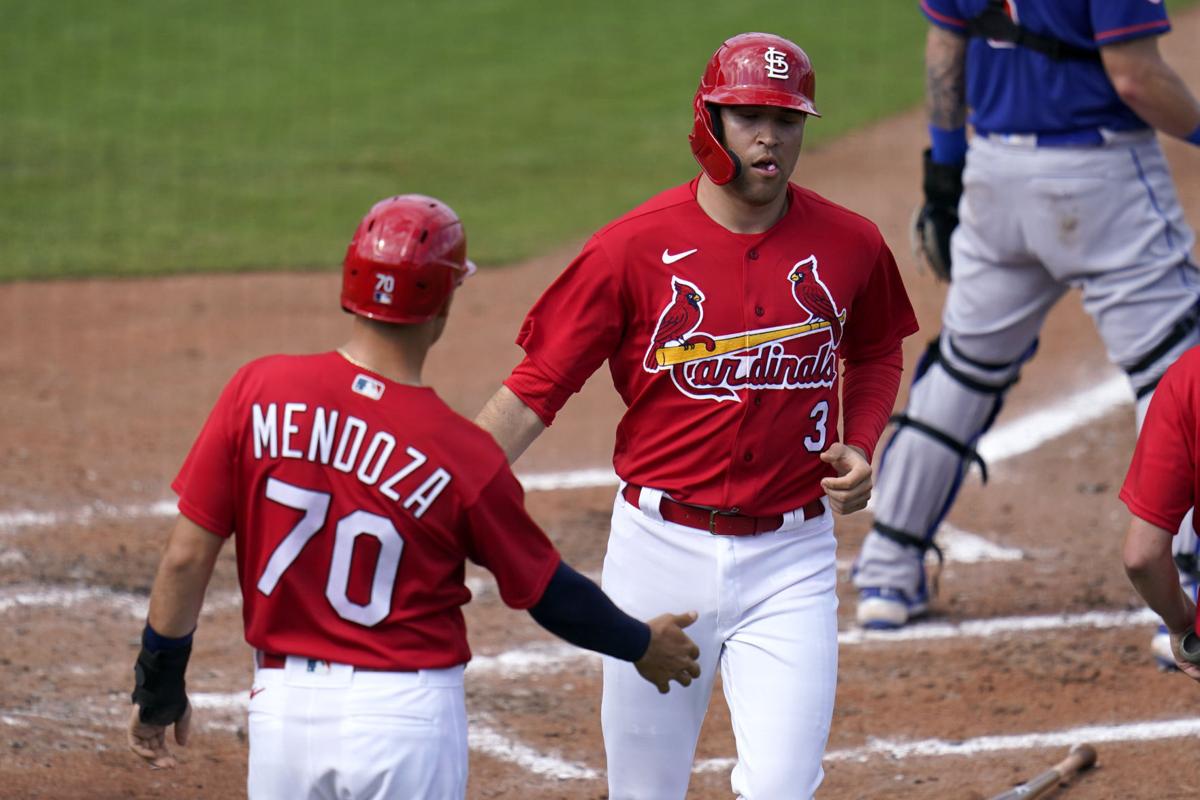 Baseball fans proverbially and perpetually peek around the corner, stone-searching on the diamond. Who's the next cornerstone for your franchise? Is he in the organization? Even when your team is encrusted with cornerstones — Paul Goldschmidt and Nolan Arenado — antsy fans anticipate the future during the present.
It's a time-honored tradition. St. Louisans can recall the thrill when they first heard about a certain guy. The initial optimism and then skepticism — Wait, he's supposed to be how good? — and then the imagination and the managing of expectations. There was Todd Zeile and Rick Ankiel, Anthony Reyes and Alex Reyes, J.D. Drew and Colby Rasmus, Alan Benes and Shelby Miller, Albert Pujols and Oscar Taveras.
And now, there is Dylan Carlson, the current future cornerstone.
A past cornerstone believes so.
"Yeah, I really do," Jim Edmonds, a member of the Cardinals Hall of Fame, said by phone. "I think he's one of those rare, young guys who uses his brain, who thinks about the game, puts himself in good positions. You've got to remember, he's still young, so the hitting is still going to be a little bit of adjustment. But he's got a really nice swing — from both sides of the plate. And we saw last year that he's able to make adjustments — and that's key."
Dylan James Carlson of Elk Grove, Calif., enters 2021 at 22. His 23rd birthday is October 23. If he's as good as some people think, he could be a key reason the 2021 Cardinals are playing on his birthday.
Wait, he's supposed to be how good?
That's the thing. That's the question. Most people believe Carlson will be a quality big-league outfielder. But can he be elite? Will he be elite?
"What separates anyone from (the pack) is the person that can do it consistently — and can do it for a long period of time," John Mozeliak, the Cardinals' president of baseball operations, said by phone. "Dylan, only 22 years old, already having a taste of what Major League Baseball is like, it's not hard to conclude that the first step was positive. And now getting that opportunity to play every day in the big leagues is someone that can be a very positive impact on this team, not only now but in the future. When you start talking about the future, you are hopeful that he's someone that would be that middle-of-the-order type of contributor. That he is sustaining that for a long period of time. And then if you do that, then he becomes a household name in your city."
A photo from this spring captured the state of Dylan. He was crossing home plate after a homer. The No. 3 on the front of his jersey reminded one of Carlos Beltran, a fellow switch-hitting right fielder who wore the Cardinals' No. 3 in the All-Star Game and the World Series. But the angle of the photo prominently showed the back of the Cardinals prospect congratulating Carlson. His last name screamed across the screen: MENDOZA. A reminder that for all the hype, Carlson did hit exactly .200 in his first major-league season.
But there were also many encouraging nuggets from that year. His hard-hit rate was 42.1%, just behind team leader Brad Miller (43.3) and just ahead of Goldschmidt (40.9). And after his September 8 send-down, he responded resplendently. Counting the three playoff games, he had a .389 on-base percentage and a .489 slugging percentage in his 15 games back.
"I like his hitting approach, because it's not all or nothing," Mozeliak said. "And he uses the whole field, but he still has home-run power. There's a lot to like about how he goes about it. And part of the reason we were attracted to Arenado was a similar type of approach."
Hype can lead to hyperbole. But a fair way of looking at Carlson is that he's just a really versatile ballplayer. He can do so many different things, so if one thing isn't going well for a short period of time, another might be. His skill set is trustworthy. And Carlson has a quiet belief that he belongs, even when stats suggested that something was going wrong. Prospect John Nogowski shared a story from last season — when Carlson was sent down, the two had some candid talks, and Carlson never showed even a "shred of doubt. … And that doesn't happen for a kid his age, to have that sort of confidence. Like, it's very rare."
Carlson will get a second run at a rookie year. He still classifies as a rookie and should compete for the top honors, though Ke'Bryan Hayes, Pittsburgh's Dylan Carlson, seems like the frontrunner for the hardware.
But even if Carlson doesn't win rookie of the year, this should be the year of the rookie. The year the kid becomes a factor.
"It's always exciting to see one of our prospects sort of blossom into a big leaguer," Cardinals general manager Michael Girsch said by phone. "Sometimes you know it's going to happen, like you do this year with Dylan, and other times, it sort of pops up when an injury happens and a guy gets an opportunity he hasn't previously had. But especially with someone we've drafted and developed, and the whole organization has been involved in from the get-go, just seeing that person develop from something you imagined to something real on the major-league field, it's exciting."