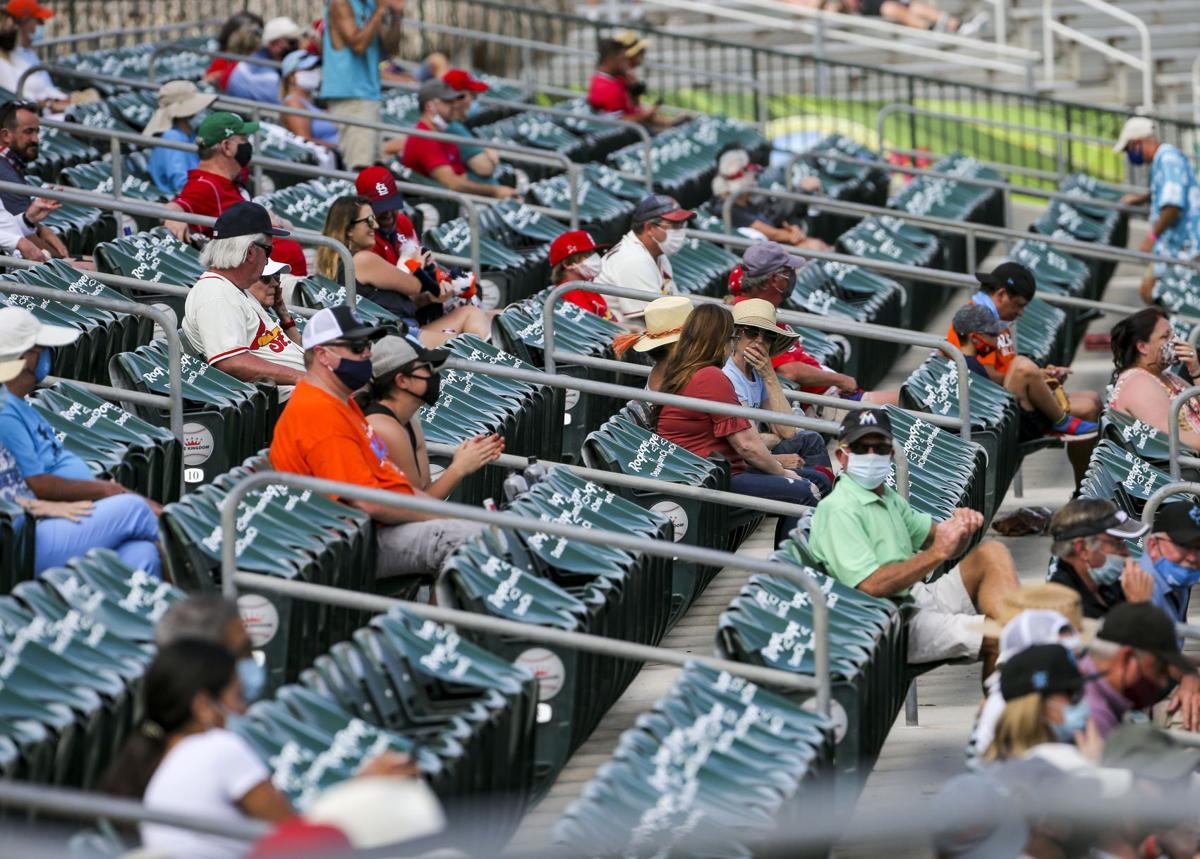 CARDINALS RATINGS
| Year | Rating | Outlet |
| --- | --- | --- |
| 2000 | 12.8, 8.6 | KPLR, FSM |
| 2001 | 11.0, 7.4 | KPLR, FSM |
| 2002 | 10.9, 7.7 | KPLR, FSM |
| 2003 | 10.3, 7.6 | KPLR, FSM |
| 2004 | 12.5, 8.8 | KPLR, FSN |
| 2005 | 12.9, 8.6 | KPLR, FSN |
| 2006 | 13.4, 8.6 | KPLR, FSN |
| 2007 | 13.8, 7.5 | KSDK, FSN |
| 2008 | 12.8; 7.9 | KSDK, FSN |
| 2009 | 11.8, 8.0 | KSDK, FSM |
| 2010 | 12.3, 9.5 | KSDK, FSM |
| 2011 | 9.0 | FSM |
| 2012 | 7.7 | FSM |
| 2013 | 8.8 | FSM |
| 2014 | 7.9 | FSM |
| 2015 | 10.0 | FSM |
| 2016 | 8.2 | FSM |
| 2017 | 7.2 | FSM |
| 2018 | 7.3 | FSM |
| 2019 | 6.6 | FSM |
| 2020 | 5.4 | FSM |
The Cardinals have a new, high-profile third baseman who has boosted interest in the team. Fans are abuzz about being allowed back in the stands, albeit on a limited basis at first, after a year of locked gates in a coronavirus-caused truncated season.
Optimism abounds. But will it carry over to television ratings? That is a key question for the team and its soon-to-be renamed television partner, Fox Sports Midwest — which becomes Bally Sports Midwest on Wednesday.
The team's TV viewership numbers were on an alarmingly downward trend even before bottoming out amid the tumult of last year.
It is fair to dismiss the Nielsen ratings numbers of 2020's very abnormal season, in which Fox Sports Midwest carried just 55 games. There were a lot of off-Broadway starting times, with 28 of those telecasts beginning before 6 p.m. And there were 11 doubleheaders, seven-inning affairs that rankled some traditionalists. There were many other extenuating circumstances, including social-justice stances by the club and some players that angered a significant number of fans.
So the fact that the Cardinals drew the worst rating they ever have under the current system of measuring viewership, which dates to 1990, is understandable. Nielsen reported that just 5.4% of homes in the area tuned in, on average, to FSM's telecasts.
What is more eye-opening is a look at what was going on before that. In 2019, the last "normal" season, the Cards had their worst rating on FSM in two decades. That figure was a whopping 34% decline from what it was just four years earlier. And the last three full seasons have produced the three worst-rated years of this century. The combined rating for 2017, '18 and '19 was 7.0. For 2015, '16 and '17, it was 8.7.
It is true that YouTube TV and Hulu + Live TV have joined Dish Network and Sling TV as programming providers no longer carrying FSM, but the percentage of the total audience they had is far less than the overall decline.
The big picture
The ratings cited are raw numbers that call for perspective. Television viewership in general has substantially declined, yielding to the rapid growth in popularity of video streaming services in recent years. Many major events, entertainment as well as sports, have had record or near-record lows in the last six months. A prime example is this year's Super Bowl, which while not a record drew its smallest TV audience since 2007.
"Everything's down," FSM general manager Jack Donovan said. "Television continues to be more and more splintered."
So all things considered, Donovan said "we feel like (in comparison) we're killing it."
He points out that FSM's Cards spring training ratings are up — 22% through last weekend over the same point last year. And the network's regular-season Redbirds telecasts are the top-rated program on St. Louis television most nights they play. Overall, Cardinals telecasts have ranked in the top four of all U.S. MLB teams' TV ratings every season for the last two decades.
So with the arrival of third baseman Nolan Arenado, the return of fans to the stands (creating "a more exciting backdrop," Donovan says) plus a more "normal" season expected, he is bullish about viewers returning. Things get underway when Bally Sports Midwest has the Cards' season opener, at 3:10 p.m. (St. Louis time) Thursday in Cincinnati.
"Can't wait," he said. "... We expect a really strong start to the season."
But, as always, viewership throughout the year can fluctuate based on the team's performance.
"We're at the mercy of the ballclub," he acknowledged.
Early birds
The Cardinals are going back to 6:45 p.m. starting times for most weeknight home games during the school year — in April and May, then from mid-August through the end of the season.
That's a half hour earlier than for summertime games, and something the team experimented with in 2019 in an effort to get kids home from the ballpark earlier on school nights. That was not needed last year, what with no fans attending.
The move also figures to boost concession-stand sales, because the quicker turnaround time from normal work hours to the first pitch increases the likelihood that fans will not have enough time to eat dinner at home or in a restaurant before arriving at the stadium.
The early games in 2019 did a tad better in the ratings than did the traditional starting times, but the difference was negligible. FSM had 13 contests beginning at 6:45, and they averaged a 7.8 rating. Its 21 starts at 7:15 were at 7.4.
"I don't think it's a game changer one way or the other," Donovan said. "We're on board with what's best for the fans, what's best for the team."
Shannon's finale
As previously reported, it will be a special year on the air for Mike Shannon. Not only will it be his 50th season in the Cardinals' radio booth, but it will be his final one.
Plans call for him to broadcast about 50 home contests, and he is to be saluted at Busch Stadium periodically with video remembrances of his broadcasting and playing careers — he was on three Cardinals World Series teams in the 1960s as a third baseman and outfielder.
In addition, there will be tributes on radio broadcasts throughout the year, and flagship station KMOX (1120 AM) plays to have additional remembrances during other times of the day.
It not only will be an end of an era for Shannon when the season ends, it will be the conclusion of a long chain of stability. Since the 1961 season, Shannon and/or Jack Buck have broadcast the Cardinals on radio.
Buck died in 2002, at 77. Shannon, who survived a nasty offseason bout with coronavirus, turns 82 in July.