His manner is warm and friendly, an inviting don't-take-myself-too-seriously style that stands out in what can be an ego-heavy business of television news.
It's an approach that has served Rich Gould exceedingly well in his unparalleled career in St. Louis TV, one that ends Thursday when he wraps up the sports report on the 7 p.m. newscast for KPLR (Channel 11).
It will conclude his 34-year run at the station, all as its sports director. He will retire as the longest-tenured head of a TV sports department in the market, far surpassing the previous mark of 19 years that Jay Randolph accumulated at KSDK (Channel 5), from 1968-'87, and currently has been equaled by Martin Kilcoyne at KTVI (Channel 2).
"I hope I've been as natural through the years as possible," Gould said this week. "It's my personality, that's just the way I am."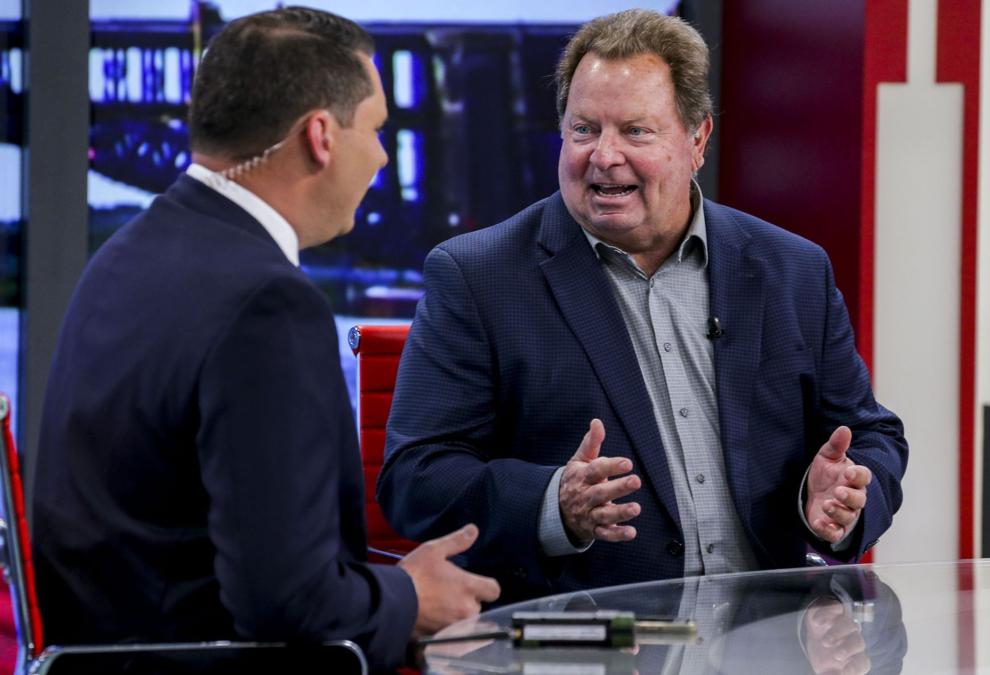 He can be as serious as a surgeon when the situation calls for it, but he much prefers to keep things loose. That trait is admired by colleagues and competitors, past and present.
"He had an awesome career being himself," former longtime KMOV (Channel 4) sports director and news anchor Steve Savard said. "Not an ounce of phony in Rich. He's the same guy off air that we see on air. Watching him when I came to town in 1994 reinforced for me the idea that conversational beats formal in our business. I learned a lot watching Rich. He's a good man on top of that. Happy for him. Now plenty of time for golf and karaoke."
Kilcoyne and Gould once were at rival stations, but in recent years have been teammates after Channels 2 and 11 merged news operations. Though Gould primarily works on KPLR, he has filled in occasionally on KTVI.
"We have been side-by-side for the last 12-15 years and I think I've had as good a view into Rich as you can get," Kilcoyne said. "And he doesn't play a (fake) game on TV, he's always very real. The business can get very frenetic at times, and he'd tell me just to slow down. He'd call me when I was on the road and tell me to go get a steak dinner. I'd say, 'I have 14 live shots to do.' He'd say, 'That's OK, have some fun.'"
While some in the sports media get riled over the infusion of analytics in baseball, the emphasis on plus-minus statistics in hockey and the reliance now on the 3-point show in basketball, Gould is unfazed by such developments.
"That's just not a whole lot out there in sports, and life overall outside of family and friends, that's worth getting worked up about," he said. "Sports to me isn't that important. Age has diminished my excitement of sports, but I think that's normal for most everyone," though he said he still gets enthused for Cardinals postseason games and other big sporting events.
Frank Cusumano has been the sports director at KSDK (Channel 5) for nearly five years and has been in the department for 28. And he'll miss Gould, on and off the air.
"If I saw him on TV, I'd stop and watch because at some point he'd make me smile, whether intentionally or not," he said.
"We are the polar opposites, but I like everything about him," the more intense Cusumano added. "Whether it's in a press box or doing a live shot next to him, it's a treat to be around him. He reminds me not to take the job too seriously. He has had a good a perspective not only on the business but life in general."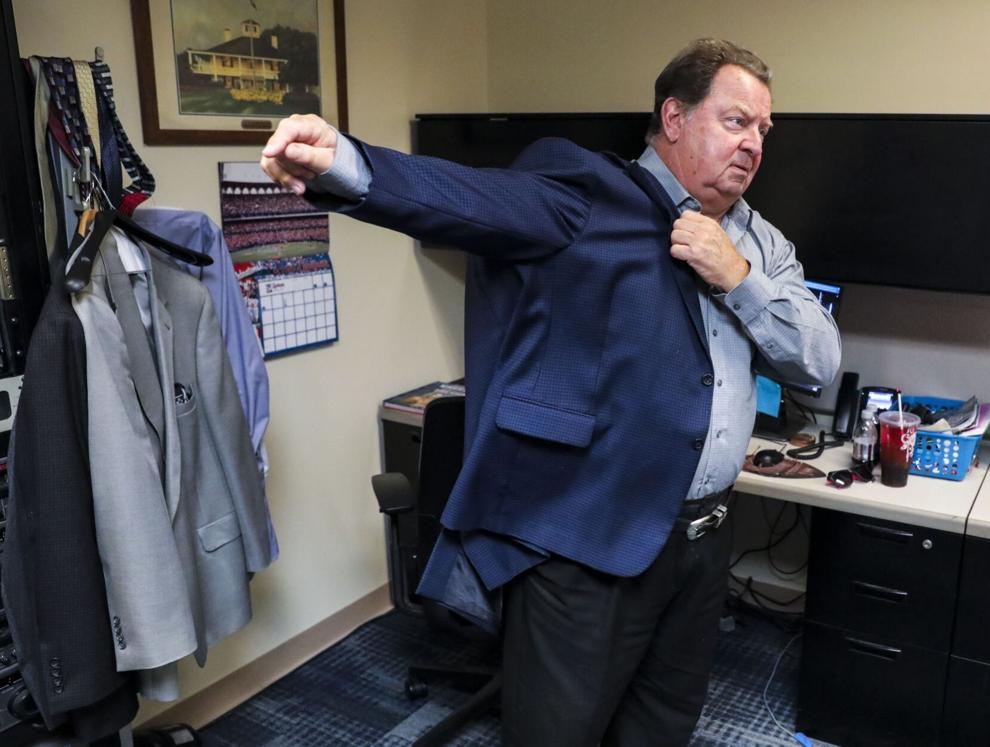 The decision
KPLR/KTVI news director Audrey Prywitch said that Mikala McGhee, primarily a news reporter who also contributes to the sports department, will temporarily assume some of the duties of Gould — who turned 65 last Saturday and said the timing is right to call it a career.
"The business has changed so much, and I'm not that good with electronics," Gould said, adding that he "started out by cutting film in 1981, then videotape, and now it is electronically computerized. "I'm passable at it, but not good."
He also laments the trend of photographers being phased out in favor of reporters shooting their own video.
"It not only takes a job away, they can do that part of the job better than me," he said.
Gould has been on the job in St. Louis for so long that he has survived not only managerial but station ownership changes after arriving in 1987 after stops in Springfield, Mo., Quincy, Ill. and Sacramento, Calif.
The station he worked for in Sacramento was owned by Ted Koplar, who also owned KPLR. When he got the offer to come to St. Louis to replace Jon Sloane, who had left to go to law school, it didn't take him long to accept.
"It was a destination I always wanted to go to because I grew up a Cardinals fan" in Branson, Mo., he said.
Once he arrived, he never wanted to leave. His family, which includes three daughters, grew here. His roots were planted.
"I haven't sent out a resumé or (audition) tape since 1981," he said.
KPLR was a sports power in the 1980s and '90s, as it was the Cardinals and Blues local telecaster, and to a lesser extent into the next decade as cable began making inroads before Fox (now Bally) Sports Midwest eventually took all those games. Then the merger with KTVI further diminished the station's sports presence, as Channel 2 became the company's focal point. KPLR's late-day newscasts air at the off-Broadway hours of 4 and 7 p.m. weekdays, at 7 o'clock on weekends.
"We had our sports identify, which we lost," Gould said. "But that actually turned out to be a blessing. I've been able to work with some wonderful people. It wound up being very good for me."
He has been relatively on his own at KPLR.
"They didn't have to keep me," he said.
Raucous rumbleIn early 2006 multiple local stations were airing Sunday night expanded sports shows, and KPLR general manager Bill Lanesey decided to join the mix and wanted something that would differentiate Channel 11's presentation from the competition. The result was a zany program that while centering on athletics had a flair for showmanship and entertainment, with Gould the ringmaster.
"The Fan Show" was conducted in front of an audience at Casino Queen, with a band playing and was full of antics. Mickey Carroll, an actor who portrayed a Munchkin in "The Wizard of Oz," was on hand regularly for programs that could get wild in its run of about 2½ years.
Gould recalled one time that legendary boxing promoter Don King was a guest, and when he was introduced he was nowhere to be found — he had gone to the restroom before eventually emerging.
Then there was a frigid winter night "when nobody wanted to come out," Gould said. They had a "fan of the week" segment, and Gould had to scramble to find someone to fill the role.
He saw a homeless-looking man hanging out nearby.
"I said, 'If you read this question on a card I'll buy your drinks after the show,'" Gould recalled, and the man eagerly accepted. Gould said that part of that episode included a spaghetti-eating contest, in which the contestants had their hands tied behind there backs and had to plunge their faces into a bowl in order to eat the food.
"It certainly was a mess," Gould said.
When the show was over, the guy who was about to get his free drinks had another request.
"He asked, 'Can I have the leftover spaghetti?'" Gould said. "I left that one for (co-host) Kurt LaBelle. I told him I had to go home."
Gould said some of the loony antics of the show weren't a hit with Lanesey, the station GM.
"He never got angry," Gould said. "But he would say, 'Let's not try that anymore.'"
Savard, who was the radio voice of the Rams for their last 16 seasons in town, was happy that Gould finally got his own Sunday night show. It gave him a chance to get even in the verbal barb department with his friend.
"Before I was the play-by-play guy, we'd sit next to each other in the press box at Rams games," Savard recalled. "He would wait for a lull in the action and then chide me about our different schedules for the rest of the day. I would be on the clock until close to midnight anchoring 'Sports Sunday' (on Channel 4). He would let me know he'd be going home, watch some more football, sing some karaoke, have a cocktail or two and watch me host the show with his feet up. Even after I got the play-by-play gig, he'd send me a note to the booth reminding me he'd be watching that night.
"Needless to say, I was delighted when he had to start hosting a Sunday night show of his own. We had a lot of laughs about that."
The show allowed Gould to display some of his talents that go beyond a typical newscast, and Kilcoyne says Gould would have been very good in a different role, too.
"I think he would be a great game-show host," he said. "He can sing, play guitar, is glib and can ad-lib. He has the personality. I think he would have done well."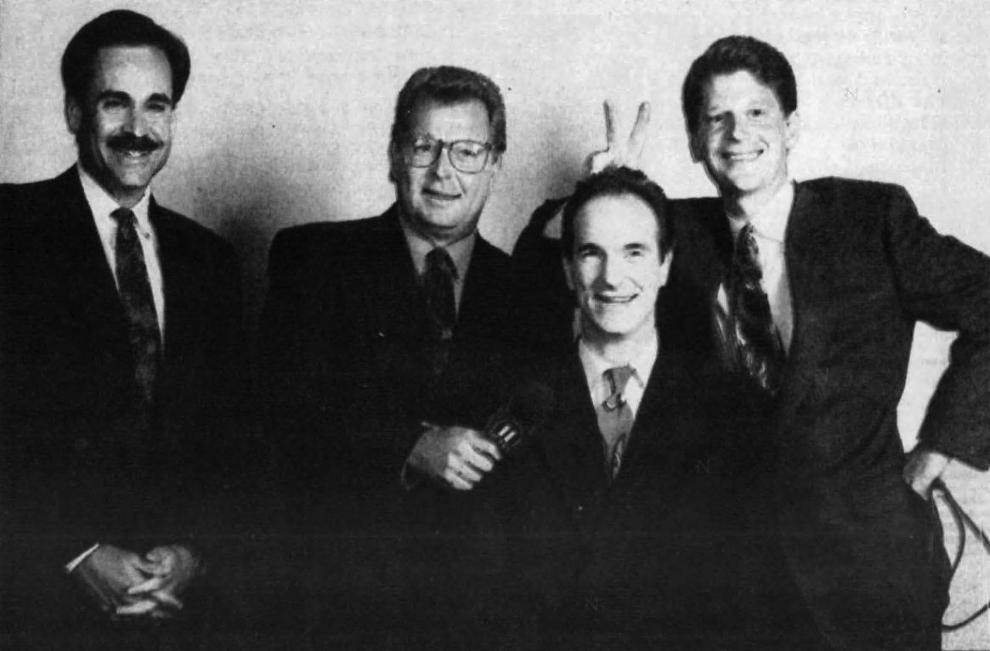 Record run
Gould is proud of long ago passing the legendary Jay Randolph atop the list of tenure for a St. Louis sports director.
"Longevity is important," he said. "It means you got along with management, you must have done something right. So that is very (meaningful) to me."
Kilcoyne, who next year will move into sole possession of the No. 2 slot on the longevity list as a St. Louis sports director, kidded that Gould's record "may be safe." Kilcoyne, 53, would have to stay in the role until he is 69 to surpass Gould.
Since it became known recently that the finish line is nearing for Gould, he said, "People have always been nice to me ... but they always have been. There's something about the Midwest, the way people are here. I don't think I would have lasted nearly as long in Boston, Philly."
He now will be able to go wherever he wants, but plans to stay relatively close to home because he does not like to travel. He has been in sports-talk radio as well as TV, but said he has no desire to do any fill-in work in the media again — unless it would be on a music station, for which he would not have to talk about sports.
"It's time to get somebody younger in there," he said. "I've had my time."
He likes to play the guitar and sing, and you might some night find him playing country music in a local tavern.
"But I'll have to learn the words," he said, chuckling.
Signing off
He plans to have a few words to say on his final sportscasts, which are to air on Channel 11's newscasts Thursday at 4 and 7 p.m.
"But I don't know what it will be," he said.
He also is to be saluted by colleagues on the air, with a feature on his career to air and family members present and one of those segments is to be shown on tape in KTVI's 9 o'clock newscast that night. Then his run will be over, marking the second time in less than two weeks that a St. Louis broadcast fixture has retired — Cardinals announcer Mike Shannon's last game was on Oct. 3, after 50 years on the air.
Gould was asked how he'd like to be remembered, and had to think for a minute, saying he'd never contemplated that.
"I'd like to have people remember me as being respectful, professional and approachable," he said. "I enjoy it when strangers talk to me, whether it's in a grocery store, a bar, or anywhere else. There are a lot of people in this business who don't like that, but I've never felt that way."
Gould also knows that much of his career has been under the radar. He never did a lot of play-by-play, something that he once aspired to do ("St. Louis is a tough nut to crack," he said) and KPLR's sportscasts are not in high-profile slots. His attitude about that says a lot about his character — how he is not driven by ego.
"Really, there are a whole bunch of people who don't know who I am," he said. "At 4 o'clock, I'm on for two minutes. At 7, it's three minutes. And these aren't exactly the highest-rated newscasts in town. People have their own problems, they don't need to think about whether I'm (still on the air), why the hell would they care one bit?"
That kind of approach has fueled Gould's unequaled success for nearly 3½ decades.
His normal days off are Friday and Saturday, so after a celebration Friday organized by his daughters he has no grand plans other than to do some camping and to play more golf than usual.
His life after work begins to hit home, literally, on Sunday. Instead of beginning his work week then, his plans are simple.
"I really want to be home on Sundays, have dinner there and do normal stuff," he said. "To me, that will be really enjoyable."