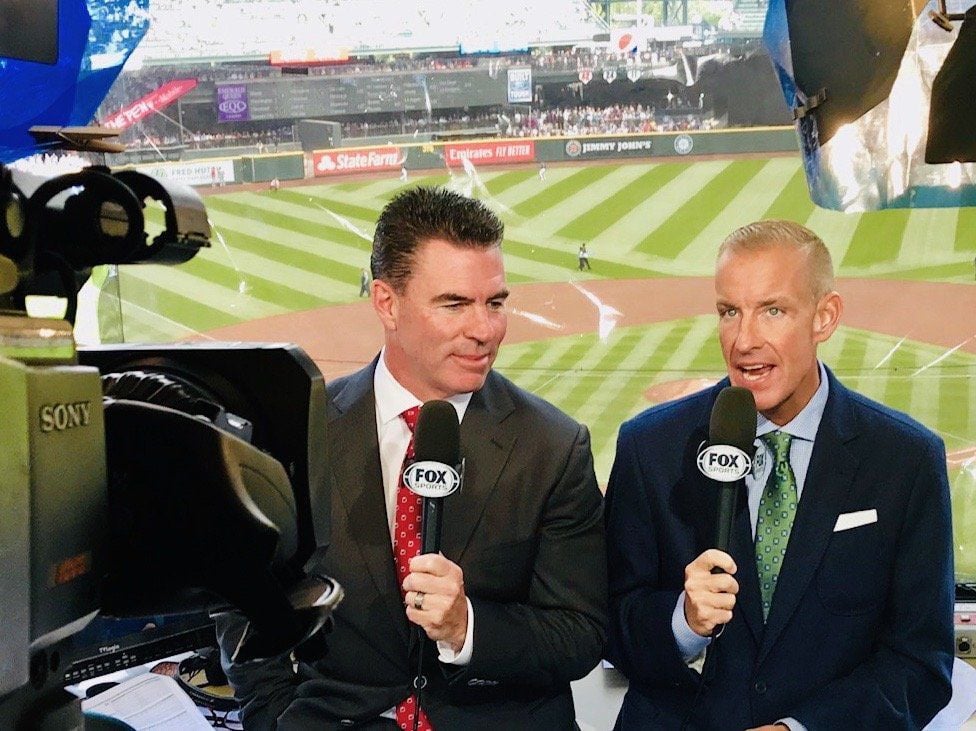 The ongoing financial dispute between Sinclair Broadcast Group, which operates 19 regional sports networks nationwide, and programming providers who relay those broadcasts to consumers rolls on with no end in sight.
The squabble has been going on for months, and in some cases more than a year and a half, as an array of outlets have dropped the channels because they refuse to pay Sinclair's asking price. Customers subscribing to Dish, Hulu Live, FuboTV, Sling TV and YouTube TV thus have been shut out of the RSNs, as the regional sports networks are known in the business. Locally, those services no longer carry Cardinals and Blues telecaster Bally Sports Midwest.
At least partially because of this battle, Sinclair's CEO said on a recent conference call with financial analysts that the company isn't even reaching 50% of its potential customers nationally. Chris Ripley said that at the end of last year the RSNs were in about 35 million households, "less than half of the total subscribers possible" in the areas they serve.
"Consumers make the choice on how they watch the games," Ripley said. "And we and the teams desire to make the programming as accessible as possible, something that today, unfortunately, is not ideal."
The answer, he said, remains to be a plan that would bypass the third parties and allow Sinclair to sell its channels (including Bally Sports Midwest) directly to consumers. Thus the push continues as the company is developing such an app.
But that progress has been slower than first thought. Last fall, Ripley said: "We have a pretty aggressive plan. It will happen next year (2021)."
By February, his revised comment was that the direct-purchase option "is expected to launch in 2022."
Last week, in the conference with analysts, he said that "the plan is to launch in the first half of 2022." That could be as late as a year from June.
He knows it is not good business to have a product that consumers want but aren't receiving.
"It is no secret that consumer cord cutting and the dropped distributor carriage of the RSNs have left many people scrambling for a way to watch their favorite local team," he said. "It is imperative that Sinclair be able to fill that void and provide consumers the sports programming they desire most in a way they choose to access it."
He added that "because the launch is still many months away, I do not have particulars to give to you at this time, such as the content that will be part of the subscriptions, the price of the subscriptions or other details."
However, he did say that the app would be in addition to, not instead of, the outlets that now carry Bally Sports Midwest and the other RSNs.
That, of course, is contingent on current carriers not dropping out if their deals expire. Spectrum (Charter), DirecTV, AT&T U-verse and Cable America are among the local systems that show BSM.
Betting bonanza
The explosion of legalized sports gambling across the country still remains a focal point of Sinclair's plans to cash in, Ripley said. Hence the partnership with casino operator Bally's and the rebranding in late March of the regional sports networks that had been under the "Fox" name. They now are called Bally Sports outlets.
Plans still include eventual interactive sports betting in jurisdictions where it is legal (currently allowed in Illinois, not Missouri), as Ripley previously has touted the belief that wagering on games will snag the younger audience that has been eschewing mainstream television programming.
Gambling, as well as other interactive content, could appeal to a wide audience. As he put it on the conference call last week: "The more they participate, the more they watch. This is a dynamic that simply does not exist today in live sports viewing. Once you have the attention of an engaged viewer, incremental monetization opportunities become significant."
Many of Sinclair's sports networks, including BSM, do little outside of game and pre/postgame programming. Ripley hints that gambling content could be on the way to help fill the gaps.
"There's a lot on the drawing board there to improve our non-game programming," Ripley said. "… The arrangement with Bally's is a great arrangement for us because it enhances the programming that we're going to have in these areas while taking little to no risk on the financial side to get that programming."