It's going to be a weird year, hockey writer Tom Timmermann warns Blues fans during our weekly hockey chat. Here are the top questions and answers.
Q: It doesn't look like the Blues are as good as they were last year, and certainly not as good as two years ago. Their best players don't seem to play with the intensity and consistency required for a Stanley Cup run. Do you think they have a different gear or is this as good as it gets for them in 2021?
A: I do they think they have another gear. This team is in some ways like the 2018-19 team that won the Cup. They have a lot of talent and haven't put it together yet. The Blues have certainly not played their best. Justin Faulk and Jordan Kyrou are big plusses. Torey Krug has been a push. Colton Parayko has been sub-par because of the injury. Ryan O'Reilly hasn't hit his stride. Robert Thomas showed early promise, leveled off, then got hurt. The calming presence of Tyler Bozak has been gone. All sorts of factors at play here. I would feel safe to say they're not as good as the 2018-19 team, but that team set a pretty high bar, and losing Alex Pietrangelo sends a jolt through the system. If they get it together, anything is possible. But this is going to be a weird year.
Q: In regard to Vince Dunn getting moved, it's not a matter of if, but when. What will the Blues want in return?
A: Dunn is the one-stop shopping move; dealing him would get them cap compliant all at once. (So would a Carl Gunnarsson trade if someone was so inclined.) Unless the Blues find that one of the players who is hurt is going to be out for the season, they will want a draft pick in return. So they will ask for a first-round pick and be very happy to get one. I don't think they would be excited about anything below a second.
Q: With all the injuries to the forwards and the uncertainty regarding timing on Vladimir Tarasenko's return, is there thought to bringing Klim Kostin over? I am not advocating, but just curious if it's an option.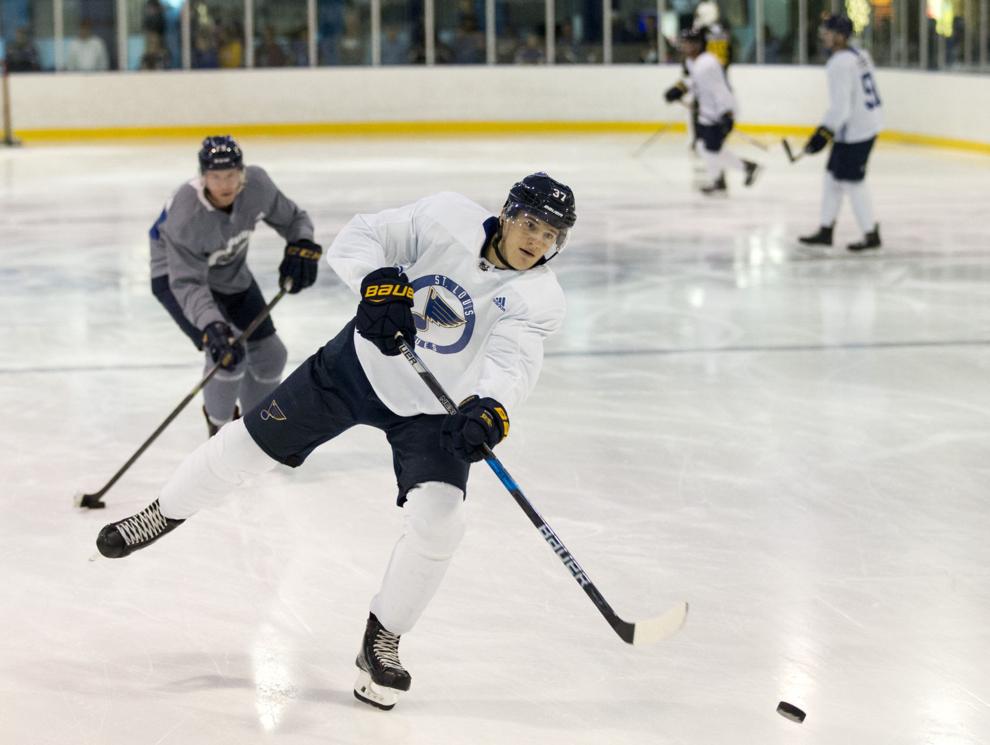 A: It's an option, and he will be here at some point. The KHL regular season ends in a few weeks, and then it's the playoffs, so he could be done there in the middle of March. The playoffs go through the end of April if he was to play until the end. Right now, he's better off getting games there instead of taxi-squadding it here, and he'll probably have to go through an extensive quarantine/isolation when he gets back. The Blues will be keeping fingers crossed in the meantime because the forward cupboard is getting awfully bare. The next call they have to make would be to Utica.
Q: With Marco Scandella and Torey Krug ready to return, do you sit Colton Parayko a couple games to help heal whatever the nagging injury is?
A: Scandella probably could have played Saturday or Monday, if needed. He took pre-game warmups Saturday. And Krug is good to go. The thing we don't know about Parayko is if a couple games off would make a difference. If it was just a couple games and he was fine, they might well have done it by now because they are not getting prime Parayko. So it might be that they would have to shut him down for much longer, which they don't seem to want to do. Sounds like they're going to stick with him, figuring what they get from him is better than what they would get from the others.
Q: What are your thoughts on Austin Poganski's play?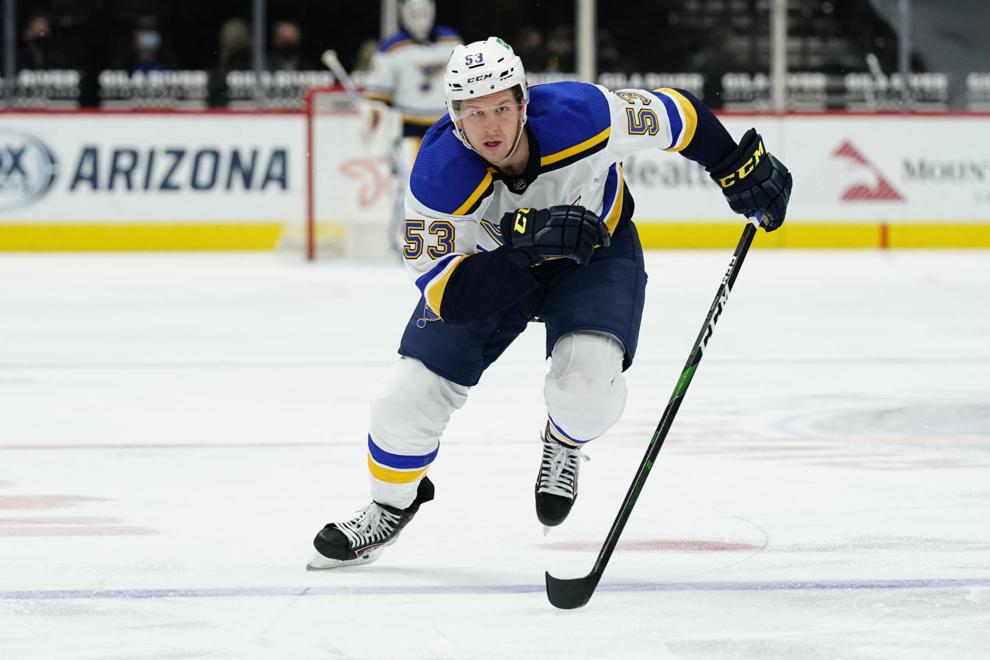 A: He's looked better in his two games this year than he did in his one last year. Still not getting a lot of ice time when he's out there, so the coaching staff is taking it slow, but I think he's showing he could be a contributor at this level. But he'll be a bottom-six guy, not a top-six guy. Nice screen on that Zach Sanford goal in Game 6.
Q: The NHL expansion draft is July 21, and free agency opens a week later. The Blues have some unrestricted free agents they might like to keep (Jaden Schwartz, Mike Hoffman, Jordan Binnington) and some restricted free agents. Would it be beneficial and possible for the Blues to not have contracts in place with certain players until after the draft? That way, they can protect a couple players they might not have otherwise been able to protect.
A: One of the reasons Vegas did so well in its first season is because teams got too cute trying to save certain players and made deals with the Golden Knights that ended up helping them put together a good team. Doug Armstrong has pretty much said they're not going to do that. They accept the fact they are going to lose a player they would like to keep, but they also realize that it will be only one. The only strategic move thrown out in the past is whether the Blues could leave Justin Faulk exposed and his contract would scare the Kraken away, but I think that's pretty much off the boards now. If Faulk were exposed, he would be gone.
Q: Will the Blues try to re-sign Mike Hoffman?
A: Yes, though they likely won't be able to offer as much money as some other teams. Unless they can win him over and sign him before he goes on the market and the bidding begins, it could be tough. But who knows how the flat cap works out, or what the market for Hoffman looks like after this season?
Q: Carl Gunnarsson's age showed in the Arizona series. Maybe a couple of healthy scratch games would inspire him or give someone else a chance to compete. You thoughts?
A: What you see is what you get with Gunnarsson. A healthy scratch or two isn't going to change that. And he leads the team in healthy scratches anyway with seven. Statistically, last season wasn't a great one for him, either, though he had a lot of injuries. Right now, he's a veteran presence who the Blues can play after he's been sitting for a while and who knows what he's doing. But with the team's contract situation and his contract situation, he's going to be on the roster at the expense of Nikko Mikkola and Jake Walman this season. That's the way the NHL works.
Q: Any news on Vladimir Tarasenko? Last I saw he was skating in Arizona. He looked good shooting, but the fear of him checking or getting checked in the boards and getting injured again worries me about his future.
A: I'm in Arizona, but I saw no reports of Tarasenko being on the ice today in St. Louis with the team. He skated with the team Friday in Arizona. That's a first step. He's probably a couple weeks away, at best. He's had three shoulder surgeries. That has to be a concern, because that's a joint that gets looser with multiple surgeries, so even without contact he's at greater risk of re-injuring it. And just with the normal course of how injury rehab goes, I would expect him not to be back at his "A" game until next season.
Q: Is the slow start by Ryan O'Reilly a result of him trying to figure out how to lead this team as captain?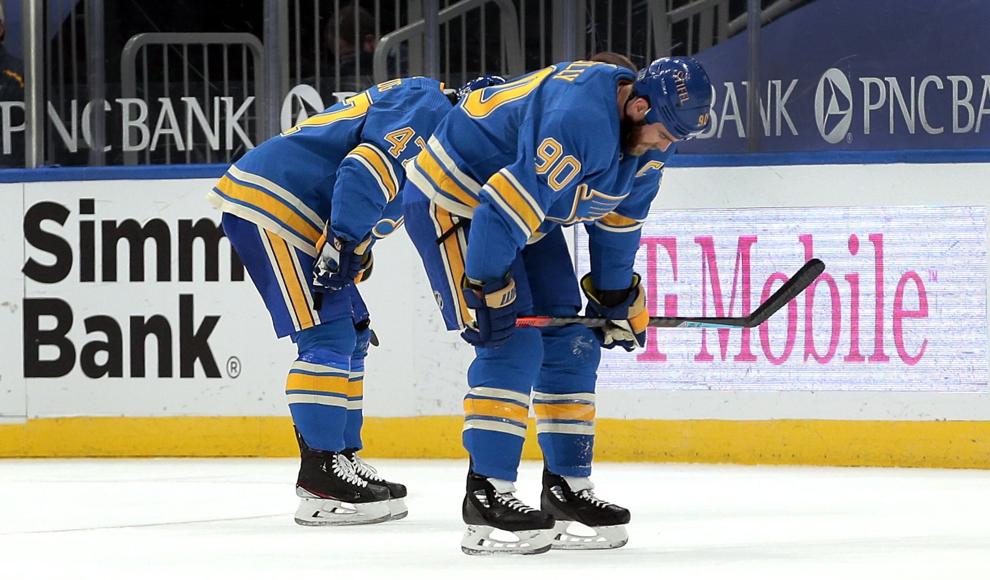 A: I would like to think not. The idea behind making him captain was that he was a natural leader, so it would be a seamless move. O'Reilly is quick to blame himself, so a struggling team can be hard on him. He said it again after Game 7 Monday, that he needs to make elite plays. Now, he's more likely to make an elite play than Mackenzie MacEachern, but when you go out on the ice saying that you've got to make an elite play, that's quite a burden you've put on yourself. There are ups and downs to seasons, and in the Stanley Cup season, he was the one guy who was up at the start while almost everyone else was down.