What will it take for the Blues to lock up a playoff spot? Will Binnington start every game the rest of the way? Will Klim Kostin add a playoff spark? These are some of the questions we handled in our weekly hockey chat. 
Q: With 10 games remaining, what are your thoughts on what the Blues have to do to make the playoffs?
A: The Blues have to win as many games as Arizona does, and the Blues have three more games to do it in. So unless Arizona has a very strong finish, which seems unlikely the way they have played of late, .500 hockey should do it for the Blues. They're close to a lock at 58 points. Los Angeles has as many games remaining as the Blues, but the Kings are in a position where they have to win three more than the Blues. Which is a lot.
But the Blues are going to have to win some games; this team has hit some rough patches during the season. A seven-game losing streak right now, which they're not far removed from, would really complicate matters.
Q: Avangard Omsk won the Gagarin Cup in the Russian Kontinental Hockey League on Wednesday afternoon. So what's next for Blues prospect Klim Kostin? Do you see a role for him come playoff time?
A: I don't know how easily you plug a guy who hasn't played with the team all season and has been playing on a different sized ice surface into the lineup. Plus, someone's got to come out, and the Blues already are scratching forwards who have played a lot this season. It would be slightly easier, I suppose, if Kostin was able to get back in time for a regular-season game, because it would be a lot simpler to test him out there. But that will be tough, depending on … how quickly he can get back and how short the quarantine is. (I would guess it would be shorter if he flew back on a private plane.) So the Blues certainly could find a place for him, but there are a lot of complications and a lot of ifs for a guy who will play on the third line at best this season.
Q: How long do you think Craig Berube will go with the 11 forwards, 7 defenseman lineup? Will he do it until the Blues lose?
A: Looks like it could be at least one more game. Berube said (Wednesday) that if Colton Parayko is in the lineup, which will be a game-time decision, he'll go 11-7 to give the team cover in case Parayko (or someone else) can't go the full game. To me, it seems that if that seventh defenseman is playing only five or six minutes, like Steven Santini did Monday, I'd just as soon have another forward around. But right now, with a lot of the defense hurting, it seems coverage, as well as superstition, is a factor.
Comment: I loved the Ivan Barbashev, Robert Thomas, Jordan Kyrou line Saturday, but can that line play enough defense in the playoffs? The other three lines look solid. Putting Brayden Schenn (and David Perron) with Ryan O'Reilly was a great idea to get them going. Your opinions, please.
Response: Barbashev can play defense, that's not a problem, but Thomas and Kyrou have to up their game there. Thomas doesn't usually get a lot of defensive-zone starts, in part because he's not strong on faceoffs. The Blues will try to keep that line away from the opponent top lines. The lines right now are working, though the Tyler Bozak line wasn't as sharp defensively the last two games against Colorado. Right now, proximity to Ryan O'Reilly is a good place to be because he's taken the team on his back.
Q: Zach Sanford was great in the four Cup wins against Boston, when he played with Ryan O'Reilly and David Perron. He has the size every team needs at forward to go deep in the playoffs and has proven he has enough skill to play on the top six. What does Craig Berube need to do to get Sanford back to his Cup level?
A: Sanford has often admitted that it's all a mind game with him, and when he can keep his focus high is when he does best. And that's a factor of his confidence. When he is scoring and producing, he's thinking about the game, and then he produces more. So it becomes a chicken-and-egg thing. The Blues have got to get him focused to score and they've got to get him scoring to be focused. There's a chance Sanford could be back in the lineup (Wednesday). Usually once he gets going, he's fine, and the periods of good play now last longer than they used to. He could be well-served by a stretch on an energy line where he gets to bang and feel good about that part of his game and playing the defensive side and then transitioning back into a more offensive role. Though if they're going to keep Tyler Bozak centering Jaden Schwartz and Vladimir Tarasenko, then Sanford is not going to get on a top-two line anyway.
Q: Will Jordan Binnington play every game until the Blues clinch the fourth playoff spot? What have you seen in his play that has elevated his performance?
A: I would expect you'll see Ville Husso in the second half of back-to-backs and that's it, so three of the final 10 games. I don't see Binnington playing both sides unless he has a game with a very low workload. So if he gets a 20-shot game, then they can bring him back. Who can explain goalies? Binnington is back to making big saves when needed, and I think he's cut down on soft goals he'd like to have back. Whether that's focus or fundamentals or just how life works (or that Colorado had a depleted lineup), I don't know.
Q: What's the ceiling for Jake Walman? Can he be a top-four defenseman? Special teams guy?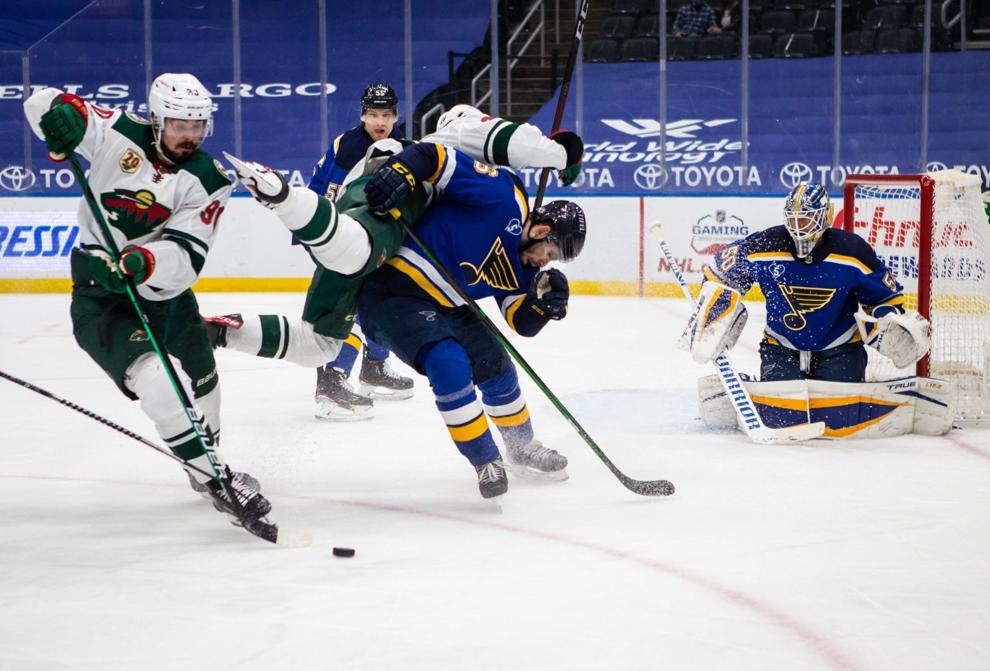 A: At one point, Walman was ahead of others in the system, then he didn't do well in the AHL, and others jumped ahead of him. He turned his game around last season at San Antonio and jumped up the list. I think he can be a second-pairing defenseman, and when Colton Parayko was out, Craig Berube used him there with Torey Krug. I don't know if he'll be a shutdown guy, but his ability to transition the puck quickly and get it out of trouble and up the ice will serve him well. He still has to learn to be a bit more careful with the puck, but he's learning. He's the quickest skater in the back. If the Blues have a healthy defense next season, he'll likely end up on the third pairing because Justin Faulk, Torey Krug, Marco Scandella and Colton Parayko will take the top four spots. The Blues have put him out there on the penalty kill a lot, and even on some five-on-threes, so they believe in what he can do.
Q: Has Ville Husso shown enough to be penciled in as backup next season?
A: Yes, especially since I don't think backup goalie is a position where the Blues are going to want to invest in a flat-cap offseason. Husso has gotten into his game a bit better, though he obviously still has to come out sharper. Some hiccups were expected this season as Husso got his start in the NHL.
Q: Since Vladimir Tarasenko's return, the Blues have regressed. Are there locker-room issues because of his statements to the Russian press about him not being named captain? Should the Blues entertain trade offers for Tarasenko in the offseason?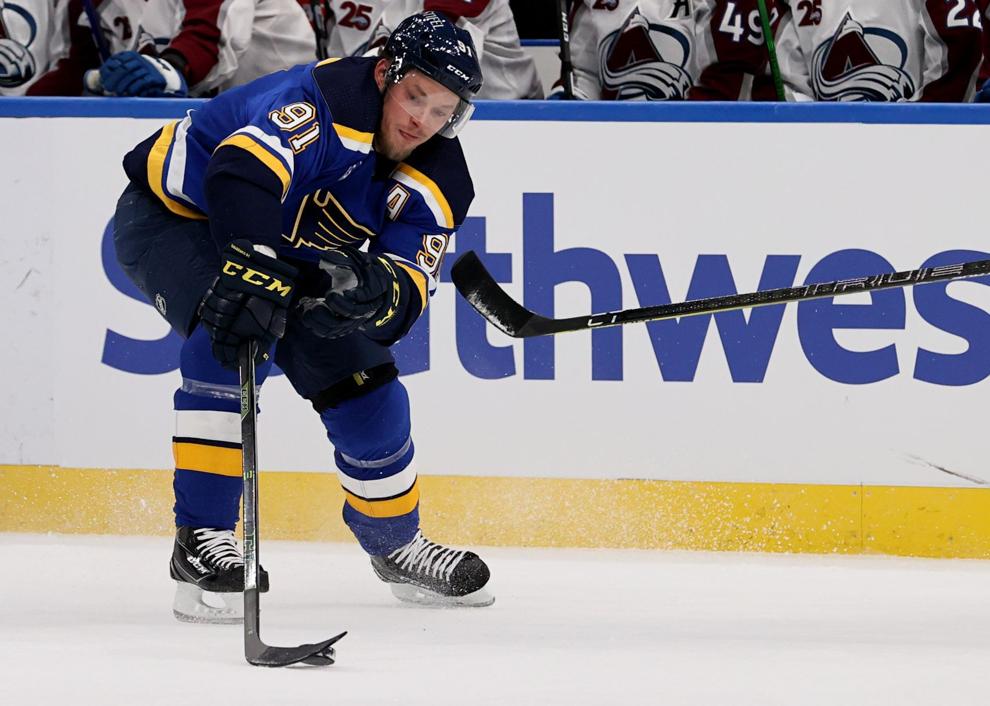 A: I doubt it's locker-room issues over the captaincy. That was a long time ago, in hockey terms. By the time Tarasenko was back, Ryan O'Reilly was well entrenched as captain. Also, it's not as if Tarasenko wasn't there one day and suddenly appeared. He'd been around the team for months before coming back. If there was anything to work out, they had ample time to do that.
For whatever reason, the team's struggles began when Tarasenko returned, though that was right around the time when Oskar Sundqvist got hurt and was done for the season. (They overlapped for four games.) I think Doug Armstrong has to listen to offers on Tarasenko, though the Blues are unlikely to get any that will dazzle, and trading him to trade him is probably a mistake. The Blues probably value him more highly than any other team does. (Though I never thought the Blues would get the return that they did for Jori Lehtera or Patrik Berglund.) This season, Tarasenko may be just another guy, but he also has an upside that next season could make him more than just another guy again. After all the shoulder operations, his best seasons are likely behind him.
I can very easily see Armstrong making a bold, shake-the-team-up trade. Tarasenko would have to be a candidate there, but I just don't know what the return would be. And remember, Tarasenko has a no-trade clause.
Q: Any chance Mike Hoffman is back next season?
A: I'd be very surprised. The only way would be if there's absolutely no market for him. But if that's the case, would the Blues want him? If Hoffman has to take another short-term deal, it will be with a team that will put him in more chances to thrive.
No. 68 scored twice with the man advantage on Wednesday.