We look at some roster issues during our weekly chat with Blues fans. Here are the highlights.
Q: If Ryan O'Reilly and Brayden Schenn are penciled in as the top two centers, that drops Robert Thomas down to the third line. Wouldn't it make sense to see if trading Thomas would fetch a winger who could play in the top six?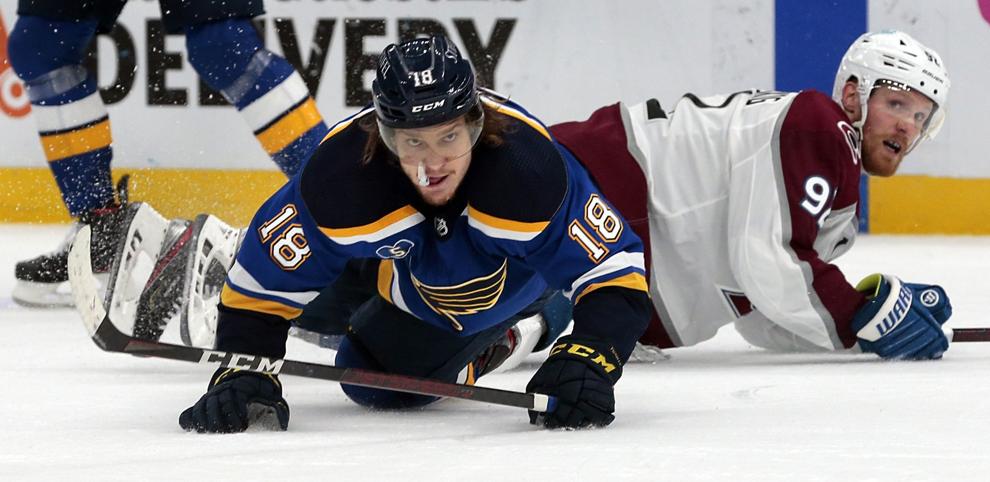 A: I've been wondering about that possibility, because Thomas could give you a pretty solid return. The reasons not to would be that good young centermen are hard to develop, Thomas is cost-contained for a few more years, and there are times when Schenn plays the wing and then you need a No. 2 center. But if the coaching staff is prepared to commit to using Schenn only at center, then it's an option. Thomas had some good numbers this season and some bad ones. He's got to get better at faceoffs if he's going to be a two-way center. Right now, he's not going to get many defensive-zone starts.
Q: Why did the Blues give Zach Sanford so much time in the top six? Does his failure to produce over the course of last season cause the Blues to give up on that project?
A: The Blues gave Sanford so much top-six time because he was a good fit for it when they were low on forwards. He can score. He can win the puck. He can play defense. (He was fourth on the team in penalty kill time.) Sanford can do a lot of things quite well. He also can disappear for long stretches and make silly turnovers. But he's a better fit than a lot of guys in there. In an ideal world, he's on the third or fourth line, because that would mean all the Blues' regular top-six forwards are healthy. The Blues will re-sign Sanford. They could very well trade him, and there would certainly be teams interested, though at what price I'm not sure, but I think he would certainly bring a higher return than Robby Fabbri did. And given the right situation, Sanford could do quite well. He also will be unprotected in the expansion draft.
Q: How does Jordan Kyrou's skating speed compare to that of Nathan MacKinnon, Auston Matthews, Connor McDavid, etc.? On TV, Kyrou consistently blows by defenders and looks like the fastest guy on the ice whenever we aren't playing one of the above-mentioned players. What type of ceiling do you see for him?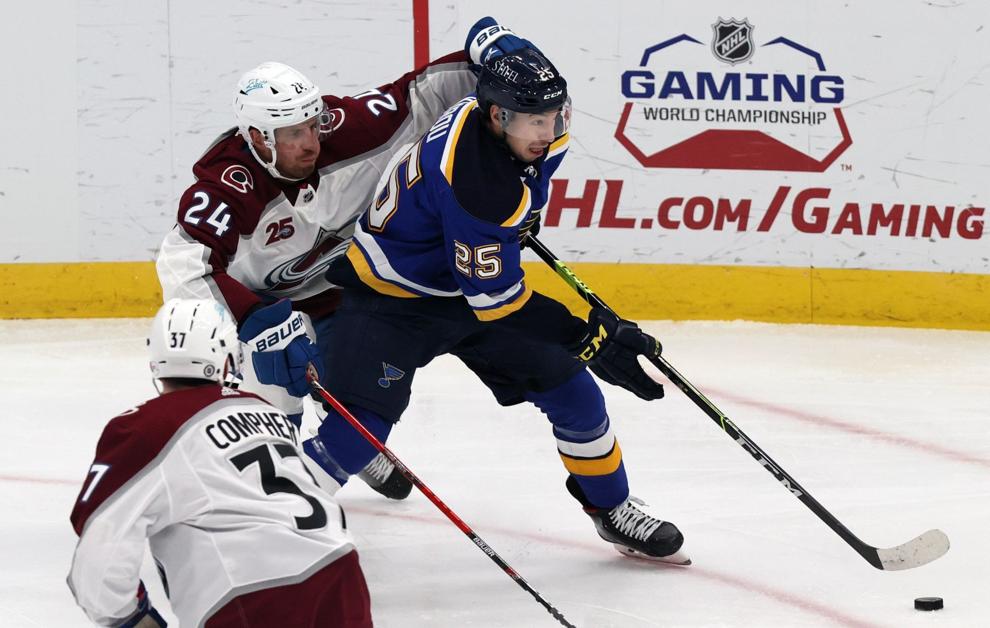 A: Kyrou is a very fast skater, though it's hard for me to compare him with players like MacKinnon. So much of it depends on the situation. Players like MacKinnon get up to top speed really quickly.
Kyrou had a lot of good analytics numbers this season, which bode well for his future. His defense has to get better. At hockeyviz.com, his isolated impact on offense is 10 percent above the league average. But on defense, opponents are seven percent better when he's on the ice. Getting that number into negatives would be a big jump, but something not a whole lot of players do. The closer he can get that to zero, the better he will be.
Q: Why have the Bruins, Lightning, Penguins, etc. been able to sustain legit Cup contender status while the Blues could not? Were the Blues just a hot team in the right place at the right time? Why are we talking about changes to a two-year-old Cup team?
A: Had the Blues won earlier in their Cup window, repeating would have been easier. Those other teams have had their foundational players – Sidney Crosby, Yevgeni Malkin, the Perfection Line -- stay together. The Blues won their Cup and had the second-best record in the league when the COVID shutdown hit, and then started losing key players and haven't been quite the same. In some ways, it's a rebuild (while trying to maintain). Losing Alex Pietrangelo was a big thing and has set a lot of other moves in motion.
Q: Which of the Blues' young defenseman (prospect or NHL player) has the best chance at cracking the top pairing in the next two or three years?
A: If you would define the top pairing as the guy who plays alongside Colton Parayko, which is what Blues management would want, then Nikko Mikkola is the young guy who can do that and would be available to do so next year. If the top pairing is the one that includes Justin Faulk, well, Torey Krug did well there this season. Scott Perunovich is an offensive-minded left-handed defenseman. The Blues have shown a willingness to play Faulk on his offside. In any case, I wouldn't get too married to any one combination. Players will be moved around.
Q: Do you see Klim Kostin stepping in next year and playing around 12-15 mins a game?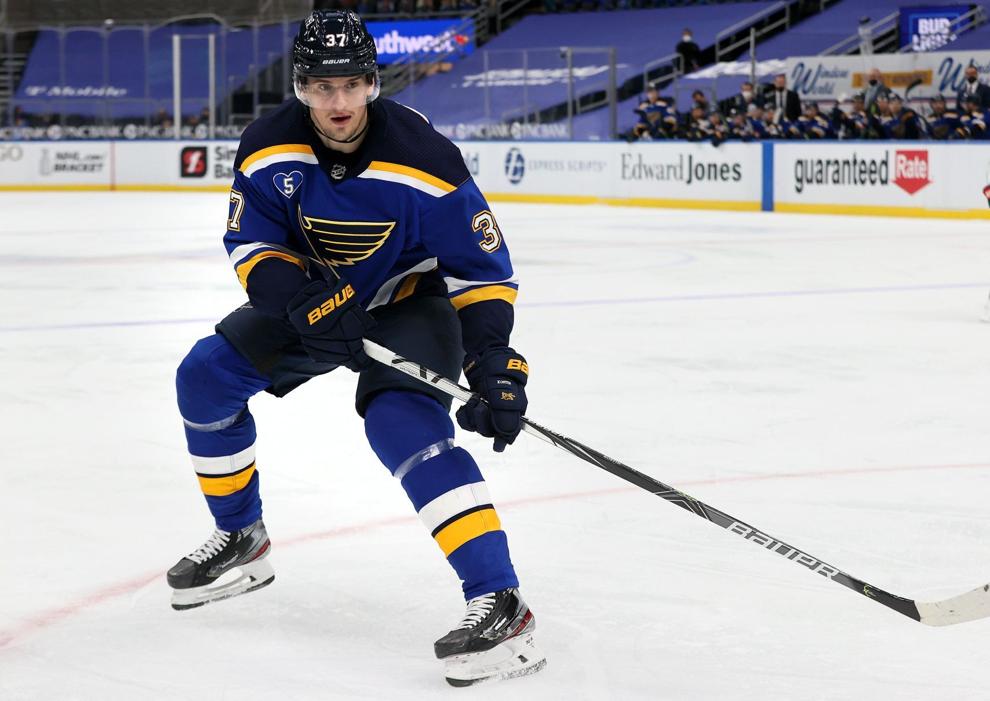 A: Kostin next season will be like Jordan Kyrou was this season. His time has come, and if the Blues don't use him then they need to get rid of him because he's past the point when another year in the minors will do him any good. His ice time will depend on where he ends up playing. If the Blues decide to use him as a puck winner on a top-two line, he'll get more time than that. On the third or fourth line, he'll get 12 or so minutes, depending on if he's logging any special-teams time.
Q: Why do young players like Robert Thomas or Jordan Kyrou not playing to their full potential get the benefit of the doubt but other young players, like Vince Dunn, don't?
A: Kyrou is in his first full season and was one of the better players on the team. That gets you the benefit of the doubt. Thomas has drawn some criticism, including from his coach, but has also been bothered by injuries. So I'm not sure about how much benefit of the doubt he's getting. He's also young enough that there's time to learn, and he plays a key position. Dunn has had four full seasons in the NHL. He's at the point when expectations have to be met.
Q: Of the players most likely to be lost in the expansion draft (Ville Husso, Zach Sanford, Ivan Barbashev, Vince Dunn), who would be the most difficult to replace?
A: Husso would cause the more complicated replacement, since the Blues would have to go out and find a backup goalie or would have to promote an untested player from their system, a player who otherwise would be at least a year away. Replacing the others wouldn't be terribly complicated. Dunn would be another case where his replacement would have some learning to do, but where the options are readily available.
Q: Do you take the chance and hold on to Vladimir Tarasenko? If he plays the same as this year and regresses more, then his trade value diminishes. Wouldn't it be better to sell high?
A: Selling high would have been trading Tarasenko a couple years ago. I don't know that trading a guy who has barely played over the past two seasons meets that description. I think Tarasenko, assuming he's healthy, will be better next season. Demand for Tarasenko, especially considering his contract, won't be high. But if a team is interested and makes an offer, I think the Blues have to look at it. Though Tarasenko does have a no-trade clause, so he has some say in the matter.
Q: What do you make of many teams salivating at the chance to acquire Vince Dunn? Do they see something the Blues (and many Blues fans) are missing?
A: There's a lot to like about Dunn. Teams may feel that a change of scenery will serve him well, that the right situation and right pairing will accentuate his pluses while limiting his minuses. And he comes at a good price. If cap space is an issue, the point production you get from him in the $2-3 million range could be desirable. The Blues have the advantage now of having guys who make even less waiting in the wings for a chance.
Comment: Matthew Tkachuk recently made a very kind donation to St. Louis Children's Hospital. As a doctor there, it really means a lot. As a hockey fan I hope it means keeping his roots in St. Louis means he will come play for the Blues when his contract is up.
Reply: Matthew and Brady Tkachuk would come at a high price, both in dollars and in terms of players since neither is an unrestricted free agent for a while. You're looking at trading multiple young players off the NHL roster, plus a draft pick or two, plus finding room under the cap. And while either Tkachuk would advocate a trade to St. Louis, the Flames or Senators could care less about that and would be looking for the deal that best suits them going forward. So it's going to take a lot to make that happen.