In this week's chat we find a change of heart on Carlos Martinez, some Gant-Reyes comparisons and other questions.
Q: I enjoyed your article on the hit-batsmen. Do you think that part of the problem is that pitchers are being scouted, drafted, developed and promoted based on velocity and spin rate as throwers, rather than on "pitching"? … Also, hitters have become comfortable crowding the plate and diving over it with their swing. Is that also a factor?
A: Yes. I do believe it is. And it's something that we've seen evolve over the past 15 years in baseball as pitchers arrive younger, throwing harder, with less experience. Consider how rapidly Jordan Hicks scaled the minors and made it to the major-league bullpen. … Dave Duncan talked about this a lot, about baseballs being thrown harder and zipping up and in and out of control. He attached it to experience more than velocity. But it takes experience to know how to harness that velocity. Joe Girardi brought this up this past week as he talked about the pitch that hit Bryce Harper. He said that all of the focus in the game is on velocity, velocity, velocity, and spin, and that maybe the conversation needs a correction and teams should talk about more control. You have an ally in Girardi, and a good point.
As far as the hitters go, yes, we're seeing them crowd the plate and sometimes dare pitchers to come in. There is also the increasing use of pads, but nothing quite like the Iron Man-like armor of a few years ago. All of those things are factors, but yet we still see the craftsmen on the mound able to thread that area, test hitters inside, and work on the black edge of the inner part of the plate. Scherzer. Wheeler. Heck, a series of starters just put on a clinic against the Cardinals in the middle of this past month.
Q: As I've become a Mike Shildt skeptic for the overprotection of players and less truth telling, I'm wondering: He says he would have taken Genesis Cabrera out after one pitch to the face if given the option. Why would he not use that rationale to take Carlos Martinez out after a similar pitch to the face?
A: Way different situations. Not even in the same conversation. Carlos Martinez hit a batter when he was working on a shutout and had already gone through the Pirates' lineup almost two times. He was breezing through a start. He'd thrown – what? 60 pitches at that point? Cabrera had thrown -- checks notes -- zero pitches.
His first pitch hit someone in the face. He was bothered, clearly bothered by it.
His second pitch hit someone in the ribs. He was bothered -- and the Cardinals could do nothing, by rule.
That was the situation that faced Cabrera. He was two pitches into an appearance and both had left welts, one had been scary -- and he did not know at that moment how scary or what the results would be. Martinez watched the batter he hit take his base. Martinez was deep into a start. These couldn't be more different situations.
Q: The Cardinals look like a different team when they have decent outfield production. Is it real or a mirage?
A: It starts with pitching. Fourteen consecutive games with at least five innings and no more than three earned runs from the starter -- 14!. … The offense always looks better when it doesn't have to stay ahead in a track meet. So, yes, the outfield production is noteworthy, and now it's coming mostly from the corners, which is what the Cardinals want, but it looks better because the pitching has been better. If the Cardinals are going to contend they need to continue to get the consistent pitching that makes the offense look better.
Q: How is Yadier Molina's foot? Any idea when he will return?
A: He has been removed from the team, as you know, and that means he's mostly been assigned rest and recovery. The Cardinals don't expect Molina to plop on the couch and wait it out, though. He's been receiving treatment, but the goal was to rest, see how the foot recovers, and give him a test (Monday) to see about the progress. At last check, they expect him to miss the 10 days, and maybe one or two beyond to try to be careful.
(Update, from later in the chat) Molina is going through a review (Monday) to see if he can be cleared for baseball activities in the near future.
Q: What is contributing to Andrew Miller's lack of velocity? He can't throw all sliders and be successful, right?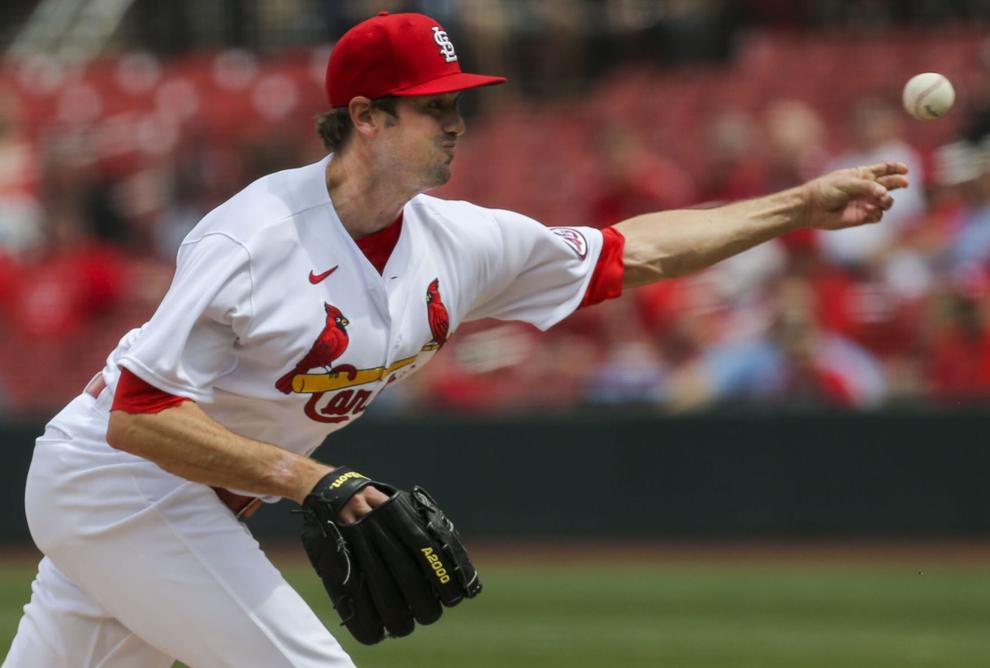 A: He might be able to throw sliders on 80 percent of his pitches, but I get your point. He's got to keep the hitter honest, and part of that is having a wider variance in velocity than he's showing now. Miller's velocity is down 3 mph from last year, from 90.3 to 87.2, and from 2019 until today it's down 5 mph, from 92.5. This obviously is something to watch, and acknowledge that he's only thrown a handful of fastballs this season, so it is a small sample size.
Miller talked about building arm strength on the go this season because coming out of spring training he didn't feel his fastball was at the speed it would find later, during the month, with more innings, more time, more "touches," as pitching coach Mike Maddux said. Miller now is on the injured list with a foot issue, so he'll have some time to do that building, finding velocity while away from the game, and it would not be a surprise if that's what he and the Cardinals use this time to do.
Q: I thought Carlos Martinez was washed up. Clearly, I (and many others) was wrong. Sunday's game was a thing of beauty. What is the reason for this semi-transformation?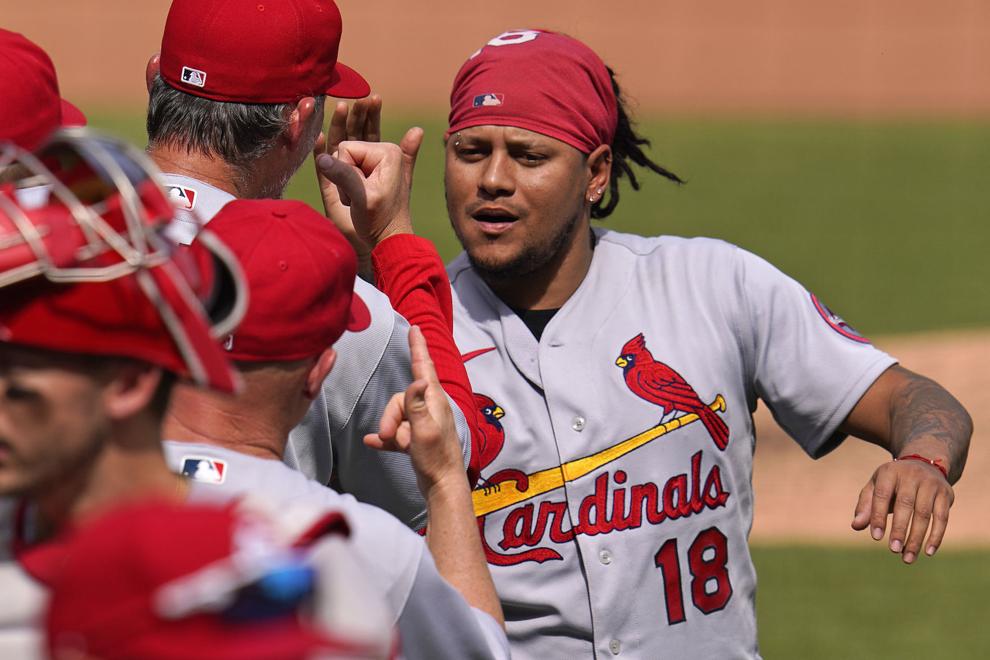 A: Health. It starts with health. Martinez has pitched with hesitance in past years -- not rearing back, not using all of his pitches, not consistently throwing with conviction or velocity. He looked like he was tentative and even once mentioned that he considered that he would get hurt. Last year was upended by COVID-19. I was really struck -- so much so that I hinged the entire game story around it -- that he is back to using his cutter. He ditched it for years. He threw it more Sunday than he had total from 2019-20. That was a strong pitch for him, and it sat on the shelf. Now, it's out. Now he has the velocity when he needs it. Now he can sink it, cut it, drop a changeup … and that's a good mix for getting meek contact.
Q: Have the Cardinals' announced plans for increased capacity for this homestand? I thought I read that 50 percent was in play beginning May 1.
A: I don't know where you read that. I can only confirm what we've reported in the Post-Dispatch at at STLtoday.com. The Cardinals sold the same amount of tickets for May games as they did for April. That was the report several weeks ago as they let season-ticket holders know. They are in constant review on attendance, but as a Cardinals official told me recently they didn't expect to have incremental changes. They didn't expect to go 28 to 32 to 35 to 40 to 50 to 75 .... They started at the 30-32 percent range, and they might have an in-between before opening up full.
Q: John Gant already has thrown more innings than he did last year. Why does the front office feel more comfortable with putting Gant in the rotation as opposed to Alex Reyes?
A: Great question. … Their answer is that Gant has a stockpile of innings, a history on which to draw from. He did have 114 innings in 2018, and he's had seasons of logging a starter's workload in the minors. Mike Maddux has made a point about track record and how it gives a pitcher like Gant a baseline to refer back to. Reyes doesn't have that because of the injuries that have erased or limited his recent seasons. That's the bigger reason. Gant hasn't had years sidetracked by arm trouble. Reyes has had several, and the Cardinals are adopting a very conservative approach with him. Very conservative. Plus, what they won't say is how much the manager likes Alex Reyes at closer. He'll say it. Mike Shildt likes Reyes as a his closer. A lot. And we'll see if that becomes inevitable.
Q: What is the front-office opinion on Justin Williams? Is he a lefthanded bat off the bench, or more?
A: The front office likes Williams as a lefthanded hitting option for the outfield. Not just off the bench, but part of the mix in the outfield. He's got a live bat and a lot of athleticism. And, yes, it comes in lightning strikes, so what the front office wants to see is him be more consistent just like any young player, any young pitcher, any player who is trying to score more playing time. The more consistent a player becomes the more he becomes an everyday player.
Q: I am an 80-year-old baseball fan whose memory might be fading, but it seems to me that in the 1950s-60s-70s most regulars were hitting at least in the .250s and above. Or is that just the way I wanted it to be?
A: They were. Batting average has followed the win (for pitchers) in being minimized over recent years. In the 1950s to 1970s you weren't going to see a pitcher with a 12-11 record win a Cy Young Award. Now, you might. We've improved when it comes to understanding the numbers and statistics that tell us all the ways a player impacts a game, and it's allowed us to put Tim Raines in the same Hall of Fame as Tony Gwynn because Raines did reach base more often than Gwynn, just not with hits and batting average. Batting average has been diminished as a stat, replaced by OPS (on-base plus slugging) and slugging, and it has also been replaced as an approach as hitters aim for damage, damage, damage. They want the high slugging numbers, and they'd rather get a home run than flair a single. They're going for a .450 slugging percentage, not a .250 batting average. And that is part of the question swirling around the modern game. Whether it would be better if batting average was valued more, or if the game could/should be altered in such a way that would reward batting average.